Looking for a way to automate your leave tracking from Slack?
Vacation Tracker is an easy-to-use Slack integration to help you track your PTO, sick leaves, vacation days, and any other type of absence all from one place.
We take all the paperwork on your desk and turn it into one simple Slack message. Here's how
Request leaves in 5 clicks
With just 5 clicks from Slack, you can be on your way to an amazing trip.
All you have to do is type /vacation on Slack, select the option to Request leave, and choose the leave type and dates you want to take. Once that's done, we'll send it to your Approver, and we'll let you know once a decision has been made.
Approve requests in just 1 click
Requesting leave is super easy in Vacation Tracker. But approving it is even easier.
Once a request has been made, your Approver will either accept or reject it and you'll get notified of the outcome immediately.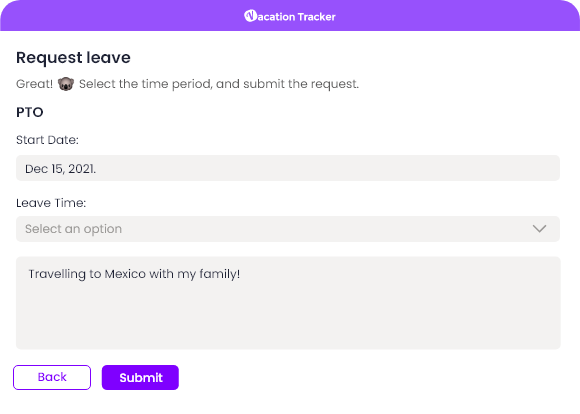 Receive tailored notifications in Slack
As an Administrator, you can set up daily or weekly notifications and tailor them to the entire organization, or a specific department or location.
Just pick the Slack channel you want to receive notifications on, and we'll take it from there.
Check your leave status without leaving Slack
There's no need to manually calculate your remaining leave quota — we'll do that for you as well.
You can view your available leave quota for the current and the following year, all directly from Slack.
Check scheduled leaves at your pace
In addition to the weekly and daily notifications delivered to the Slack channel of your choosing, you also have the option to check upcoming absences in Slack by consulting the 'See more options' section.
Take action on your pending and upcoming leaves
Without leaving Slack, you can easily view your pending leave requests and upcoming scheduled leaves.
If you change your mind, you have the option to cancel the request in Slack.
Get a full overview of your leave history
Get things done while you're away – like knowing exactly how much leave time you have left and keeping track of what you've already used.
You can check your leave history at any time without leaving Slack.
Check which Holidays are around the corner
Make sure you're aware of which Holidays are coming up so you can plan your leaves accordingly.
You can always view the Holidays on the Dashboard, but you can also check upcoming Holidays from Slack.
Get a complete overview on the Dashboard
All of the options available within Vacation Tracker for Slack are also available on the dashboard, where you can have a full overview of all leave-related activity that is going on within your organization.
As an Administrator, the dashboard is your hub where you can configure everything in your organization – from individual team member pages to monthly reports.