ALL-IN-ONE LEAVE TRACKING SOLUTION
Handle PTO requests right from your email
Ditch the inconvenience of spreadsheets and manual leave tracking
– embrace the simplicity of PTO management with Vacation Tracker.
Try all features for 7 days. No credit card required.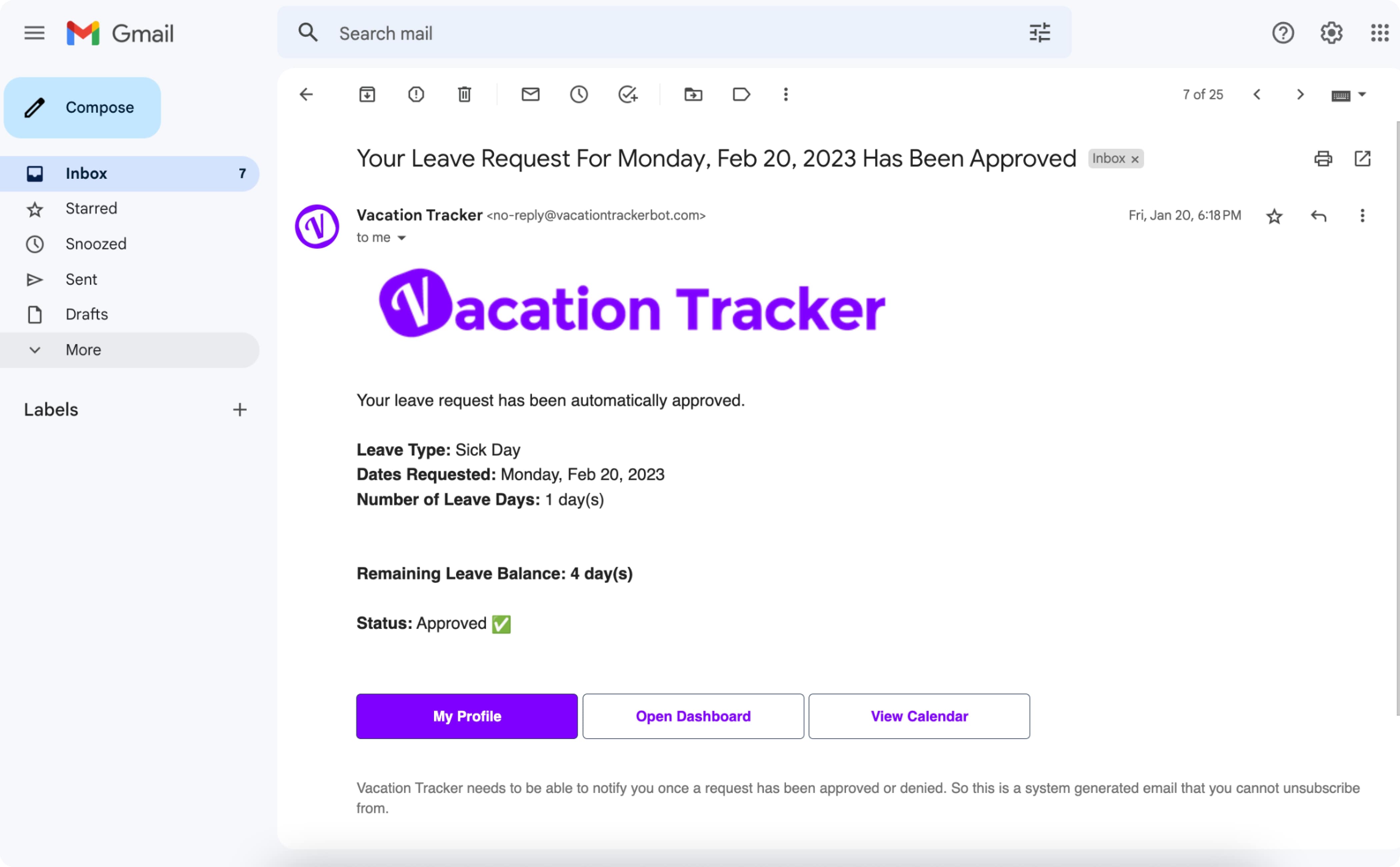 Easily Self-Manage
Your team can manage their leave activity on a centralized platform accessible from anywhere, making the whole process more efficient and streamlined for all parties.
Increased Efficiency
Our tool reduces time spent sifting through emails, spreadsheets, and paper forms by giving teams full visibility and transparency into everyone's leave data.
Highly Intuitive
Vacation Tracker's easy-to-use and user-friendly platform requires little to no formal training, allowing users to start using our tool with minimal effort.
Ensures Compliance
From auto-generating and delivering leave reports to syncing with external calendars, we have you covered with everything you need to ensure compliance.
" Everybody on our team started using Vacation Tracker without really questioning it. It was a flawless switch."
Daniel K. System Engineer
Ki Elements
SIMPLIFIED LEAVE APPROVAL PROCESS
Request and approve leaves in just a few clicks
Managing leaves is a breeze on Vacation Tracker's Administrator Dashboard.
Within seconds, employees can request time off and receive instant notifications on the status of their requests.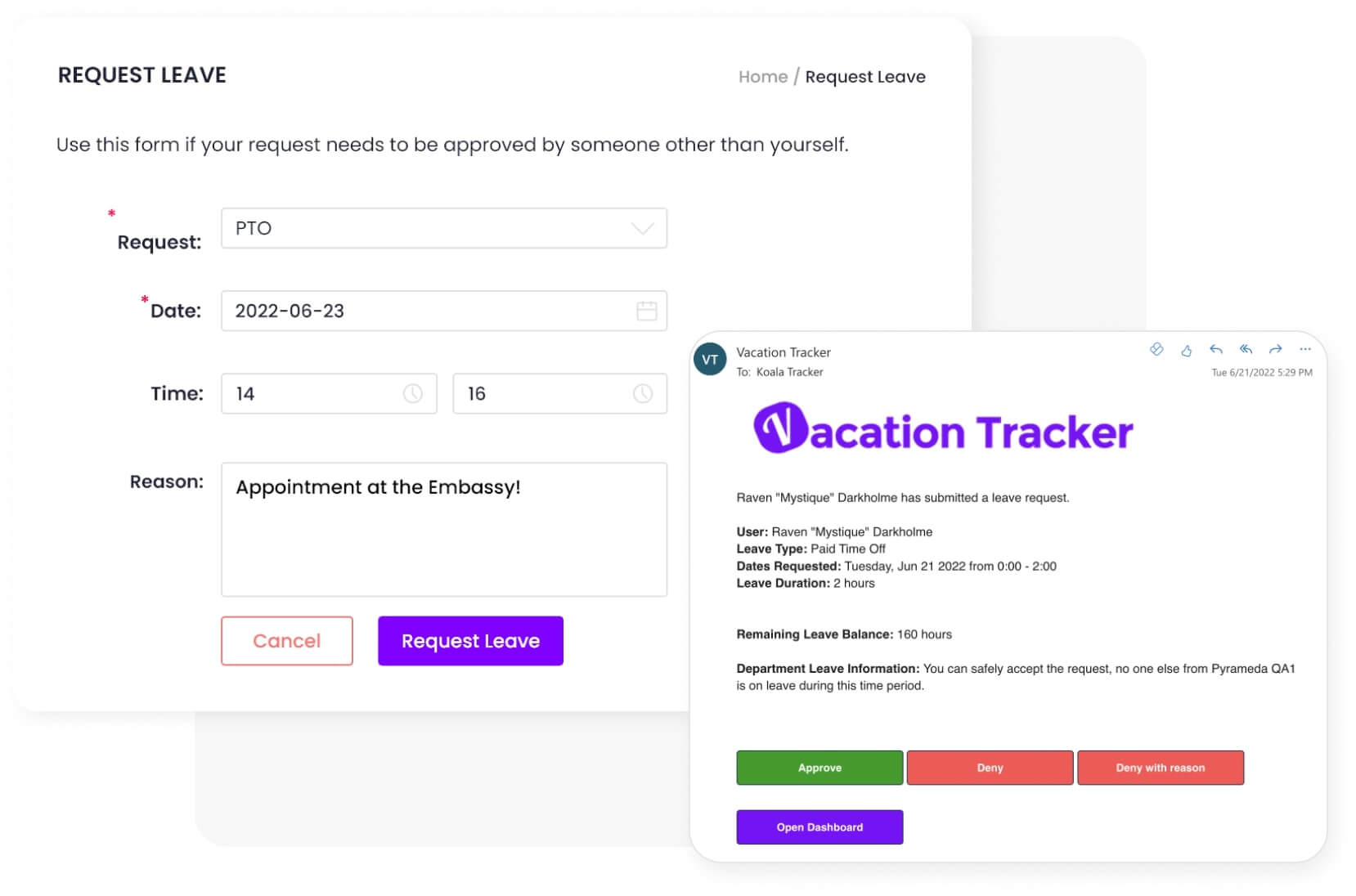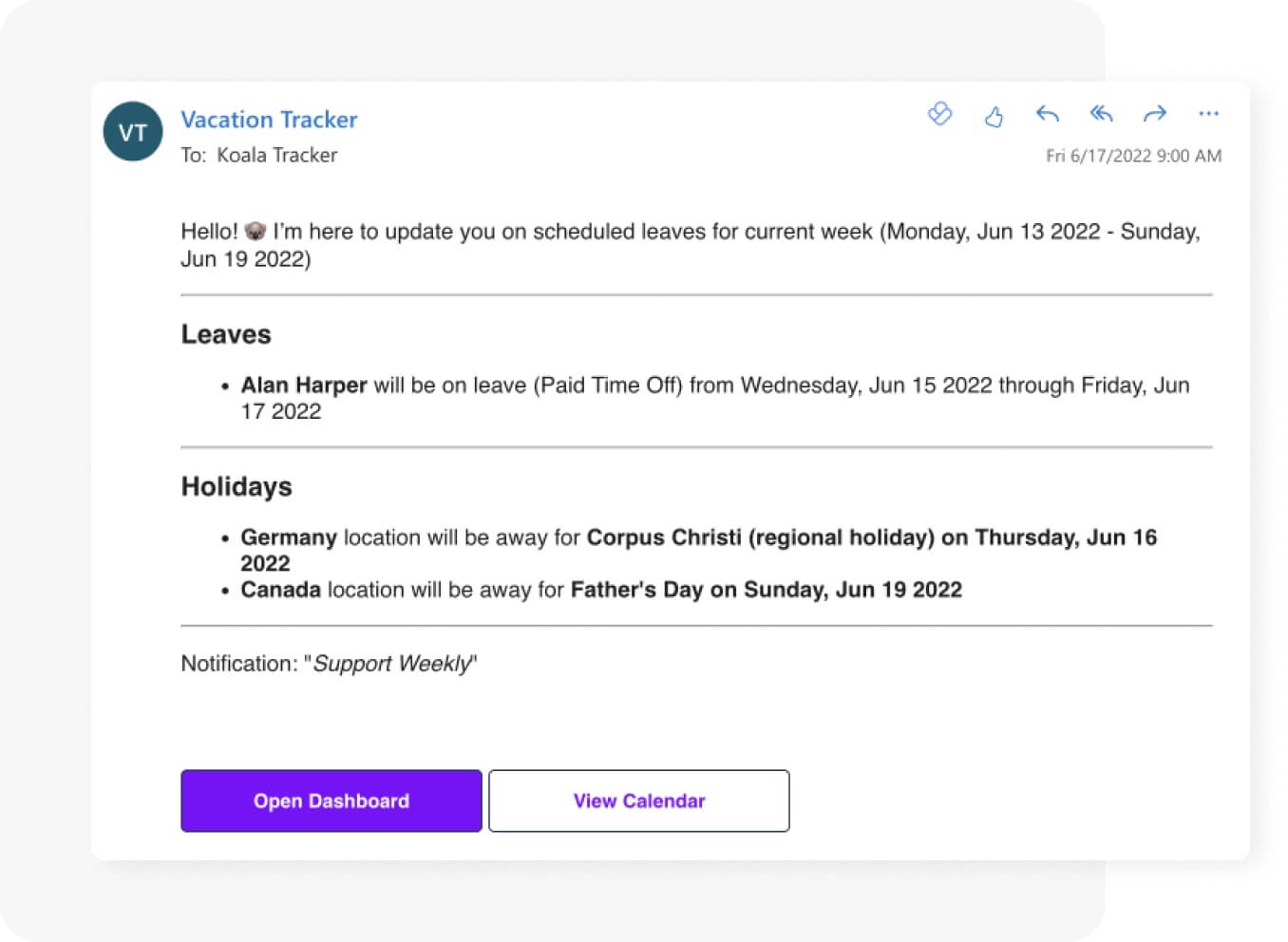 TAILORED NOTIFICATIONS
Get leave updates directly in your inbox
Set up daily or weekly leave notifications and tailor them to the entire organization, or a specific department or location.
Just select the email addresses you want to receive notifications on, and we'll take it from there.
IMPORT NEW USERS
Invite team members in just a few clicks
You can easily invite more users to join your Vacation Tracker account via email.
No additional setup is needed from your team members once you send the invite, except for providing their full name and profile image.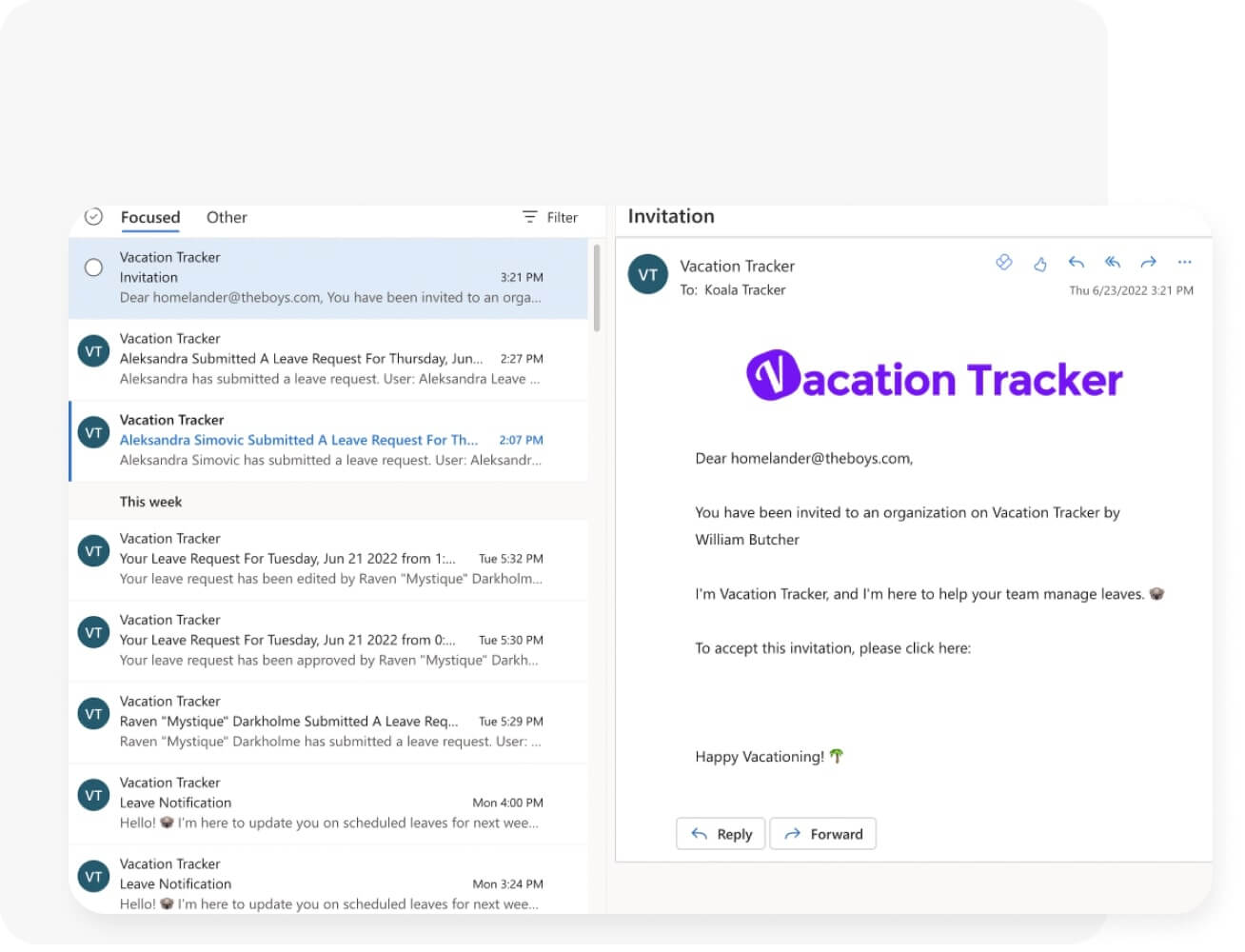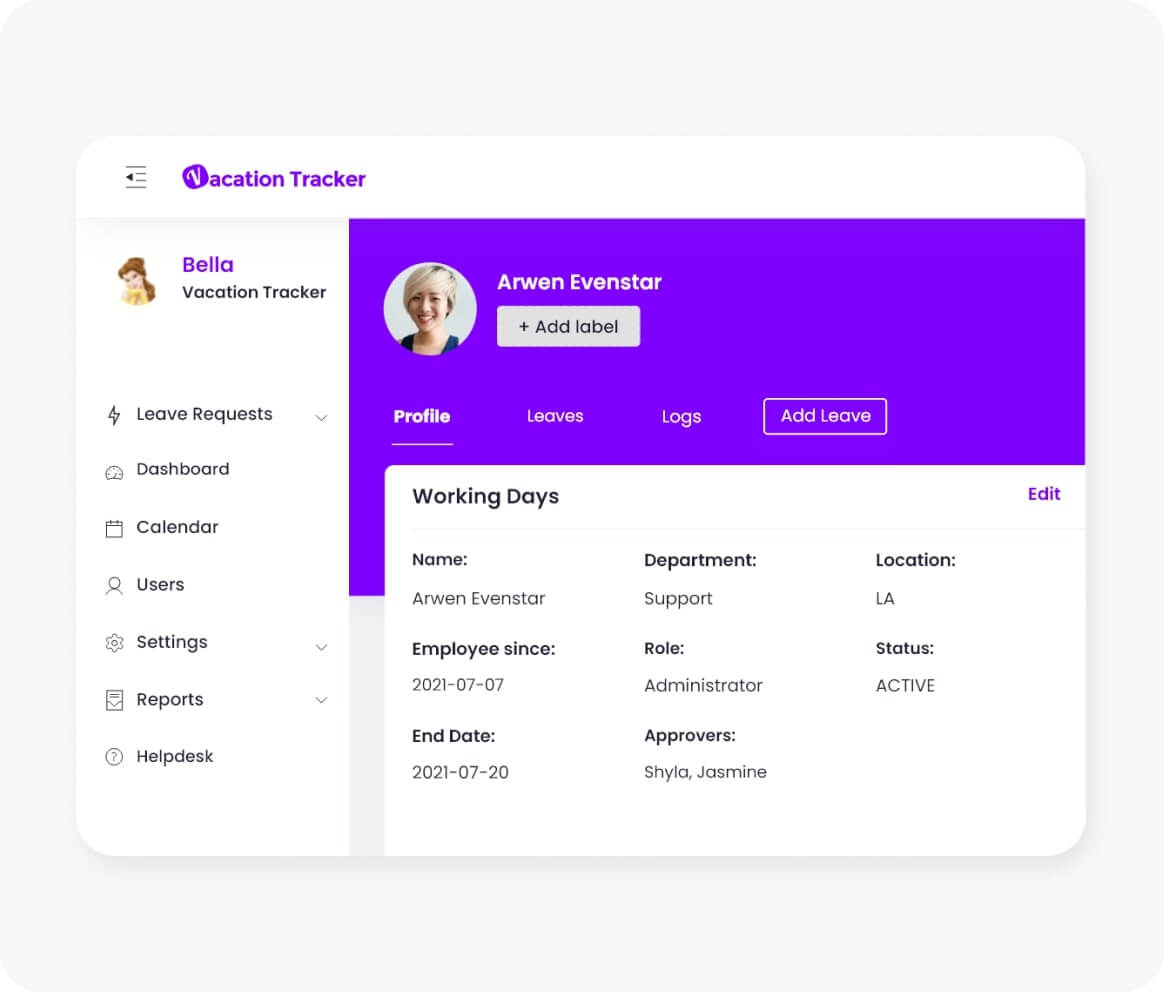 CUSTOMIZATION OPTIONS
Customize our tool to match your workflow
We give you the flexibility to build a leave tracker that's right for you.
From custom leave policies, departments, and locations to even your working weeks, every feature in Vacation Tracker is configurable to suit your specific requirements.
OUR CUSTOMERS
Why tech teams love Vacation Tracker

"The ease with which everyone transitioned across to using Vacation Tracker without asking a million questions was impressive!"
Romana R.
Producer, No Code

"Set it and forget it. New users come on, they get added to Vacation Tracker, and it just works."
Mark F.
Partner, Buffkin Baker

"Having easy updates on who's taking time off, and when, has helped our team be more connected than ever."
Yami R.
People Operations, Team Blind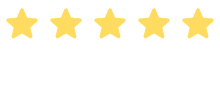 Automate PTO tracking for your growing team, worldwide
Try all features for 7 days. No credit card required.