Introducing Vacation Tracker's New Accruals Feature
Reading Time:
3
minutes
Our much-anticipated Accruals feature has finally arrived!
There's no need to do countless manual calculations or send back-and-forth emails to determine your team's leave balances or accrual days for the year. Vacation Tracker's latest Accruals feature is here to reduce the time-consuming process of calculating leave accruals to just a few easy clicks.
This feature is available in the Complete plan.
What is accrued leave?
Accrued leave refers to the time-off earned by an employee, but not yet used or paid for by the employer.
Around the world, it is standard practice for companies to calculate their employee's leave balances using accruals. Additionally, the parameters for calculating accrued leave might differ from company to company as well. Some may choose to calculate it on a daily basis, while some may choose weekly, or monthly and so on.
Why we decided to create this feature
Several of our users have been seeking a faster method for calculating accrued leave in their organizations. And here at Vacation Tracker, we understand the importance of customer feedback. We knew our users needed a faster way to calculate accruals, so we developed it… and now it's finally here!
How do Accruals work?
This feature lets you quickly and easily see how much PTO you've earned — whether you're looking for a quick overview or an in-depth analysis. You won't have to waste time crunching numbers and will get the information you need in a split second.
Vacation Tracker allows users to distribute accrued days in three ways. This includes:
Monthly accrual

Semimonthly accrual

Biweekly accrual
Our system automatically calculates the amount of leave an employee is entitled to based on inputs like the employee's start date. Administrators can choose the frequency at which days accrue based on the number of days entered in the Yearly Leave Quota section. This information can be accessed from the Accruals section of the Leave Policy window.
Feeling confused? Let us explain how this new feature works with the help of a few examples.
Monthly accruals
Taylor is an HR manager at Teleport Museum, a company that has been looking forward to using Vacation Tracker's new feature and gives their employees accrued time off on a monthly basis.
In this case, they'll be choosing the "Monthly" Accrual type and it will be their default setting. Our system will then give them a breakdown of the most recent accrual period, the date of the next accrual, and how many days their employees will accrue.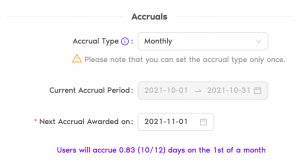 Semimonthly accruals
Sarah is the co-founder of Unicorn Delivery, a fast-growing start-up company that is completely remote. Upon switching to our leave management solution, Sarah's HR team decided that employees at the company will accrue leaves on a semimonthly basis.
Hence, now they'll be selecting the "Semimonthly" Accrual type. This will give their employees accrued days on the 1st and 16th of every month. And our system will calculate every employee's accrual for them!
Bi-weekly accruals
Camila recently joined Awesome Design as an HR officer and wants to implement a new way of calculating accruals for everyone in her organization. She decided her company will give out accrued days on a biweekly schedule.
Upon discussion with her team, Camila decided that Awesome Design employees will accrue leave every alternate Friday. Therefore, she can easily select the "Bi-weekly" option and use Vacation Tracker to give her employees accrued time off on a day of her choosing.
No accruals
John's Repair Shop has used Vacation Tracker since last year and has been incredibly happy with the leave management solution. John, the Manager of the shop, however, does not want his employees to accrue leave on a semimonthly, biweekly, or monthly basis. Therefore, he selected the "None" option in the Accruals section.

For a step by step guide, please visit this Helpdesk article: https://vacationtracker.crisp.help/en/article/accruals-15msw2v/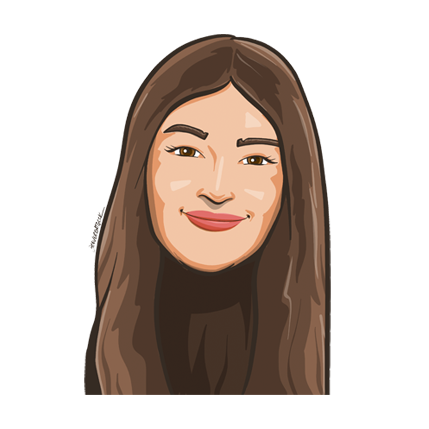 An avid writer and aspiring marketer, Snigdha is a student at Concordia University's John Molson School of Business.