Automate and simplify PTO tracking
Avoid the hassle of spreadsheets and manual leave tracking, and start managing PTO the easy way with Vacation Tracker.
Get the visibility you need, with no employee training needed.
Requesting leaves, made ridiculously easy
No more paper forms or messy spreadsheets — all it takes is just a couple of seconds to request a leave, right from where you work.
Just select from one of your custom-made leave types, input essential details like the duration of the leave along with a reason if necessary, and sit back while it goes to your Approver.
One click is all it takes
We made asking for time off simple. But getting it approved? Even easier.
Once a leave request has been submitted, the Approver will be notified via email and can approve it with a click. Or, auto-approval is also available and can be configured by the Administrator.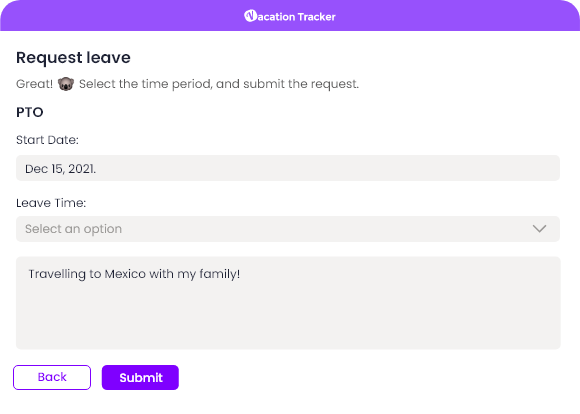 Tailored notifications right in your inbox
Set up daily or weekly leave notifications and tailor them to the entire organization, or a specific department or location. This way, everyone stays up to date at all times.
Just select the email addresses you want to receive notifications on, and we'll take it from there.
Easy access to all leave-related information
Get all relevant leave-related information directly to your inbox with Vacation Tracker.
This way, everyone gets notified instantly when their leave request is approved or rejected. As an Approver, you'll also receive information about updated, canceled, and submitted leave requests.
Invite users to join your Vacation Tracker account via email.
Once you send an invite, there is no signup or further configuration required on their end, except for providing their full name and profile image. Easy peasy.
Take control from the Dashboard
The Vacation Tracker Dashboard is your portal to unlock the full power of our leave management tool. It gives you a full overview of everything that's going on in your organization.
As an Administrator, the Dashboard is your hub where you can configure everything in your organization – from individual team member pages, configuring PTO settings to even sending out monthly reports.