How to Manage Teams In Different Locations
Reading Time:
2
minutes
Having teams in multiple offices is terrific, however, it can be hard to manage each team's time off, and keep track of everything. With Vacation Tracker you can do all that in a few simple steps.
To set up your teams in different locations, and their holidays, all you have to do is head on over to your dashboard, and then to the "Teams" or "Holidays" tab.
How to access the administrator dashboard?
Accessing the dashboard is now easier than ever. Every message to managers from our chatbot has an embedded link to the dashboard. You can also access the administrator dashboard by going to https://app.vacationtracker.io/signup or by clicking "Open Dashboard" in Slack.
In your dashboard, you can manually set the number of days off for each team member, set multiple teams, check history, set vacations, set-up calendar feeds, and export your data into a CSV file.
If you have several offices in different locations, setting up your teams in Vacation Tracker is a snap. You can even have different administrators for each office to approve time off for their teams and set up holidays globally or for each team separately. You can also filter the calendar and dashboard by teams giving you only the information specific to that team.
How to set up holidays for teams in different locations?
Holidays are just around the corner, so it's time to notify your employees about their time off. With Vacation Tracker it's never been easier to manage holidays, and your employees' time off in general.
Administrators can easily set up holidays for each team, whether they're in multiple locations or not. You can set the holidays globally or for each team individually. All you have to do is type the Holiday Name and Date, and choose the team which the holiday is created for. Simple as that. Click "Create" and you are all set.
Our Vacation Tracker bot will make sure you're notified each time a holiday is coming up so you know who will be out of the office.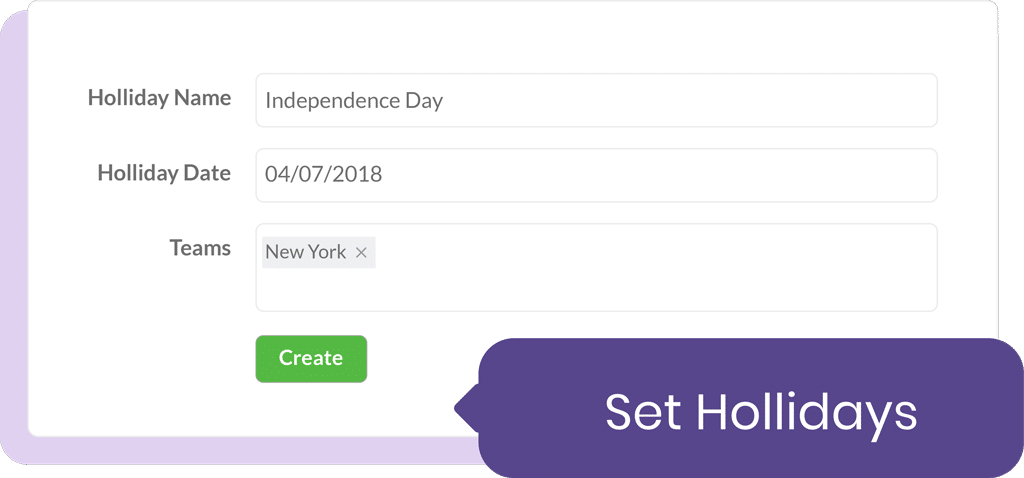 If you are interested in learning more about our features, head on over to our Features page. Need a feature that's not on the list? Send us your suggestions at hello@vacationtracker.io or start a chat with us.
Vacation Tracker is currently in public beta so go ahead and sign up on our website and take it for a test drive.