Discover the Ultimate PTO Tracking Solution
Experience the best in PTO tracking with Vacation Tracker, and say goodbye to mediocre solutions. Simplify time off management and empower your team with our intuitive software.

It's time to leave mediocre PTO tracking behind and embrace the future
Why settle for less? Discover Vacation Tracker 2.0, the ultimate PTO tracking solution that streamlines time off management and boosts your team's productivity.
No need for multiple logins
With Vacation Tracker, you can forget about adding one more software to the list and remembering another password. Vacation Tracker integrates with Slack, Microsoft Teams, and Google Workspace, giving you the option to manage leave without disrupting your current workflow.
No team training necessary
Our platform is highly intuitive and user-friendly, which means you won't have to spend any time formally training your team on how to use Vacation Tracker. Get set up in minutes, and transform your leave management forever. It's that simple.
Fully-customizable to fit your needs
Every feature in our tool can be customized to fit the needs of your business. After all, no two businesses are the same — so why should their leave management tools be? From setting up custom Leave Policies, to assigning user Labels and auto-scheduling Leave Reports, our tool fits into how you work.
Fantastic customer support
Our highly rated Customer Support team is here to help and is always just a click away to help as your global team scales. Whether it's via emails, our Help Desk, or our frequent webinars, we're here to answer any questions you may have, whenever you need it.

Here's a side-by-side comparison to show how we do it better
Now that you've decided to break free from the shackles of manual leave management forever
and finally switch to the ultimate leave tracking solution, which one are you going to choose? Here are a few factors that'll help you decide.
Integrate with external calendars
Sort users by filters and labels
Customize workweeks for users
Assign multiple approvers
Individually customized PTO accruals
Auto-generate and schedule leave reports
Multiple location management
Configurable leave policies
Set custom fiscal year start
Add initial brought forward days
Individual employee user profiles
Microsoft Teams integration
Google Workspace integration
Switch to our Vacation Tracker today and enjoy one month free!
Use code
UPGRADE1M

on the Billing page!

Our tool works right where you do
Requesting and approving leaves has never been easier with Vacation Tracker. Requesting and approving most leaves takes just a few clicks.
With all your leave data accessible right from your fingertips, our leave management platform allows you to simplify your current PTO tracking process so you can get your time back.

Build a tool that's perfect for you
Our Vacation Tracker platform is designed to fit into your existing workflow. From Departments, Leave Types, Locations to even user Labels, every feature available in our tool is fully customizable. We give you the full control, flexibility, and freedom you need to customize our tool exactly how you want it.

Streamline your leave management process
With Vacation Tracker, you can automate the tedious process of calculating and storing important data related to PTO accruals, rollover days, individual leave quotas, and more. We'll manage and track everything, so you can focus on what you're actually here to do: work.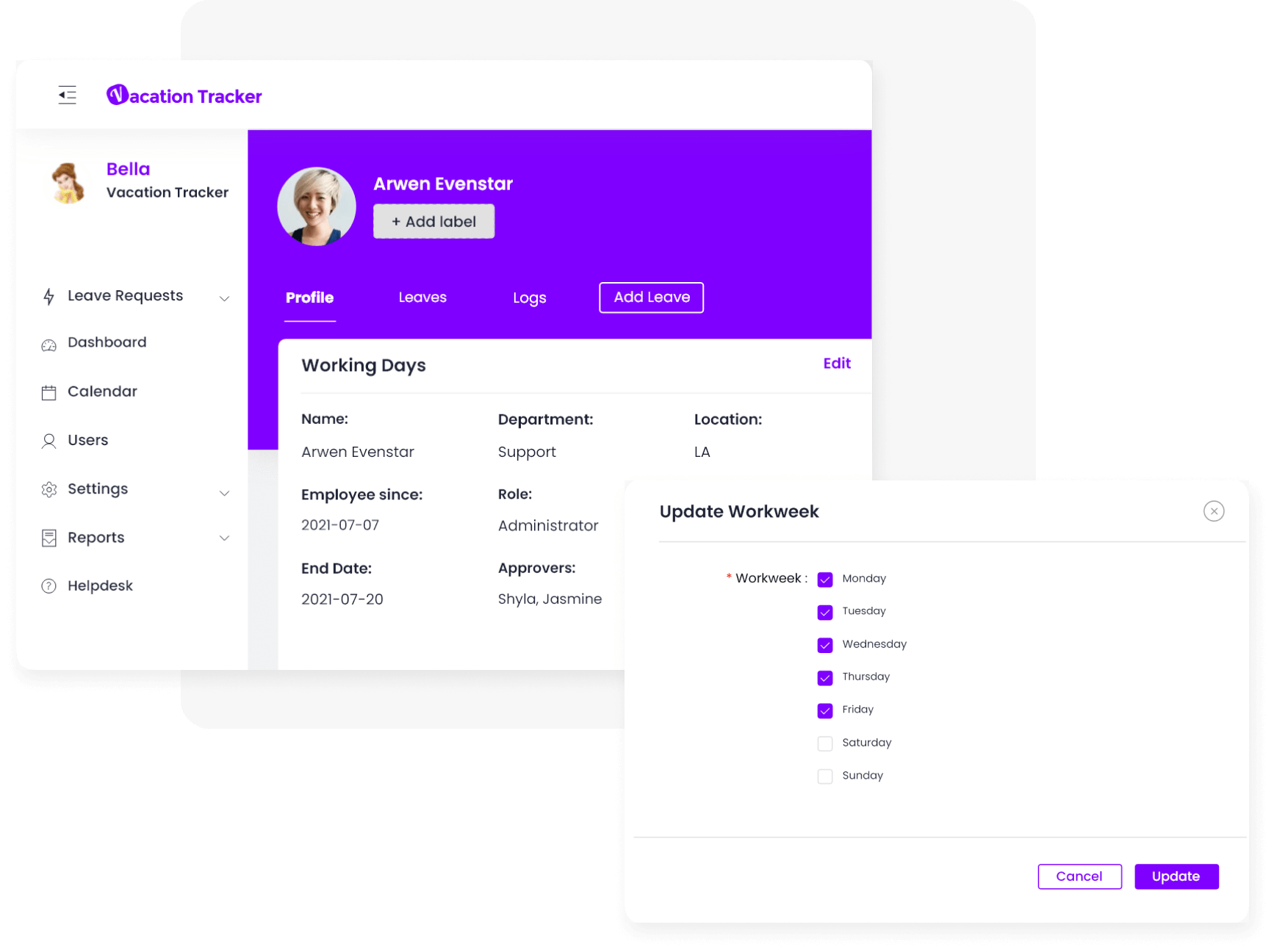 Our Vacation Tracker platform is loved by 2000+ organizations worldwide
Vacation Tracker users have successfully transformed their leave management processes,
saving hours each week and ensuring smooth communication among team members. Plan better and work smarter with our tool.
OUR CUSTOMERS
Why tech teams love Vacation Tracker
"The ease with which everyone transitioned across to using Vacation Tracker without asking a million questions was impressive!"
"Set it and forget it. New users come on, they get added to Vacation Tracker, and it just works."
"Having easy updates on who's taking time off, and when, has helped our team be more connected than ever."

Ready to Experience the Difference? Start Your Free Trial Now!