New Feature Alert: Track Leaves In Hours
Picture this: Bruce is about to sign a new job offer at Unicorn Delivery, a company he has been wanting to work at for years. 
After acing that interview and discussing the nitty-gritty details of everything from employee benefits to his salary, he starts discussing the next most important thing: PTO. He asks HR about how many days off he'll be entitled to in a year, and their answer surprises him. 
"We actually manage leaves in hours here in Unicorn Delivery. That means you'll get 20 days of paid time off every year, which translates to 160 hours annually."
Bruce sits back in surprise. Confused, he asks "Managing leaves in hours? How does that work?"
Well, we've got you covered — let us show you exactly how.
Why we created this feature
It's common practice for many companies around the world to track employee leaves in hours instead of the traditional days format. This means that all leave-related information such as leave quotas, PTO, accruals, sick days, and more are distributed to employees in an hourly format.
Hence, as a leave management system, it was of utmost importance for us to give our users the option to track leaves in hours if they chose to do so. And that's what we did with this new feature!
How to track leaves in Hours
From now on, all users on our Complete plan will have the option of displaying all leave-related information for their organization in Hours. To enable this, all you have to do is:
Log on to vacationtracker.io to access the Administrator Dashboard.
Once you're on the Dashboard, click on General under the Settings tab on the left side.
Then, select the Tracking leaves in Hours option.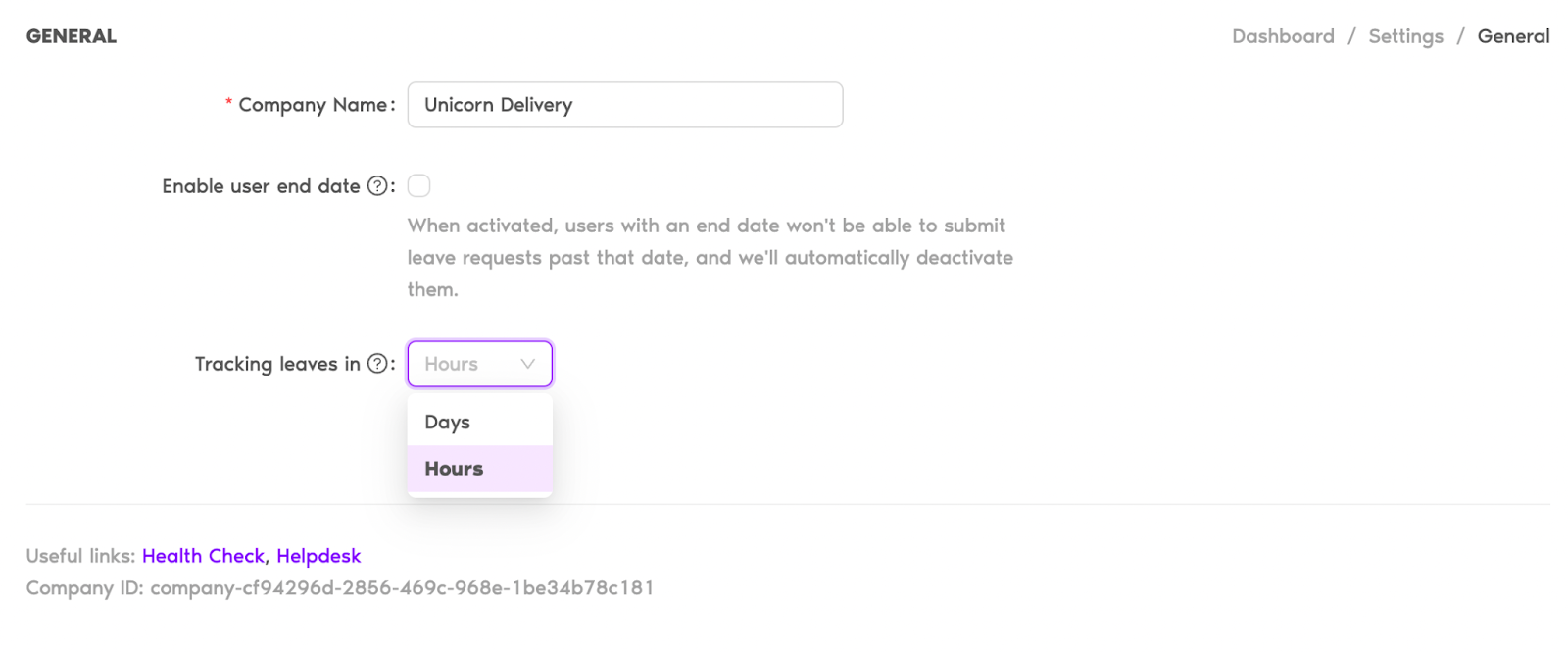 Then, hit Save and you're ready to go!
Once you've done that, all leave-related data will automatically be displayed in an Hourly format.
For example, when you're creating a new leave policy (or editing an existing one), details such as Yearly Leave Quota and PTO Accruals will all be shown according to Hours.
Here's what Bruce will see on his User Profile on Vacation Tracker. Important details such as Bruce's leave quota, history, accrued PTO, and more will all be displayed in an Hourly format.
This is an example of how users will be notified of an upcoming scheduled leave. As you can see, when a day off is requested, a notification appears on the Dashboard. It displays the total duration of the day off (8 hours). This information can also be sent to users via email or on workspaces such as Slack and Microsoft Teams.
 Alternatively, users can also request time off in hourly increments of anywhere from 2 to 8 hours, as shown above. To learn more about requesting hourly-based leave, click here!
An avid writer and aspiring marketer, Snigdha is a student at Concordia University's John Molson School of Business.