Scheduled Reports in Vacation Tracker: A Guide
Reading Time:
3
minutes
What if there was a way you could organize your monthly leave reporting at the touch of a button? Imagine if the countless hours spent manually searching and compiling leave data could be accomplished in less than a minute. Or if you never had to use that free Excel leave tracker template ever again.
There's nothing wrong with looking at the number of leaves in Vacation Tracker by the month, but it doesn't help you much when you're preparing your annual reports or trying to figure out how much time your employees spend on leave.
With our latest feature, you don't have to imagine anymore — we are here to do all your work for you, so you can focus on getting your actual work done.
This feature is a part of our Complete plan.
What are scheduled reports?
Our goal at Vacation Tracker is to make leave management as stress-free as possible for our users. And that's exactly what we aim to do with our latest feature, Scheduled Reports.
Our new monthly report tool allows Administrators to generate monthly reports with a single click. These reports contain useful information like the number of leaves used, requested, and granted to the employees of your department or organization.
Our users can choose from generating 3 different types of reports:
Leave Request Reports

Leave Balance Reports

Monthly Leave Balance Reports
How does it work?
Administrators will have to select and input key information like the type of report, Locations, Departments, email addresses, and the date & time they want the reports to get delivered. On-the-go reports are available too! The initial setup takes less than 2 minutes, and in turn, saves you hours of hard work and digging through leave data.
Confused? Let us show you how it works, step by step.
To file for a new report, first, input a name for your file.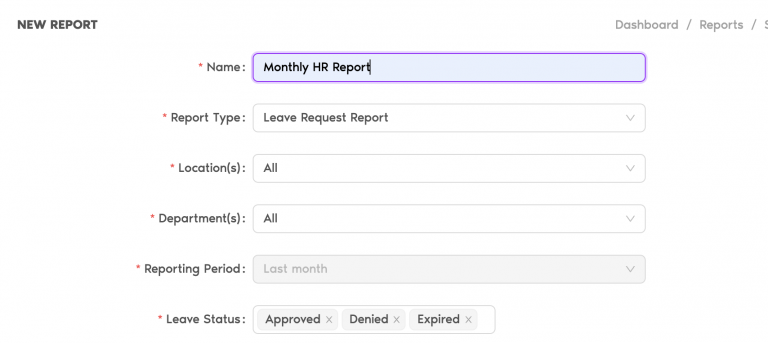 Then, choose the report type. This can be a Leave Request, Leave Balance, or Monthly Leave Balance Report.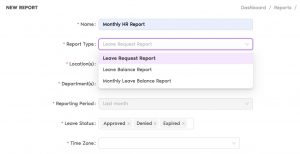 Next, select a Location. You can pick one, add multiple according to your preference or generate a report with all Locations.
And choose the Departments you would like to list in the report. The same rule as before applies — you can either choose all departments, a specific or a single one.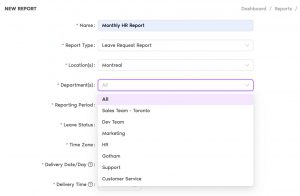 Next, pick the leave statuses you'd like to include in the report.
Select a time zone to center the report on.
Choose the date or day you'd like to have it delivered.
Schedule the time for the report to appear.
Select the recipients by adding their email addresses.
Confirm all your details by reviewing the summary.
And you're all set to go! Send it now or schedule the report at the click of a button, then sit back and relax while Vacation Tracker handles the work for you.
For a step-by-step guide tutorial, visit this link: https://vacationtracker.crisp.help/en/article/guide-how-do-i-set-scheduled-reports-1cffr14/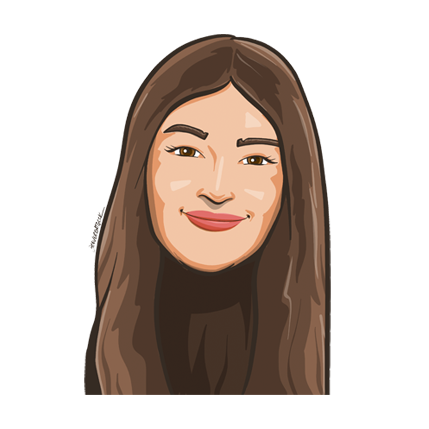 An avid writer and aspiring marketer, Snigdha is a student at Concordia University's John Molson School of Business.