Slack and Microsoft Teams: Are those different names for the same app?
Reading Time:
4
minutes
Are you an Apple or Android fan? Or do you prefer Friends over HIMYM? Maybe you're used to using Slack and cannot imagine working in Microsoft Teams. Regardless of your preferences, we took the quest upon ourselves to provide you with an unbiased, objective opinion on the key differences between Slack and Microsoft Teams to help you choose the best tool that will suit your team's needs.
Slack and Microsoft Teams: A brief overview
Before we start explaining the differences between Slack and Microsoft Teams in detail, we should offer a brief overview of these two tools. Up until recently, the most obvious difference between Slack and Microsoft Teams was the fact Microsoft Teams didn't have a free plan that would enable customers to test the tool before switching to paid plans. However, this changed in the second half of 2018, which straightened the position of Microsoft Teams as a Slack competitor.
Overall, Slack seems easier to set up; however, Microsoft Teams offers outstanding integration with Office 365 applications that enable undisturbed collaboration. Slack is a useful tool for small businesses. However, if you're managing a mid-sized business or enterprise; you'll find Microsoft Teams better suited for your team's needs since it's built with enterprises in mind.
Slack vs. Microsoft Teams: Pricing
One of the most important things when choosing which software to use is its price.
As we already mentioned before, both Microsoft Teams and Slack come with free plans. However, to make the most out of both tools, you'll have to switch to one of their paid plans.
Microsoft Teams starts at $5.00/month/user but opting for an annual plan is compulsory. Surprising enough, this is cheaper than what Slack charges ($6.67/month/user) when billed annually.
The fact that you automatically get access to Office 365 if you choose Microsoft Team for your workplace makes it more attractive.
Slack vs. Microsoft Teams: Bots
Both Slack and Microsoft Teams have bots built into their tools to help users organize their workload and get familiar with the app. In Slack, you can use your private chat to send yourself links and answer your questions.
Microsoft Teams, however, has two helper bots: T-Bot and WhoBot, with T-Bot having similar functions as Slack bot. On the other side, WhoBot is built using AI technology that searches the company's intranet and gives more in-depth answers to its users about other team members. It can give an entire organizational chart of the company and search for experts within the company. For instance, the user can ask, "Who knows about x?" and WhoBot will be able to provide answers to this question, finding the right person within the organization.
Slack vs. Microsoft Teams: Layout and Design
When it comes to design, both tools look quite similar – especially if we see that both come with a smaller vertical panel for contact and a larger one for conversations.
However, unlike Slack, Microsoft Teams comes with an extra panel containing features such as Activity, Chat, Teams, Meetings, and Files. When it comes to customization, it seems like Slack offers much more choice to its users since they can change the app's color to suit their preferences, unlike Microsoft Teams which has only three themes users can change.
Slack vs. Microsoft Teams: Security
Both Slack and Microsoft Teams offer enterprise-grade security. However, we would say that Microsoft Teams has a more robust and more structured security architecture, considering it's built around the Office 365 ecosystem.
Slack vs. Microsoft Teams: Features
Messaging: Both Microsoft Teams and Slack have the possibility of hosting 1:1 chats and group chats along with threaded messaging. However, the most significant difference between these two tools when it comes to messaging is that Microsoft Teams offers more possibilities for formatting the messages users send. To be more precise, users can send bullet lists, change their font color, etc., when they send their messages in Microsoft Teams. On the other side, Slack offers various reactions to other users' messages and lets you set reminders on messages.
Video calls: Calling your coworkers in Microsoft Teams is a breeze – all you need to do is to press a call button, and you'll be set. Recording calls and video conferencing options work perfectly as well. However, in Slack, you can call just one person on a free plan, which can be considered a drawback compared to Microsoft Teams. On a paid plan, Slack allows up to 15 participants which is significantly lower than Microsoft Teams, which has a limit of 250 people on a paid plan.
Integrations: Considering that Teams is a Microsoft product, it's not surprising that this app integrates well with Office 365. With that being said, if you frequently use programs such as SharePoint and One Note, you'll find using Microsoft Teams handy. However, Slack undoubtedly has more integrations with other apps, which might be one reason for choosing this app as a preferred communication tool for your business.
Task management: Neither Slack nor Microsoft Teams have a built-in task management tool; however, you can easily bypass this problem by using some of their integration.
Key Differences
Being a Microsoft product, Teams is integrated with Office 365, ensuring seamless collaboration between team members. This app is made with mid-sized businesses and enterprises in mind, which means users' information is well-kept. On the other side, Slack users usually have to pay extra to use the privilege of third-party apps they get for free by paying Microsoft Teams plan, which means Slack is actually more expensive than Microsoft Teams.
Overall, both Slack and Microsoft Teams are highly useful collaboration tools and you won't be disappointed whatever you choose. However, make sure to properly assess your team's needs and opt for the option that fits your needs the best. Now, after all, that's been said, you'll be able to make the best decision faster.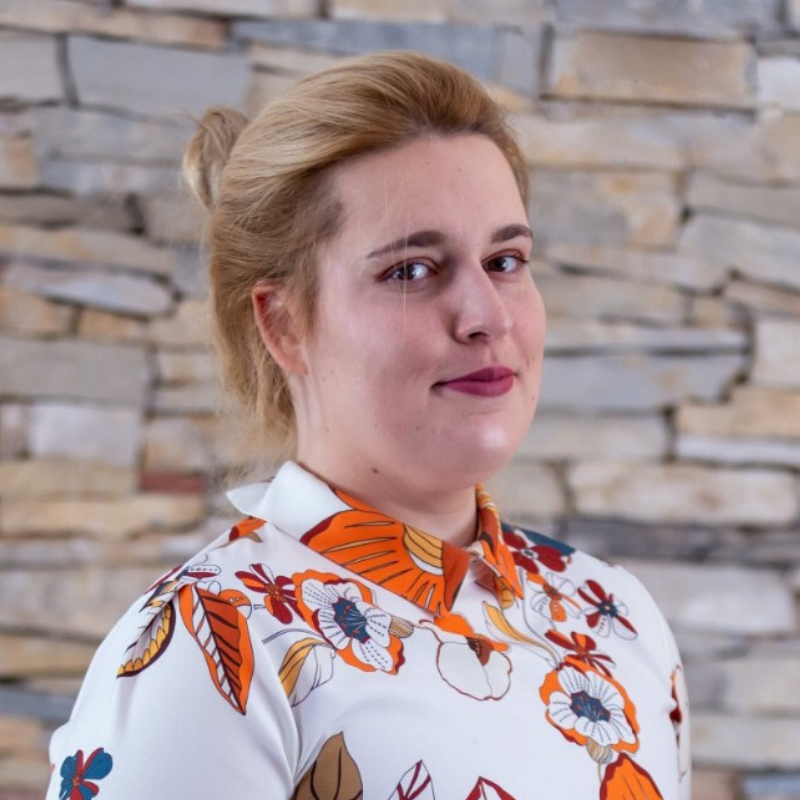 A cat enthusiast and a cupcake maniac, Ana is a freelance Content Writer passionate about HR, productivity, and team management topics. When she's not at her keyboard, you can find Ana in the kitchen, trying to make delicious cookies.