Introducing Vacation Tracker for Microsoft Teams! 🏖️
Great news from the Vacation Tracker team! 🥁 🥁 🥁
After months and months of hard work, we're proud to announce that Vacation Tracker for Microsoft Teams is finally here! Get ready to track leave without ever having to leave your favorite collaboration tool.
Are you excited as we are? Vacation Tracker has a fresh and improved design, with some brand new features such as Locations, Leave Policies, and Microsoft Teams tab!
It has never been easier to track leave, and keep everyone in your team informed of planned absences! Check out our Microsoft Teams integration and say Hello to a simpler way of managing leave.
Key Features
Request and approve leaves through Microsoft Teams or the Vacation Tracker web dashboard.

Manage company settings and create leave policies on the Vacation Tracker web dashboard.

Create multiple teams and locations, and appoint Approvers.

Set leave policies for each location.

Create custom leave quotas or rules for each team member.

Create and edit custom leave Types.

Set up Holiday schedules for all your locations.

View and filter leave calendar for each team.

Set daily/weekly notifications per team, per location or company-wide.

Set up a custom workweek for the entire organization, or customize workweeks for individual employees.
From small, medium and large companies to government organizations, schools and nonprofits, Vacation Tracker is a tool used by over 1,000 organizations worldwide. And we're more than happy to welcome you to the Vacation Tracker family.
Helpful Resources
To help you get started, we've created a checklist that will take you through the first steps we recommend you take when you first arrive at the Vacation Tracker Dashboard.
If you aren't familiar with the terms used in Vacation Tracker, check out our Glossary.
For in-depth instructions on how to configure settings in Vacation Tracker, go to our Helpdesk where you'll find the answers to our frequently asked questions.
And if you ever need our help along the way, or just want to reach out and say Hello, we're one email away at hello@vacationtracker.io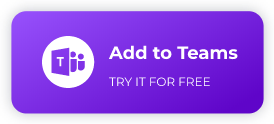 Happy Vacationing! 🏖️