Free Annual Leave Plan Excel Sheet
In search of a spreadsheet to help you manage and track annual leaves manually for up to 20 employees? Look no further than our Free Annual Leave Plan Excel Sheet.
Why do all this work manually when we can do it in seconds?
Let's face it: no one like inputting employee annual leave data onto a boring, pesky spreadsheet, like our Free Annual Leave Plan Excel Sheet. It's time-consuming, stressful, and most importantly just not a fun way of tracking your annual leave.
That's why you need a dedicated leave tracking tool like Vacation Tracker to simplify and automate your leave management, so you can focus on what you're here to do: actual work.
Think about all the time you waste updating Excel spreadsheets and tracking employee leave data on different platforms. Why bother with all that when our leave tracking tool can do it all for you in just a snap?
Say goodbye to last-minute leave surprises and manual leave tracking errors with our leave tracking software. We calculate everything for you, so you can stay rest assured that your leave management is in the right hands.
Uncomplicate PTO tracking
Save yourself the hassle of calculating employee leave balances, unused vacation days, and PTO accruals. Let us do the math so you can focus on what you're here to do: actual work.
Get easy access to leave data
Vacation Tracker works from where you work — whether that's Slack, Google Workspace, or Microsoft Teams. Get all the leave visibility you need right when and where you need it.
Here's how Vacation Tracker helps you master leave tracking
Discover all the features you need to start leave tracking like a pro.
Stay on top of all PTO news with notifications
Our daily and weekly notifications help employees keep track of who's out, for what reason, and for how long so that everyone can work around each other's schedules, stay more organized and avoid any last-minute surprises.
Customize our tool to your heart's desire
Multiple offices in multiple locations? Different leave policies? Scattered departments? No problem. Customize Vacation Tracker to fit exactly into the way you work. This way, you can create your dream leave tracking tool the way you deem fit.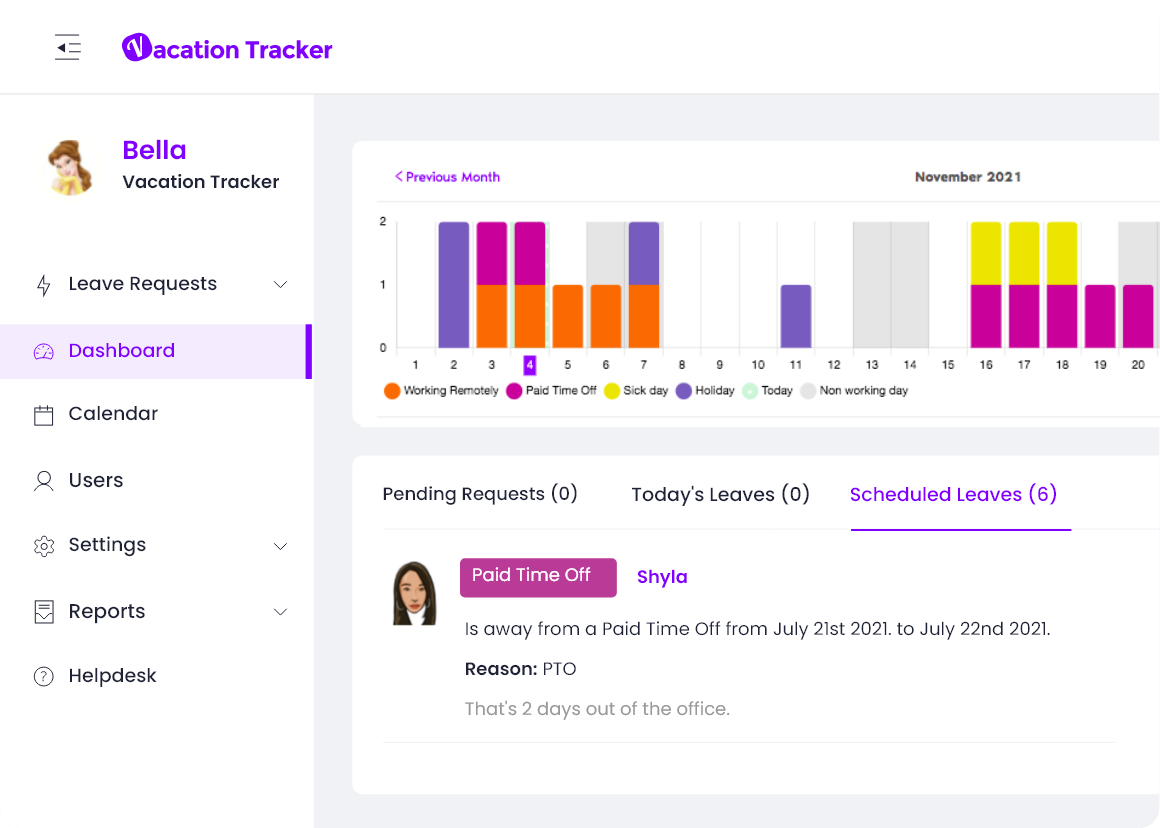 Securely automate & store all leave-related data
The Administrator Dashboard is your portal to unlocking the full power of Vacation Tracker. Here, you can view your Employee Leave Calendar, go over individual User Profiles, set Leave Policies and so much more. Store and automate all your leave data in one place.
Aleksandar L.
Easy to use. Makes vacation/holidays/sick and off days management a breeze, both for the management and employees.
Tímea V.
HR Specialist
Really easy to use, my team and I love it, made our life so much easier. Also the vacation tracker team is super helpful and nice, thanks!:)
Martin G.
Management Consulting
We have been using this product for about 6 months and the team loves it. Cant wait to see future improvements and new features!
Zoja K.
Editor, Startit
We tried a lot of options & this is the only one we love because it is: - easy to use - customizable on the team and personal level
Manuel B.
CEO at Timeular
Very simple to setup, makes it super simple to request and approve days off and the team is very responsive and takes feedback serious.
Nemanja T.
Entrepreneur and Industrialist
Quick to set up, and very easy to use. Amazing customer service.
Austen C.
Builds the Serverless Framework
Simple, focused, no-nonsense.
Tomer D.
Founder @Crane.ai,@epic.ai @slides.ai
i am looking for this tool for years 🙂
Troy H.
Entrepreneur & Web Developer
I really like this. It really streamlines everything!
Sean M.
CEO at Clockify
Great app!
How secure is my information?
Your information is safe! We pull minimal information from your workspace directory (first and last name of users and avatars). We also have two data centers, one in Europe and one in North America. Depending on where your company is based, you will connect to one of these two centers.
How reliable is Vacation Tracker?
Our system is very reliable! We use Amazon Web Services infrastructure.
How long does the free trial last?
Your Vacation Tracker free trial lasts for 7 days, during which all features are included. No credit card is required to start your free trial period, and you can cancel anytime.
Do you offer discounts to non profit organizations?
If you are interested to learn about our discounts and coupon codes, please contact us at hello@vacationtracker.io or start a chat with us.
I have another question. How can I contact you?
We're proud to say that we will be with you every step of the way. Simply contact us at hello@vacationtracker.io and we will be more than happy to help.