#1 GOOGLE WORKSPACE INTEGRATION
Automate leave tracking right from your inbox
Track PTO and other types of leave with ease using Vacation Tracker.
Say goodbye to juggling multiple tools, and manage all types of leave right from your inbox.
Try all features for 7 days. No credit card required.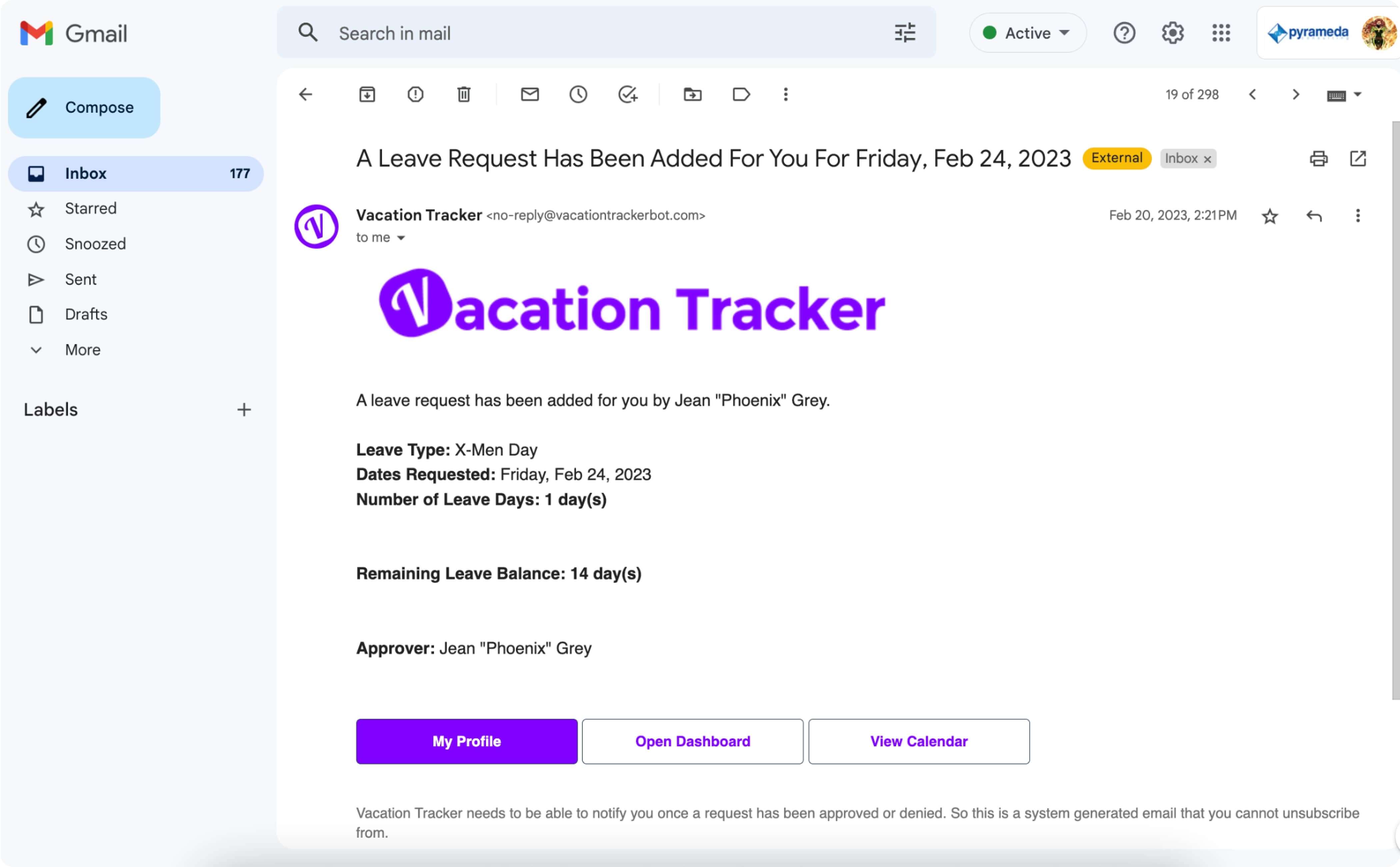 All-in-one solution
By integrating our tool with Google Workspace, users can manage all employee time off on a reliable platform that's accessible from their fingertips.
Increased Transparency
Give your team visibility over all leave-related information and help them self-manage their PTO, allowing everyone to make informed decisions.
Easy-to-adapt & Use
Our user-friendly platform requires minimal team training, allowing your team to easily adapt and start using Vacation Tracker right away.
Seamlessly Integrated
Get all relevant leave-related information delivered directly to your Gmail inbox.
"I've been very happy with Vacation Tracker. IT beats using a spreadsheet for PTO and the CS team has always been super responsive and super helpful!"
EASY LEAVE APPROVAL
Simple & hassle-free process of approving leaves
Submit leave requests in just a few clicks by logging on to our Administrator Dashboard.
Approving leaves is even easier, with everyone getting notified of the outcome of each request instantly.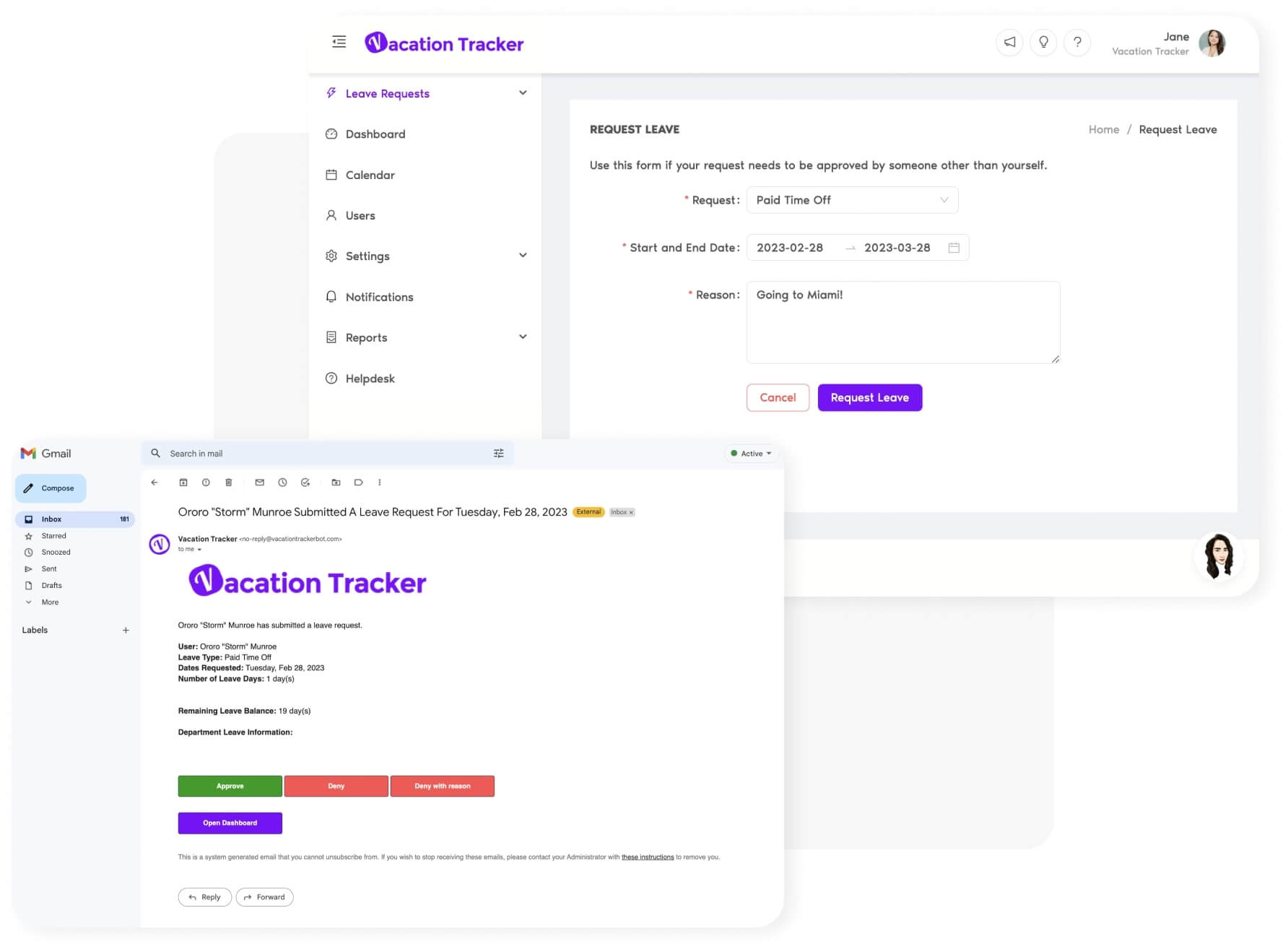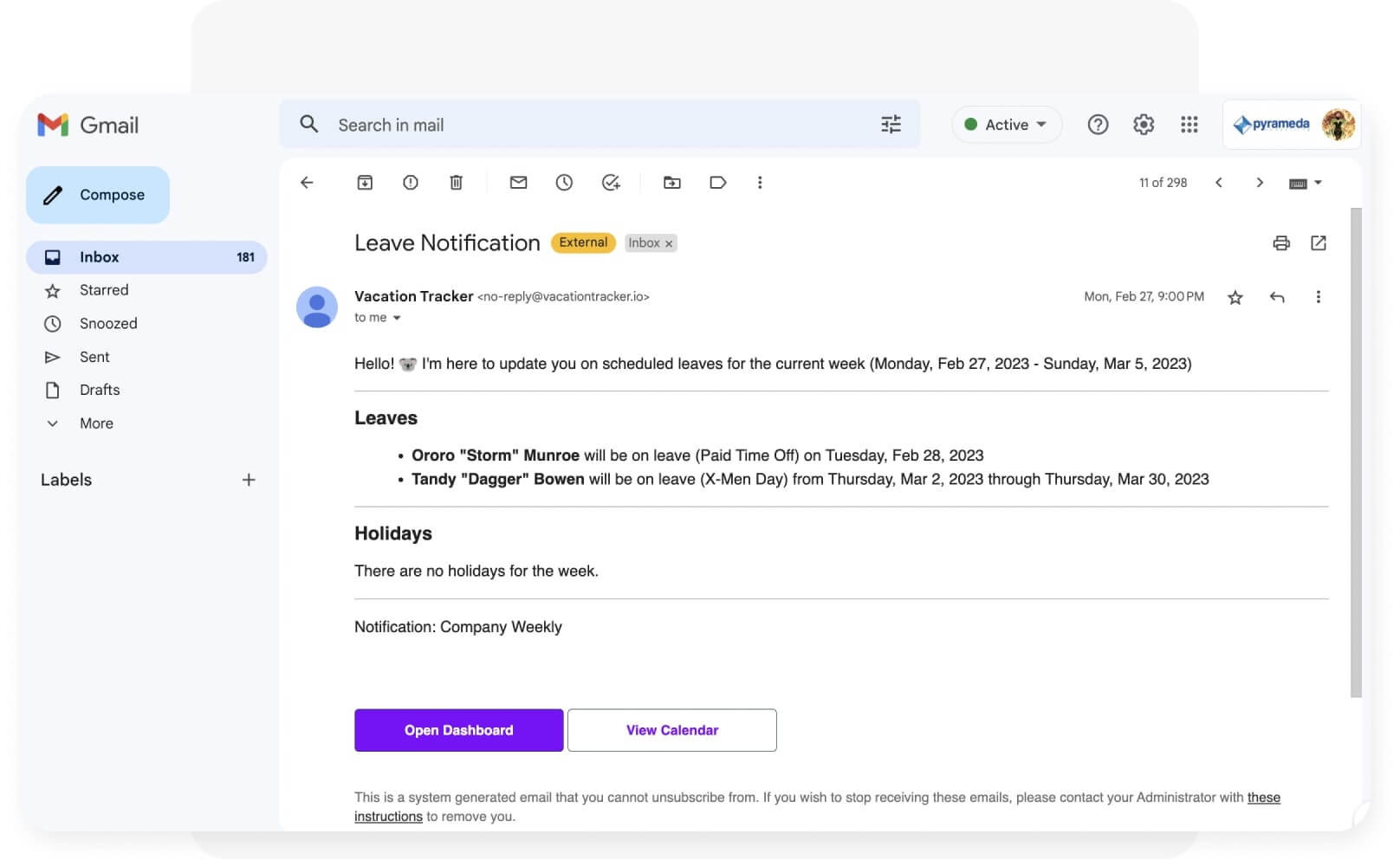 NOTIFICATIONS
Get notified every step of the way
Whether it's updates on leave requests or upcoming leaves and holidays, staying in the loop is easier than ever.
Just create daily and/or weekly notifications depending on your organization, department, or location, and then select the email addresses you want to notify.
COMPLETE OVERVIEW
Manage all things PTO from a single platform
The Administrator Dashboard is your portal for configuring all settings in your Vacation Tracker account.
Access all necessary information from configuring settings to exporting reports, in one place. Gain a complete understanding of your team's leave activity through our PTO tracking system.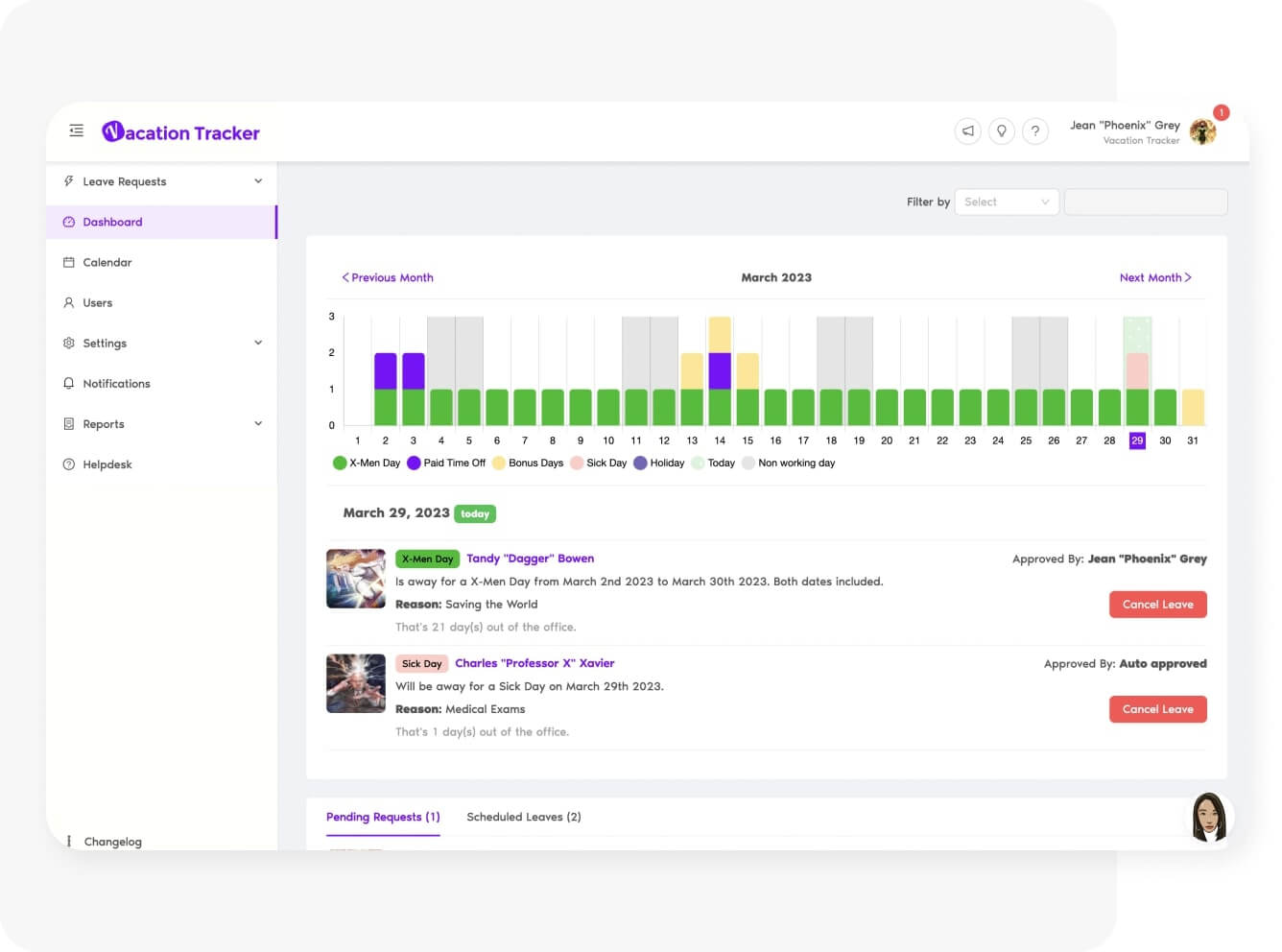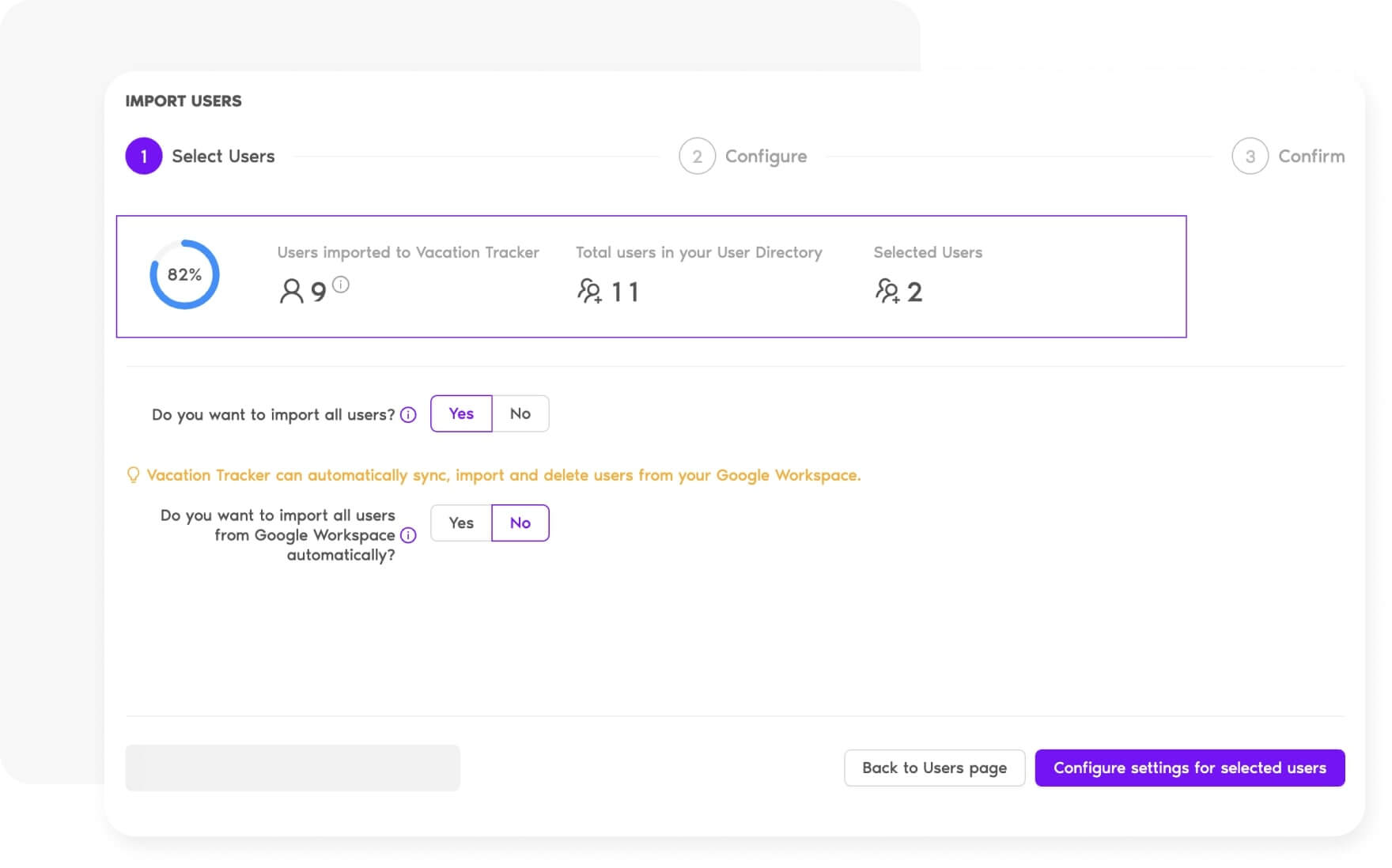 AUTOMATIC IMPORT
Import new users into Vacation Tracker with ease
Adding new users to your Google Workspace account and importing them into Vacation Tracker has never been easier. Select either manual or automatic import options and let Vacation Tracker handle the rest.
Vacation Tracker can also automatically pro-rate the quotas for new users who start mid-year.
OUR CUSTOMERS
Why tech teams love Vacation Tracker

"The ease with which everyone transitioned across to using Vacation Tracker without asking a million questions was impressive!"
Romana R.
Producer, No Code

"Set it and forget it. New users come on, they get added to Vacation Tracker, and it just works."
Mark F.
Partner, Buffkin Baker

"Having easy updates on who's taking time off, and when, has helped our team be more connected than ever."
Yami R.
People Operations, Team Blind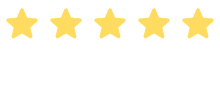 Automate PTO tracking for your growing team, worldwide
Try all features for 7 days. No credit card required.