Free Excel Leave Tracker Template for 2022
Tracking leaves with a spreadsheet has never been this easy, thanks to our Free Excel Leave Tracker Template for 2022.
But wait... what if there was a better way to track PTO?
Tracking leaves through our Free Excel Leave Tracker Template for 2022 can seem like easy work at first. However, manually updating, tracking, and managing employee leave on Excel is often a daunting and cumbersome process feared by countless HR teams worldwide.
You deserve better than that. Thankfully, Vacation Tracker is here to help!
Think about all the time you waste updating Excel spreadsheets and tracking employee leave data on different platforms. Why bother with all that when our leave tracking tool can do it all for you in just a snap?
Say goodbye to last-minute leave surprises and manual leave tracking errors with our leave tracking software. We calculate everything for you, so you can stay rest assured that your leave management is in the right hands.
Uncomplicate PTO tracking
Save yourself the hassle of calculating employee leave balances, unused vacation days, and PTO accruals. Let us do the math so you can focus on what you're here to do: actual work.
Get easy access to leave data
Vacation Tracker works from where you work — whether that's Slack, Google Workspace, or Microsoft Teams. Get all the leave visibility you need right when and where you need it.
Here's why you need a leave tracker like Vacation Tracker
Witness firsthand how our features can help you master your leave tracking.
Lightning-fast leave request and approval
Request leave in 3 clicks and approve leaves in even lesser clicks — all from the comfort of your workspace. Get instant updates on leave approval so you can start planning your next vacation right at your desk.
A tool as unique as your business
Multiple offices in multiple locations? Different leave policies? Scattered departments? No problem. Customize Vacation Tracker to fit exactly into the way you work. In other words, if you can dream it, we can create it.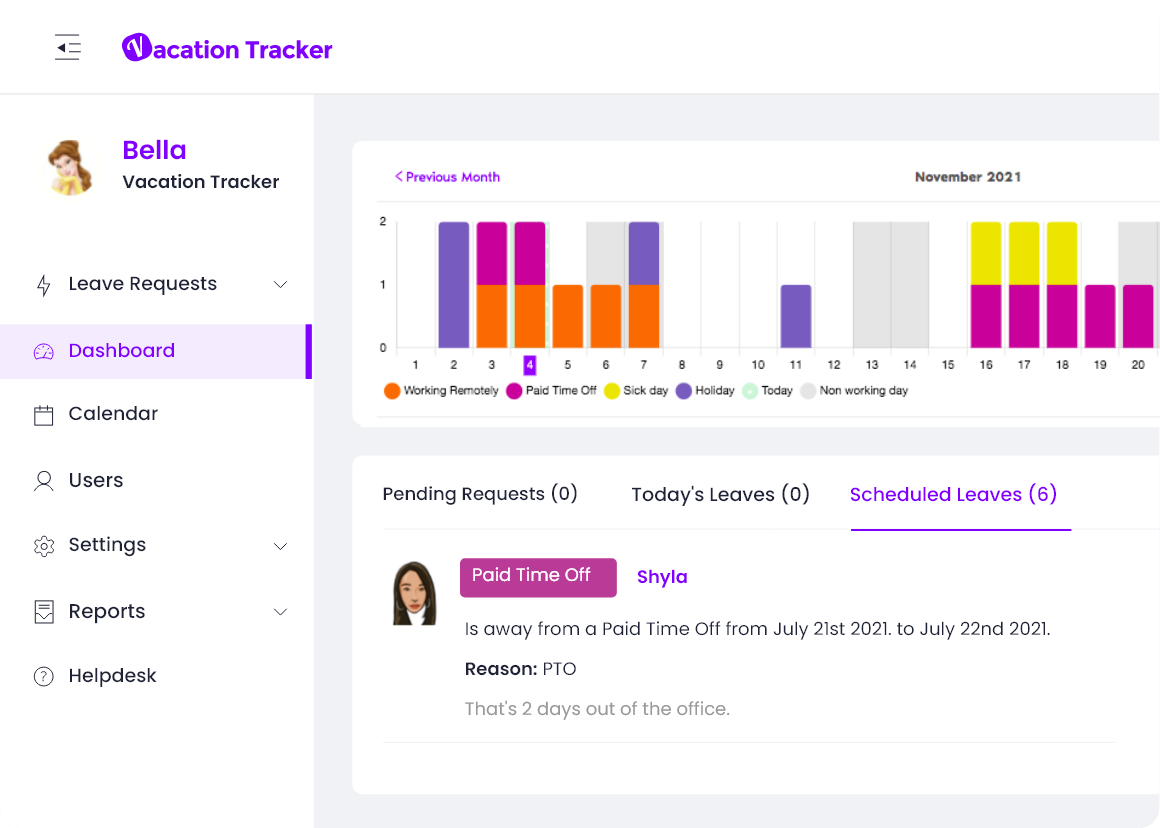 Securely automate & store all leave-related data
The Administrator Dashboard is your portal to unlocking the full power of Vacation Tracker. Here, you can view your Employee Leave Calendar, go over individual User Profiles, set Leave Policies and so much more. Store and automate all your leave data in one place.
Frequently Asked Questions
Do you have some questions ? Find answers in our FAQ.
How long does the free trial last?
Your free Vacation Tracker trial period lasts for 7 days.
Which features are included in the free trial?
During your trial period, you'll get access to all of our features. You will gain access to the Vacation Tracker dashboard as well, where you can keep track of absolutely everything.
Do I have to enter my credit card during the free trial?
No credit card is required to start your free trial period.
Do you offer discounts to non profit organizations?
If you are interested to learn about our discounts, please contact us at hello@vacationtracker.io or start a chat with us.
How can I contact Vacation Tracker support?
We're proud to say that we will be with you every step of the way. Simply contact us at hello@vacationtracker.io and we will be more than happy to help.