7 Best Attendance Tracker Apps for 2023
Reading Time:
8
minutes
After two years of travel restrictions, summer 2023 is looking to be one of the best on record as people are itching to get out and about. Forget FOMO! It's all about revenge travel—that eagerness to finally check off places on your bucket list after a seemingly endless cycle of lockdowns.
And the eagerness drives many, wide and far. A Vacationer survey found that more than 80% of Americans intend on traveling this summer, up from 42% last year. So, what does this mean for your employees? It means that they will be trying to make the most of their newfound freedom by using vacation days—and lots of them.
This is where an attendance tracker app comes in. This type of tool makes it easy for businesses to keep track of employee time off, ensuring that everyone is accountable for their time off. And, with the right attendance tracking app, businesses can even automate the process of approving or denying time-off requests.
There are a number of attendance tracker apps on the market, but not all of them are created equal. To help you find the best one for your business, we've put together a list of the best attendance tracker apps for 2023.
Let's first take a look at what makes a great attendance tracker app, and then we'll dive into our top choices for this year.
Must-Have Features
When it comes to choosing an attendance tracker app, there are a few key features that are non-negotiable:
Ease of use: The app should be easy to use, both for you and your employees. If it's complicated to navigate, chances are your team won't use it, leaving you with a gaping hole in your attendance tracking.
Flexibility: Another key feature of an excellent attendance tracking app is flexibility. It should be able to accommodate different schedules, time off requests, and absences.
Integration: An attendance tracking app should be able to integrate with other business applications, such as communication platforms. This helps make tracking and managing employee attendance a breeze.
Reporting: Apps with reporting features allow you to track employee attendance over time. This can be helpful in identifying patterns and trends that impact employee attendance, such as fluctuating schedules or absences due to illness.
Customer support: Last but not least, make sure the app you choose comes with top-notch customer support. If something goes wrong, you want to be sure the company is there to help you fix it ASAP.
Based on these criteria, we've found 7 of the best apps for employee attendance tracking in 2023. Check out our top picks below.
Attendance Tracker Apps: Our Top Picks
Vacation Tracker
If you're looking for a simple and effective way to track employee attendance, Vacation Tracker is your best bet. Recently featured in Canada's La Presse, this tool has emerged as one of the top attendance tracking apps thanks to its ease of use, flexibility, and integration with popular business applications.
Vacation Tracker is also known for its stellar customer support. You can rest assured knowing that the support team will be there to help you every step of the way, from the setup to requesting your first leave.
What's more, Vacation Tracker is highly customizable to suit the unique needs of your business—no matter how big or small. And, if you're ever in a bind, the app's reporting features make it easy to track employee attendance at a glance.
Highlights
Integration: Integrate with Slack, Microsoft Teams, and Google Workspace, which means you can keep track of your team's attendance without ever leaving the apps they use every day. You can also simply sign up with your email to start tracking leaves in just a few clicks!
Custom leave types: Create custom leave types to track everything from birthdays or bereavement. This means you can always be prepared for whatever life might throw at your employees.
Multiple offices: Track multiple offices and teams simultaneously. This is a game-changer for businesses with remote workers or multiple locations.
Notifications: Set up custom notifications to ensure you're always in the loop. For example, you can get notified when an employee requests time off or when a leave request is approved.
User Profiles: Quickly and easily get a snapshot of how many days off each employee has taken, their available balance, and more.
Reporting: Generate reports on employee attendance and absenteeism to get a better sense of your company's attendance trends over time.
Multiple approvers: Add multiple approvers to leave requests. This ensures that you're always in the loop, even when employees request leave at the last minute.
Calendar sync: Keep your team's attendance calendar up-to-date by syncing it with Google Calendar, Outlook Calendar, or iCal.
And much more: For a full list of all features and to learn more, click here.
Price
You can get started with Vacation Tracker's 7-day free trial with flexible billing options (annual or monthly) and the ability to cancel at any time. View more on Vacation Tracker's pricing options here.
LeaveBoard
LeaveBoard is another choice for businesses looking for a no-frills attendance tracker app. The app makes it easy to submit time-off requests, approve or deny them, and schedule notifications.
While the admin permissions take a bit of getting used to (hi, Help Center!), LeaveBoard is one of the most comprehensive attendance tracking apps on the market. Plus, it comes with team and personal calendars to keep everyone informed at all times.
Not to mention that LeaveBoard has a super basic yet clean interface, which makes it perfect for businesses who want to keep their focus on the needs of their employees—rather than managing an app.
Highlights
Attendance tracking
Custom workflows
Employee work scheduling
Leave reporting for payroll
People analytics
Integrations
Calendar Sync
Price
LeaveBoard offers a free version for up to 9 employees, and paid plans start at $1.35 per month for additional users.
Pause
Pause is an attendance tracking app for businesses that want to give their employees more control over their time and attendance. The founder at Pause wanted to address the issue of employees not taking time off if the process was too complicated or if they didn't feel like they could trust the company to manage their time correctly.
Whether you're a small business or a large corporation, Pause can help streamline PTO and attendance tracking so you can focus on more important things. The app makes it easy for employees to request time off, clock in and out, and view their schedule from their mobile, email, Slack, or browser.
All that said, the software only allows for a single approver, which means it might not be the best choice for businesses with more than one location or remote workers. However, if you're looking for an attendance tracking app that's easy-to-use and straightforward, Pause is a safe option.
Highlights
View leave balance
Import public holidays
Notifications for leaves
Auto-update Slack status
Export data for payroll
See overlaps with teammates
Price
Pause offers a free trial for 90 days, with paid plans starting at $1 per user per month. The software is also free for non-profits.
AttendanceBot
AttendanceBot is one of the best attendance tracking apps for businesses that want to automate their time and attendance as much as possible. As soon as employees log in to Slack, they can view their upcoming schedule, request leave, and clock in or out.
The software is a chat-first app, which means it might not be ideal for businesses who want a more traditional time and attendance tracking app. Not to mention, the lack of reporting tools can make it difficult to compare employee attendance over time.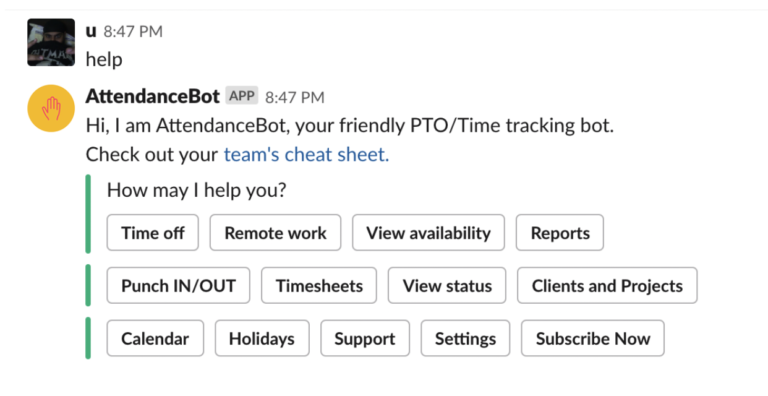 Highlights
Chat-app first design
Slack integration
Employee clock in/out and time tracking
Leave requests
Notifications
Price
AttendanceBot offers a free plan for up to 5 users, with paid plans starting at $4 per user per month. There is also a 14-day free trial available.
MitreFinch
MitreFinch is a time and attendance software that offers businesses a wide range of features, including employee self-service, time-off management, and GPS tracking.
The software is designed to support the modern workforce by connecting larger distributed teams. However, the lack of integrations beyond payroll and ERP software can make it difficult to connect MitreFinch with other business applications. The software also caters to medium to large businesses, making it a less suitable option for startups and small businesses.
Highlights
Multiple clock in/out options
Time off management
Payroll integration
GPS tracking
Self-service features for employees
Real-time reporting features
Price
Pricing depends on the size and needs of your business. Contact MitreFinch for a custom quote.
Day Off
If you're looking for a mobile and web-based app to track time off and manage absences, Day Off is a solid choice. This intuitive and user-friendly tool offers top-notch customer service and is known for its flexibility and ease of use.
In addition to tracking employee attendance, Day Off also boasts an announcement feature that notifies your teammates in seconds. And, because the app is mobile and web-based, you can easily track time off from anywhere.
While Day Off does not integrate with communication platforms like Slack, the mobile app is well-designed and easy to use, making it suitable for tracking employee attendance on the go.
Highlights
Approval process
Multiple teams
Notifications
Reporting
Roots
Roots is an all-in-one HR and payroll solution that makes tracking employee attendance and absences a breeze. You can view real-time reporting that shows who's on leave or out of work, as well as overall absenteeism stats.
As a part of the platform Deel, subscribers can also take advantage of their advanced payroll features, which include tax optimization, global compliance, and more.
And, if you're ever in a bind, the team at Deel is always available to help. Keep in mind, though, that because this option comes packed with other HR features, it's a bit on the pricier side.
Highlights
Request and approve time off
Orchestrate employee onboarding
Manage 1-on-1s
Access to all HR and payroll features
24/7 customer support
Price
Pricing starts at $49 per user per month.
Manage Employee Time With An Attendance Tracker App
There you have it—our list of the best attendance tracker apps for businesses.
With so many great options available, it can be difficult to choose the right choice. Whether you're looking for real-time monitoring, automated scheduling, or access to a range of HR tools and resources, there's surely an option out there that will meet your needs.
So, which attendance tracker app will work best for you? Take some time to explore the different features and capabilities of each app on our list, and be sure to read user reviews to get a better sense of what others think of the various options. Once you've found the perfect attendance tracking app for your business, you'll be well on your way to improving employee attendance and keeping your business running like a well-oiled machine.