How To Manage Multiple Offices With Vacation Tracker
Reading Time:
5
minutes
Vacation Tracker is an ideal leave tracking tool for organizations with multiple offices. Let's get into how and why that is.
Whether you're a small start up with remote employees around the world, or an established organization with multiple offices in different locations, managing a vacation calendar is an HR requirement. Many companies have turned to Vacation Tracker for its many useful features, such as setting up different roles, daily/weekly notifications, or its useful Administrator Dashboard.
In this guide, we will take a deep dive into the features that make Vacation Tracker a great software for teams across multiple offices. These simple yet effective features are at the core of what Vacation Tracker strives to do: to become a one-stop shop for all of your vacation tracking needs. Whether your team is big or small, co-located, or spread across the globe – Vacation Tracker is here to help.
Why Read The Vacation Tracker "How To" Guides?
With new features added regularly, our "How To" articles go into the details of some of top Vacation Tracker features. Currently integrated with Slack, Vacation Tracker is an HR tool that truly doesn't require any employee training. Indeed, it's just that user-friendly.
When you first download the Vacation Tracker app for Slack, you will be able to customize it to fit your organization's preferences and policies. The customizable features of Vacation Tracker make it the ideal leave tracking system for any team.
Our "How To" articles can accompany new users of Vacation Tracker. As they set up and get their teams to use the software, the guides help to explain the basic features of the tool. They also offer insight to potential users of Vacation Tracker, who might be shopping around for a leave management solution for their teams. To new and future users alike, we want to showcase that Vacation Tracker is highly customizable and easy to use.
However, if you experience any difficulty along the way, we are always here to help. Shoot us a message anytime, at hello@vacationtracker.io.
New to Vacation Tracker and to the world of online leave management?
Request a demo today, and we will be happy to walk you through our platform.
How To Manage Multiple Offices With Vacation Tracker?
Managing a co-located office can be tough in the first place. Indeed, coordinating a team across multiple locations is far from being a piece of cake. Yet, with Vacation Tracker, you can at least master the leave planning and tracking process. Employees can feel at ease, knowing they can book their vacations any time, directly through Slack.
In a growing business with team across multiple locations, there are multiple schedules, time zones and tasks to manage. In fact, even a seasoned manager need the right HR tools to automate some key processes, such as vacation tracking. This way, you can have one less thing to worry about.
As a matter of fact, you can manage multiple offices effectively by leveraging the various useful features offered by Vacation Tracker.
Set Up Multiple Teams Or Multiple Offices
To set up multiple teams, log into the administrator dashboard and click on "Teams", in the side menu on the left. Your whole Slack organization will be set to one team by default. However, if you have multiple offices you can create additional teams.
For example, in the image below, you can see that this organization has 4 separate teams on Vacation Tracker. An administrator has the capability of creating the teams. He or she can also edit the teams at any time.
To create a new team, click on "Create new team", in the top right corner. Enter a name for your team and choose the team members who belong to that team. Team members needs to be active Vacation Tracker users.
Select Roles
Then, you can choose the Administrators and Approvers for that team. Please note that team members can only belong to one team while an Administrator can be part of multiple teams. Moreover, a team doesn't necessarily needs to have an Approver. Yet, it could also have multiple Approvers, which may be helpful for a bigger team.
Select Holidays For Multiple Offices
For teams working across multiple offices around the world, statutory holidays or traditional celebrations may take place on different days. Nevertheless, Vacation Tracker accounts for these important differences. In the "Holidays" tab of the menu on the left-hand side, you can import the holidays for any country in the world. Then, you can apply the holidays to all users, or only to a selected team.
Holidays can be imported in bulk, but they can also be added manually. You can see which holidays apply to which teams. For instance, in the example below, Unicorn Delivery seems to have many more holidays than Teleport Museum.
Select A Team To View Their Vacation Dashboard
In the main Dashboard view, any Vacation Tracker user can flip through the available views by selecting, in the top right corner, the Team they wish to view. Once the team is selected, the Dashboard "Year view" will be updated with only that team's leave information.
It's a great and quick way to see how many people are away on a given day. It can also help to visualize when are some of the most popular vacation clusters.
View Team Members & Statuses
Finally, in the Team Members tab of the Dashboard, Approvers and Administrators can view all of the active Vacation Tracker users. From here, they can access each individual's profile to check on their leaves statuses, including remaining days and their complete leave histories.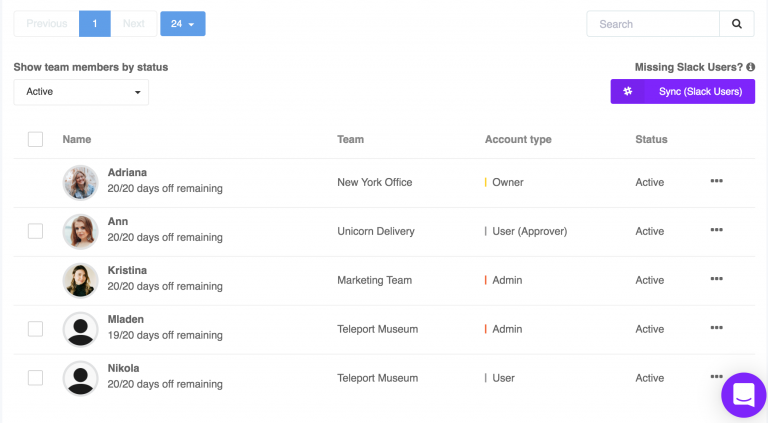 To conclude, Vacation Tracker is practical for remote teams or teams across multiple offices. It's also geared towards teams collaborating in different countries and across multiple time zones. For managers of remote teams, Vacation Tracker offers notifications and a dashboard that displays all of a team's days off. At a glance, any team Administrator can be in the loop. HR can take a break.
If you have additional questions about managing teams in multiple offices, contact us directly at hello@vacationtracker.io or start a chat with us via our website at any time.