How To: Set Your Team's Holidays Quickly

The features mentioned in this article have been upgraded, and the information presented may not be up to date. Please view our recent articles, and learn about the new version of Vacation Tracker.
Vacation Tracker is a leave management tool helping teams all over the world manage leave with ease. It's quick and transparent leave management with minimum employee training. Save time, and focus on more important tasks at hand.
With Vacation Tracker, your team members can request leave in 10 seconds, and the administrators can approve it in 5 seconds. Instead of wasting their time on endless leave management procedures, they will be able to work on other tasks in the company.
With Vacation Tracker you can easily:
Submit and approve requests
Request Vacations, Days Off or Half-Days
Create Your Own Leave Types
Set Up Multiple Offices/Teams
Set Your Team's Holidays Quickly
Export Reports from Vacation Tracker as a CSV file
Track Everything Through Awesome Dashboard for Administrators
Synchronize with Your Calendar
Choose Team Members
Set a Custom Start of the Fiscal Year
Set Your Team's Holidays with Vacation Tracker
With Vacation Tracker, tracking your team's time off has never been easier. Whether you have a remote team, or are all working from one location, setting up your team and managing it is done in a few simple clicks.
According to your needs, you can easily set holidays for your team through the administrator's dashboard. Administrators can easily set up holidays for each team, whether they're in multiple locations or not. The holidays can be set globally or for each team individually.
Our Vacation Tracker bot will make sure you're notified each time a holiday is coming up so you know who will be out of the office. Sounds simple? It is.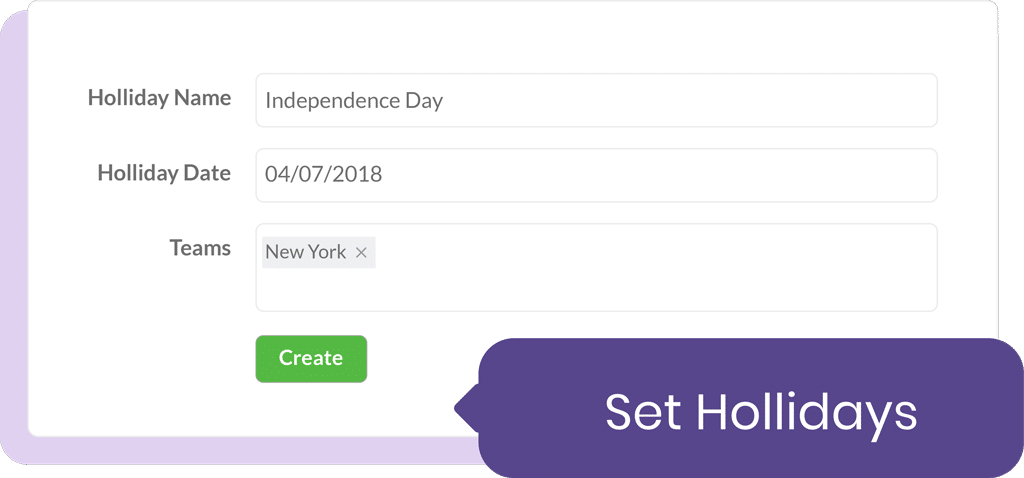 Vacation Tracker is currently in public beta, and we offer a 7-day free trial. Take it for a free spin!