Manage Leaves From Your Inbox With Email Signup!
Imagine waking up one day and deciding that this is it. 
Today is the day you decide that you're finally done with manual leave tracking and all the unwanted chaos it brings you at work. Desperate for a solution, you start looking and stumble across Vacation Tracker.
Browsing through its features, you start happily dreaming of all the ways establishing a streamlined leave management process could help you save countless headaches and wasted time in the long run. Everything looks great — that is, until you notice that you're not a Slack user. Or a Teams one. Hell, you don't use Google Workspace either.
What now? Tossing your dreams of simplified leave tracking in the gutter, you start to think that you'll be stuck using paper forms and will be left tracking leaves on Excel for the rest of your life. 
That was, until today.
Why we decided to create this feature
We here at Vacation Tracker wanted to extend the functionality of easy leave tracking beyond the conventional team collaboration apps such as Slack, Microsoft Teams, or Google Workspace. How did we do it, you ask? 
By bringing Vacation Tracker to right where you live: your email.
For thousands of companies around the world, email still remains an undisputed form of communication at the workplace. Hence with this new feature, our goal was to help users with any email address (work-related or not) be able to use our tool to master their leave tracking, right from their inbox. 
How does it work?
The concept is simple: sign up, and we'll deliver everything leave-related directly to your inbox, where all the action happens.
You can respond to submitted leave requests, receive weekly/daily notifications, and access the Vacation Tracker Dashboard for a complete overview of your team's leave. 
On the other hand, your teammates can access all their leave details in one place through the Dashboard. This gives them access to their User Profiles (including leave quotas, history, etc.), an employee leave calendar, scheduled leave reports, and much more. 
All you have to do is sign up with an email to get started!
Let's walk through it, shall we?
Now that we've sold you on why you absolutely need to start using Vacation Tracker, it's time to actually sign up!
For starters, begin by entering your email address along with a few important details (as listed below.) Once that's done, click on Continue to proceed to the next step.
What about the rest of my team?
We're glad you asked!
After you've entered your organization's details, hit Continue to start inviting your team members. Each user will get notified and receive step-by-step instructions on how to sign up.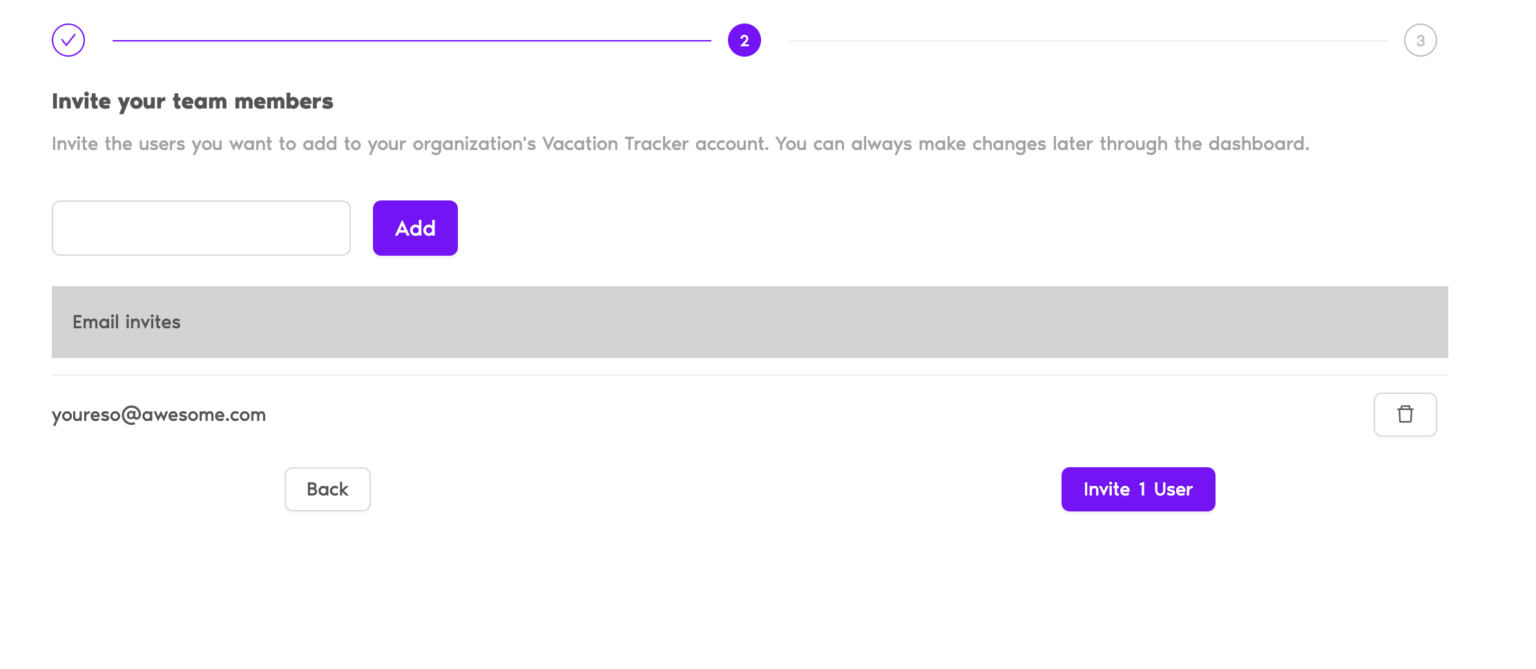 Once that's done, choose between our Core and Complete plan (depending on your company's needs) and you're good to go! 
Once you've successfully created an account, follow the prompts on the screen to configure important leave-related settings for your organization.
How do leave requests work?
After you're done inviting your team members to Vacation Tracker and configuring all Settings on the Dashboard, it's time for the main act: submitting and approving a leave request!
To submit a leave request, users can go to the Request Leave tab of the online Dashboard and fill in required details such as the Leave Type, duration of leave, and a reason, if necessary.
Once your team member submits a request, an Approver will receive a notification in their inbox. The Approver will have the option to approve or deny with or without reason, directly from the email. This can also be done from the online Dashboard.
For example, here is what a leave request looks like from the Approver's point of view in their email.
This streamlined process makes it easy for your whole team to stay on top of employee PTO from anywhere. Goodbye paper forms and back-and-forth emails!
What about email notifications?
You can decide if you want to receive daily or weekly updates regarding your team's leave. This is a great way to be reminded of your team's whereabouts and to make sure that everyone is accounted for. 
You'll receive notifications in your inbox that'll include the user's name, type of leave, dates requested, and information on who else will be off during that time.
P.S. Creating a notification in Vacation Tracker is as easy as 1-2-3. Click here for detailed instructions to help set it up.
What else can Vacation Tracker do?
Long story short: A LOT.
This is just the tip of the iceberg when it comes to all things you can achieve by using a tool such as Vacation Tracker. Here's a sneak peek of everything else we offer:
Add multiple office locations to manage your hybrid, global, or remote workforce. This way, you can manage your employees' time off no matter where they are located.
Customize your team's leave settings and leave policies. You can make sure that everyone is taking the appropriate amount of time off with custom leave quotas and rules for each team member.
Create holiday schedules for teams in one or more locations and see at a glance who is away and when so you can plan your team's schedule more effectively and avoid conflicts.
Automate lengthy calculations such as PTO Accruals, employee rollover days and more
Sync your team calendar to your external calendar so you never have to worry about double-bookings. This way, you can see upcoming time off and schedule your time accordingly.
Complete customization of all settings, so you can decide what works for you — and what doesn't. We give you complete flexibility to build a leave tracker that's perfect for you.
Ready to get started?
We're here for you! Our Helpdesk answers your questions with step-by-step guides and tutorials. You can also drop us a line at hello@vacationtracker.io. 
Or better yet, if you want us to give you a walkthrough and answer your questions in one short call, book a demo with us.
An avid writer and aspiring marketer, Snigdha is a student at Concordia University's John Molson School of Business.