The Best Microsoft Teams Time Tracking Tools
Reading Time:
4
minutes
Did you know that the US economy loses 50 million hours or $7.4 billion a day due to poor productivity management?
Believe it or not, knowing how we spend our time is the key to success. It drives productivity, allows us to organize better, and discover where most of our energy goes. Time tracking can help us achieve more by working less in everyday life, but especially in business.
For companies, time tracking comes with a wide variety of benefits. Companies who track their employee's time save money, since there is little room for payroll mistakes. Time tracking allows businesses to increase transparency and decrease burnout since they can see how long employees need to get tasks done. They can highlight the time-consuming ones and provide employees with much-needed resources to complete their duties quickly and efficiently.
If you're reading this article, then you're already thinking about implementing time tracking in Microsoft Teams for your business. Since Microsoft Teams doesn't have a built-in leave planner for teams, we're going to provide you with a list of the best Microsoft Teams time tracking tools that will help you streamline your operations seamlessly easy.
Vacation Tracker
Vacation Tracker is the easiest way to keep track of your team's time off.
Using our leave management solution, you can request, approve, and manage your team's time off from the comfort of Slack, Microsoft Teams, or Google Workspace. You can customize Vacation Tracker to meet your needs — create different locations, set up different leave policies, and configure multiple leave types. Our online dashboard also allows you to export reports, integrate our tool with your favorite calendar, filter & set labels, and much more! Get started now.
TimeDoctor is a simple time tracking software, that will elevate your team's productivity and help you understand how you spend your working hours.
All you need to take is a quick glance at TimeDoctor's intuitive dashboard to see which tasks, clients, and websites consume your time the most. This Microsoft Teams time tracking tool also enables you to track a specific application or program usage along with the time you spend on certain websites.
Besides time tracking, TimeDoctor is also a great employee monitoring tool since it takes employee screenshots to identify distractions, inefficiencies, and prevent time-wasting. Furthermore, TimeDoctor will help you calculate payroll automatically, and help you save time you'd usually spend on these actions. What's best, it has an option to show pop-up alerts and nudge employees in case they use too many non-work apps or sit idle for a long.
RescueTime is one of the most popular Microsoft Teams time-tracking tools in the market. It comes as Microsoft Teams integration and helps employees and businesses save precious time and convert it into productive hours.
Rescue Time tracks both offline and online time at work, which is pretty important considering the fact that we sometimes need to get up from the chair to consult with our colleagues, or simply do something without using our computers.
However, maybe the biggest drawback to this app is the inability to enter time manually which can be frustrating, especially when you forget to turn the time tracker on, right in the morning (or after a lunch break).
On the plus side, RescueTime has a FocusTime feature for premium users that can help employees block distractions such as apps and websites during work hours, increasing overall productivity.
This popular cloud-based time tracking app that has integration for Microsoft Teams as well, making it one of the preferred Microsoft Teams time tracking tools.
Team members just need to press the "Start" button at the beginning of their workday, and press "Stop" at the end of each – it's that easy to use. This app also works in 12-hour and 24-hour clock formats and allows its users to delete unwanted entries. Toggl also allows its users to add their time manually, but as well records every program and website employee viewed for longer than 10 seconds. This is a quite useful feature since both employees and managers can get a clear overview of which websites take the majority of their time, and help them manage it better.
Another Toggl's great benefit is the fact employees can enter an explanation of why and how they spend their time with their Tag feature. Furthermore, there's an "idle time" detector to inform you when you spent your time away from the computer. Lastly, Toggl comes with a Pomodoro timer as well which helps employees and managers finish their tasks more efficiently, improving their overall productivity and efficiency.
TrackingTime is an online time tracking app that comes with a Microsoft Teams integration as well. It's most suitable for educational workers, project managers, and business owners who offer freelance services.
TrackingTime comes as a simple task manager with a built-in time tracker that monitors hours spent on tasks while helping in their organization. Managers and team leads will find this app very useful since it gives them a clear overview of the latest work any employee or team member did, including their notifications and comments.
Jibble is a great attendance and time management tool used by businesses around the globe. Employees just have to start a smart bot available in their Microsoft Teams with one simple command and start tracking their time.
Managers, on the other side, have a clear overview and direct access to all data – they can even check it via their phones – and ensure everything runs smoothly even on the go.
This app is especially useful for teams who have to leave their office to get the job done since it has a GPS tracking feature. What's more, this app helps businesses manage their payroll as well since it provides a more accurate overview of how many hours should be billed, overtime and deductibles included without having to spend hours checking and re-checking it yourself.
Final words
Now, when we have a clear overview of the best Microsoft Teams time tracking integrations, you can shortlist the favorites and choose the one that suits your team's needs the best.
However, before you implement time tracking in Microsoft Teams, make sure to be open with your employees and tell them up-front why it is essential. Provide them with additional resources in case they have questions, and choose the tool you think will be the easiest and most intuitive for use.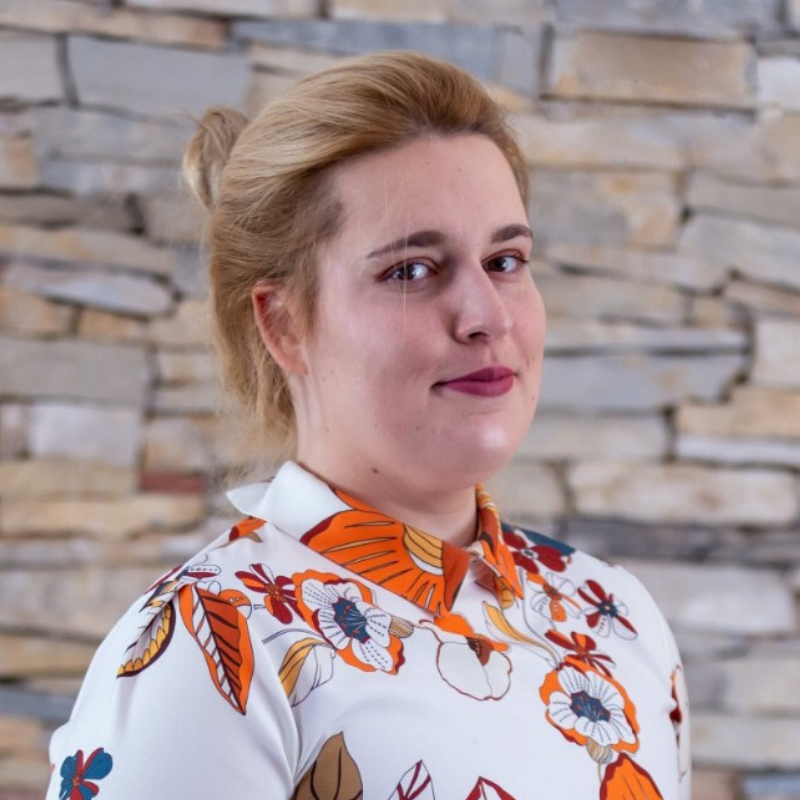 A cat enthusiast and a cupcake maniac, Ana is a freelance Content Writer passionate about HR, productivity, and team management topics. When she's not at her keyboard, you can find Ana in the kitchen, trying to make delicious cookies.