The Best Slack Apps for Remote Teams in 2021
Reading Time:
4
minutes
With remote work on the rise in 2021, one thing has become evident: Slack is here to stay. Slack is a team communication platform that is revolutionizing modern business. Slack's ability to help your team communicate clearly, as a single unit has helped redefine how people work remotely. In fact, Slack has been such a great success that it's spawned an entire category of apps and bots designed to improve communication at the workplace.
The Best Slack Apps for Remote Teams in 2021
Finding the best Slack apps in 2021 is like looking for a needle in a haystack – you could spend days trying out different ones, or you could just read this hand-picked list to find your ideal match. Here are some of the best Slack apps that all remote teams will love in 2021.
Toggl Plan: for task management and planning
When you're in a time crunch, juggling multiple projects, deadlines and tasks can feel like trying to solve a Rubik's cube blindfolded.
That's where Toggl steps in: it helps you keep track of your work and gives you the insights you need to crush your projects. Toggl is a dedicated assistant to help you simplify the way you create, track, and manage projects.
If you've ever struggled to keep track of tasks, deadlines, and other critical project information, then this is the Slack app for you. Toggl Plan lets your team members or clients share their updates in Slack and add reminders for upcoming deadlines. It's like a magic calendar that synchronizes your entire team's to-do list. Now you can manage your workload, manage your team's work schedule, and share information at a glance with your team.
Vacation Tracker: for easy leave tracking
Got a vacation coming up? Want to take time off but you're worried it'll mean dealing with long, tedious time off approval processes? Good news.
Vacation Tracker is a tool to help manage your company's leave requests and approvals. Team members can book any type of leave and managers can easily approve or deny leave requests, both without ever leaving Slack. This app is the perfect solution for the leave tracking needs of your business. This automated leave tracking system seamlessly integrates into Slack and helps you:
Set up multiple leave types

Request and approve leaves in just a few clicks

Send out daily/weekly notifications to everyone in your company

Get a clear overview of your scheduled leaves through a simple dashboard

Sync with your favorite external calendar

Accrue leaves with an automated rollover policy
And much, much more. It's no wonder over 1,500 companies rely on this Slack integration for their leave tracking needs. Get started with a free 7-day trial to see how easy it is.
Wonder: for receiving reminders
Wonder is what it claims to be: a magic memory for all your complicated life stuff.
It's a simple reminder tool that takes the form of a live chat, where you tell it to remember a certain thing, and after that, you can retrieve the information any time you want. Just tell the app and forget. Quite ironic, isn't it
It goes well beyond an automatic reminder system. It's a place where you can store and organize all those things you tend to stick in the back of your mind. From important office information to your mother's favorite food, Wonder remembers it all. It helps in retaining easily forgettable, yet essential information. The app stores all information in the form of private or public 'memories' which can be easily recalled by tagging the bot in your Slack conversations.
Learn more here.
Tettra: for storing company knowledge
Tettra is a Slack app that consolidates all your team's knowledge in one place. It's easy to use, and pretty to look at. Think of Tettra as your company's personal Wikipedia.
It provides a centralized knowledge base for teams to access, update and share their team data effortlessly with their teammates and customers. It's a one-stop-shop for storing all kinds of company-wide information. Information that was once buried in email chains, knee-deep in wikis, lost in summaries, or undocumented — can now be viewed by anyone on the team.
For example, if one of the team members logs in and forgets how to use certain software or process, then with Tettra, he just needs to search for it within the tool and get the desired information right away.
Clockwise: for getting status updates
Tired of wondering if the other person is available when you want to get a message across? Clockwise makes it easy to find team members' free times & then give them a call, or start a chat with them.
Clockwise, a calendar assistant tool in Slack is one of the best apps for Slack in 2021. It updates employee status in real-time so team members know when to contact one another and works with G Suite, Office 365, and Microsoft Exchange work calendars through Google Calendar sync.
By integrating with Slack, team members will see what's on your agenda for the day, send you quick messages, and instantly know when they can reach you.
Nectar: for boosting team culture
We know it can be tough to find the right words to say. But one of the easiest things you can do is show gratitude and appreciation to your co-workers and employees. Gratitude makes everyone feel relaxed, happy, and productive.
Nectar is a powerful company culture app that transforms how companies celebrate and recognize their employees. Use Nectar to appreciate and reward individuals for outstanding work, celebrate completed projects, and recognize milestones throughout your team's life cycle. Nectar's socially integrated platform includes Slack, giving you the ability to send meaningful spot bonuses and shoutouts with simple slash commands to drive appreciation and collaboration anytime, anywhere.
Kona: for checking in on your team
Our world in 2021 is filled with exhaustion, burnout, and loneliness thanks to remote work. Hence, it's more important than ever to have an app like Kona.
Kona is a friendly Slack app that checks in on your team and asks them how they're feeling. Kona is a lightweight, fully customizable Slack bot that helps you check in with your team. Built specifically for remote teams, Kona helps you keep your finger on the pulse of your team's happiness and health. Kona uses Slack as a home base and lives in a tab right by your side. You'll never miss an opportunity to care while respecting the team's need for privacy. Now, you can actually know how your team is feeling.
GIPHY: for sharing a good laugh
If you're a frequent social media user, you've probably already stumbled upon GIPHY.
Let's face it. Some of us spend hours of the day on Slack. Why not make it fun and easy to access GIFs? A plugin like Giphy takes Slack from an ordinary workplace chat tool to a fun playground for your team that can inject a lot more fun into team communication! There has never been a way to slide in a cat GIF to let your co-workers know how your day is going.
Download GIPHY for Slack here.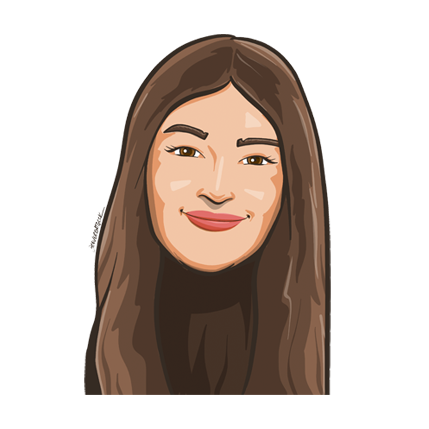 An avid writer and aspiring marketer, Snigdha is a student at Concordia University's John Molson School of Business.