20 Fun Virtual Team Building Activities
Reading Time:
4
minutes
Team building activities are fun ways to boost productivity at work. The benefits? They allow each team member within an organization to create meaningful relationships at work, improve collaboration, team cohesion, planning, creativity, communication, leadership, and problem-solving. And when working remotely, these various activities become all the more relevant as people can easily get isolated. Whether they are virtual or not, team building is about one vital thing: keeping a sense of belonging. They vary in length, shape and size, and most activities do not have to require a ton of resources, time, or planning to be effective. However, it is important for the team that they reflect continuous commitment. Here are 20 fun virtual team building activities to get your team inspired and pumped up:
Icebreakers
Get to know your coworkers with fun questions, or those security questions. If not, here are a few silly ones:
Do you have a pet?
What's a weird food combo you find delicious?
Which TV show/movie character are you most like and why?
If you could create a perfume, what would you call it?
What is your earliest memory?
Have you ever had a supernatural experience?
What is your favorite meme?
At virtual meetings, turn the camera on.
It feels good to see friendly faces and recognize their voices.
Have a virtual coffee break.
Schedule a group break and bring your cup of coffee/tea to your video chats to enjoy your well-deserved sips together. It gives a sense of a shared experience.
Before the virtual meeting starts, do a tour of your home office.
This is a fun way to know your coworkers on a more personal level. Virtual team-building activities are about seeing a different side of their teammates. Depending on your comfort level, other variations could be a tour of your backyard, a (zoomed-in) tour of your bookshelf, a tour of your collection, etc.
Show your mug.
Do you have a favorite mug or a work mug at home? Let's bet there's an interesting story behind it!
Emojis!
In 2 groups, create a work-related conversation based on emojis only and have each group guess each other's answer.
Guess the photo
Your organization has probably taken a lot of pictures to cover work-related events over the years. Share one random picture at a time to guess when and where it was taken. It's a great opportunity to look back at past successes and share funny anecdotes. Remember that time when that regional manager rocked that pointy mustache? Crazy times!
Draw a picture
This is a fun activity to explore communication skills. Pre-select suitable and easy enough images. Select one team member to choose one picture and describe it to the rest of the team. Once done, have everyone share their drawings.
Tuesday hat
Wear a hat and post it on your team chat every Tuesday morning.
Arts & crafts
Get creative and show your DIY skills! Create an invention by using whatever you have laying around your home. Set the timer to 30 minutes and make sure everybody starts at the same time. Time's up! Show your wonderful invention and nominate the winner!
Donut with Donuts!
Donut is a Slack extension that pairs up remote coworkers together for social and learning opportunities to break the social isolation of working remotely.
Virtual lunch & learn
Remotely lunch together over an online seminar and share your thoughts about it afterward!
Rumba!
Physical activity is good for healthy living and human bonding. There are so many fitness programs that are offered through their platform and social media. If your group insurance covers it, even better! Schedule a workout session together and sweat it out!
When in different cities
If you work remotely from different places, swap fun facts about each other's cities or countries, or share a picture of an item of significance and have them guess. For example, if working from Montreal, consider a traffic cone.
Storytelling
This is one of the fun virtual team-building activities to explore leadership, organization, creativity, and communication skills. Divided into 2 groups, they are given the same 5 pictures. Teammates have to put them in order to create a story, then share them with the other group.
Pictionary
Share your screen to a drawing application and let them guess what it is. Laughter and fun guaranteed! An added level of difficulty: guessing the portrait of your colleagues in 60 seconds!
Digital Bingo!
This is simple enough to set up. Virtual team-building activities with a prize at the end could be extra rewarding to increase participation. Gift cards are a crowd pleaser.
Brainstorming sessions
Use virtual team-building activities as opportunities to problem-solve "important but not urgent" issues in the organization that needs addressing. Break into smaller teams so they get more individual attention time together, then regroup so each smaller team presents their top 3 ideas.
Collective playlist
Curate together the perfect work playlist for optimal concentration! Have fun suggesting and selecting which song gets to be on the team's playlist! What better way to connect with coworkers than experiencing music?
Team vision board
Indeed, you have probably heard how visualization techniques can be very powerful strategies to successful athletes. A vision (or dream) board is a way to visualize personal goals as a source of motivation with a collage of various images, inspiring quotes, drawings, etc. As a team, this activity is a great way to take stock of how the team is being perceived individually, to see if team members are on the same page, and openly discuss and find common ground in terms of the team's goals, priorities, strengths, things to improve, and constructive feedback. A virtual team vision board is definitely doable by sharing files of graphics, gifs, fonts, and more. Once done, print it out and have every coworker put it on the wall so it is shown at every virtual team meeting!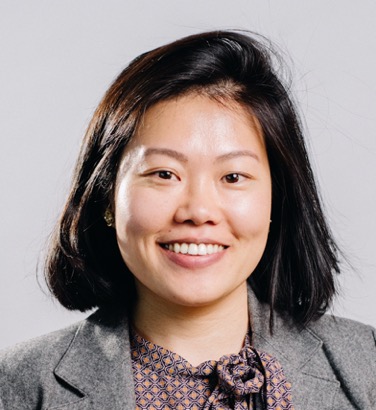 Shirley is a Vacation Tracker occasional contributor. She's held a few positions in communications, marketing and copywriting. When she's not at her laptop, you can find her daydreaming about her laptop and chasing the sun while people watching.