Workplace by Facebook vs Slack: Which One Should You Choose?
Reading Time:
5
minutes
The world of business communication is changing. Simply put, email is old news, and chat applications are the new kid on the block. The once renowned corporate email has been usurped by a new breed of interactive chat applications like Workplace by Facebook and Slack. These two business chat applications have already claimed millions of users, and their influence continues to grow at a meteoric pace. One thing that's common in the Workplace by Facebook vs Slack debate is that both apps use real-time messaging to keep you connected and up-to-date on what's going on in the office. Sort of like a big group chat, but just for work stuff.
Both apps have their pros and cons, but it's essential to note that the ideal communication platform depends on the needs of an organization. This is because different companies and teams have different needs — no one size fits all. For example, if you own a media company, Workplace by Facebook might be better served as a one-stop-shop for all of your social media purposes. On the other hand, if you run an e-commerce store, Slack may be a better fit thanks to its web-based programs.
The only question remaining is, which one is right for you? Here's a quick breakdown of how they stack up next to each other.
Workplace by Facebook vs Slack: Pricing Plans
First, let's take a look at the most important factor for most teams: its pricing model.
Slack offers its users a freemium plan that gives them limited access to up to 10,000 recent messages, along with 10 integrations. Workplace by Facebook notably does not have a freemium plan but interested users can sign up for a 30-day free trial at no charge.
As far as paid plans are concerned, Workplace is a better bang for your buck. It offers two plans: Advanced and Enterprise.
Perfect for connecting an entire organization, the Workplace Advanced plan starts at $4 per user per month, with additional discounts for frontline and eligible charitable organizations.
The Workplace Enterprise plan starts at $8 per user per month and is for organizations that operate with a higher level of complexity than normal organizations. (Here's a tip: the Advanced plan already has everything you need. You may wanna reconsider before spending an extra $4 monthly!)
With Workplace for Frontline, frontline employees can be connected to Workplace for just $1.50 per person, per month, instead of the usual $4 or $8.
Slack also follows a tiered pricing structure similar to Workplace. The Pro plan that is ideal for smaller businesses will cost you $6.67 per user per month, while the Business+ plan will cost you $12.50 per user per month. However, those prices apply only when you pay annually. Get ready to shell out $8 and $15 a month if you choose to pay monthly.
Workplace by Facebook vs Slack: Signup Process
When it comes to onboarding and completing the signup process, Slack and Workplace are slightly different.
To use Workplace, you will need a business email address that has not already been claimed by another Workplace community. After you're verified, Workplace will identify other users from your domain and pair you with them. Once that's done, simply fill out your profile so you can join the Workplace community. Onboarding then takes place through visual text prompts, helping you learn about the platform as you use it.
On the flip side, your Slack account can be created using any email address. Upon receiving a confirmation code, you can create a workspace name and invite teammates instantly. Onboarding takes place through a series of interactions with the Slackbot, to which you can chat and ask questions.
Workplace by Facebook vs Slack: User Interface
One of the first things you'll notice about Workplace is its resemblance to Facebook. Seriously, it's like they're twins. Even though your Workplace account is completely different from your personal Facebook, the core UI and UX of Workplace are the same. And that is Workplace's biggest advantage.
That being said, the onboarding process and navigating Workplace becomes significantly easy if you are a regular Facebook user. You'll find your News Feed right in the center. You can access Notifications, Chat, Groups, and Events from the left panel. All team members have a profile and Timeline where they can post updates.
Slack, however, appears to compress its features and hide them behind buttons.
There are two main panels in Slack's split-screen. On the right, the Chat panel is the larger of the two, creating an emphasis on communication. All the information about your current Channel or 1-to-1 conversation is located here, including messages you've pinned, shortcuts, or video calls. Direct Messages, Channels, Threads, and app management are located on the left. While it's not overly complicated, it takes a little getting used to because most functions, such as the information of the person you're chatting with, are hidden behind buttons and menus.
Workplace by Facebook vs Slack: Collaboration
In both tools, you can have one-to-one and group conversations, making it easy to stay in touch with your colleagues.
One-to-one conversations: As far as private chats go, everything is pretty straightforward. In Slack, communication takes place in Direct Messages, while in Workplace it is in Workplace Chat where the bulk of communication occurs. Users can react to or delete messages on both platforms. Unlike Slack, Workplace does not allow you to edit messages.

Group chats: In Slack, group discussions take place on Channels, which can be either Public or Private and Group Messages. (Here's a handy Guide to Organizing Slack Channels if you're confused!) Group communication is private by default in Workplace. So, if you want a public one, you must invite everyone in your team to it. In Workplace, Groups serve as chat and collaboration spaces. Team members can be grouped by location, projects, departments, etc.
Workplace by Facebook vs Slack: Unique Features
While Workplace and Slack have many strengths as office communication tools, both are lacking in certain areas that enhance security, collaboration, and control of the platform.
Notifications
There are multiple ways to stay informed with both tools. Slack, for example, lets you set channel-specific notifications and keyword alerts. They allow you to choose a keyword and then receive notifications whenever that keyword is mentioned. Slack also features a Do Not Disturb mode. You can tailor notifications for specific groups and conversations in Workplace, but there are no keyword alerts.
Task Management
Workplace does not offer native task management. You'll need to integrate a third-party app for that, which requires a paid plan. Slack follows a similar path. The Actions in Slack allow you to do so without needing to leave the app. Whether you're using Trello, Asana, Jira, or whatever collaboration tool you're using for task management, you can sync it all with Slack.
Search
You can search Slack by channel, person, time, or even lines of text from an attached document. With the free version, you're limited to 10,000 searchable messages.
Workplace can't search through all your conversations at once. As a result, if you only remember a part of a conversation and not with whom it took place, you will have to search every possible chat.
Video conferencing
Both platforms support voice and video calls. Workplace allows you to connect with up to 50 people in either grid or speaker view. As part of its freemium plan, Slack offers 1-to-1 voice and video calls, while paid plans offer conference calling for up to 15 participants. You could, however, connect Slack with Zoom or other video calling apps to take advantage of its full potential.
Third-Party Integrations
Slack is notorious for its integrations. Its freemium plan limits you to 10 integrations, while paid plans let you connect with over 2,000 different services and platforms, such as apps for organization, leave tracking, task management tools, and more.
On the other hand, Workplace has only about 60 integrations, though its list includes household names such as Zoom, HubSpot, and Google Drive.
Security
Today, companies place a high value on data protection and privacy. Having a secure communication tool is crucial if you use it to facilitate internal communication and collaboration among team members.
However, Slack and Workplace both have serious shortcomings in this area. For starters, Slack does not offer end-to-end encryption. Even if you're considering Workplace instead, there's virtually no information available regarding the app's security protocols and nothing about whether it employs end-to-end encryption either.
Now that we've laid out all the facts for you, which one are you going to choose?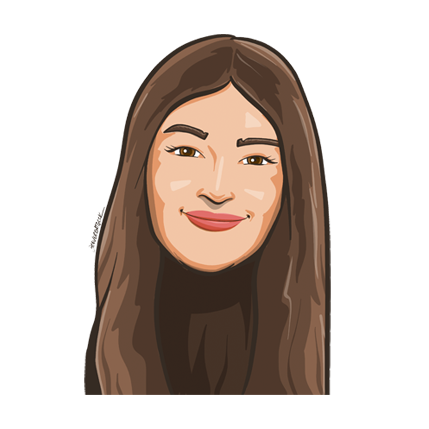 An avid writer and aspiring marketer, Snigdha is a student at Concordia University's John Molson School of Business.