Everything from leave requests to approval, in your inbox
Vacation Tracker is an easy-to-use Google Workspace integration for tracking PTO, sick leave, vacation, and any other type of absence — all from your inbox.
Make the most out of Google Workspace with our handy integration. Here's how
Request a leave in 15 seconds (or less)
Submitting leave requests in Vacation Tracker for Google Workspace takes no longer than just a few seconds.
All you have to do is log into app.vacationtracker.io, click on the 'Request Leave' and submit your leave request. Simple, quick, and hassle-free.
Approve leaves in 1 click
We make asking for time off simple. But getting the approval? Even easier.
Once a request has been made, your Approver will either accept or reject it and you'll get notified of the outcome immediately.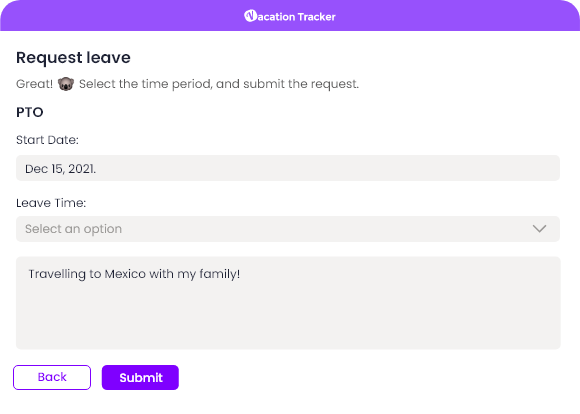 Get tailored notifications in your inbox
As an Administrator, you can set up daily or weekly notifications and tailor them to the entire organization, or a specific department or location.
Just select the email addresses you want to receive notifications on, and we'll take it from there.
All leave-related information, on your fingertips
Vacation Tracker delivers all relevant leave-related information directly to your inbox.
This way. users get notified instantly when their leave request is approved or rejected. Alternatively, if you're an Approver, you'll receive information about updated, canceled, and submitted leave requests.
Get a complete overview on the Dashboard
All of the features available within Google Workspace are also available on the Vacation Tracker dashboard, where you can have a full overview of everything that going on in your organization.
As an Administrator, the dashboard is your hub where you can configure everything in your organization – from individual team member pages to monthly reports.