Your next vacation is just a quick Teams message away
Say goodbye to complicated PTO tracking, and say hello to the easiest way to track your time off directly from Microsoft Teams with Vacation Tracker.
We make leave tracking from Microsoft Teams effortlessly simple. Here's how
Request a leave in 5 clicks
Requesting leave using our Microsoft Teams integration takes no more than 5 clicks.
Just type "Request leave" in your chat with Vacation Tracker, choose the leave type and dates you want to take time off, and we'll do the rest.
Approve leave requests in 1 click
We make asking for time off simple. But getting the approval? Even easier.
Once a request has been made, your Approver will either accept or reject it and you'll get notified of the outcome immediately.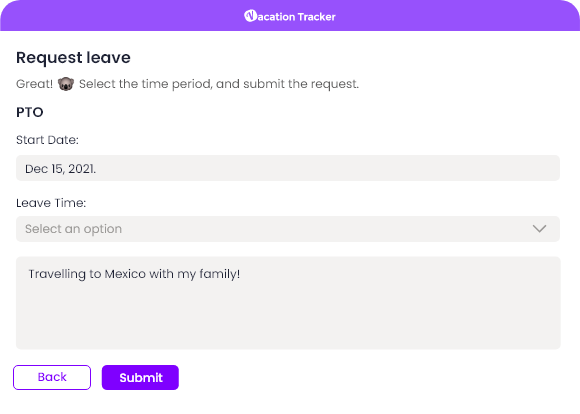 Receive tailored notifications in Microsoft Teams
As an Administrator, you can set up daily or weekly notifications and tailor them to the entire organization, or a specific department or location.
Just pick the Teams channel you want to receive notifications on, and we'll take it from there.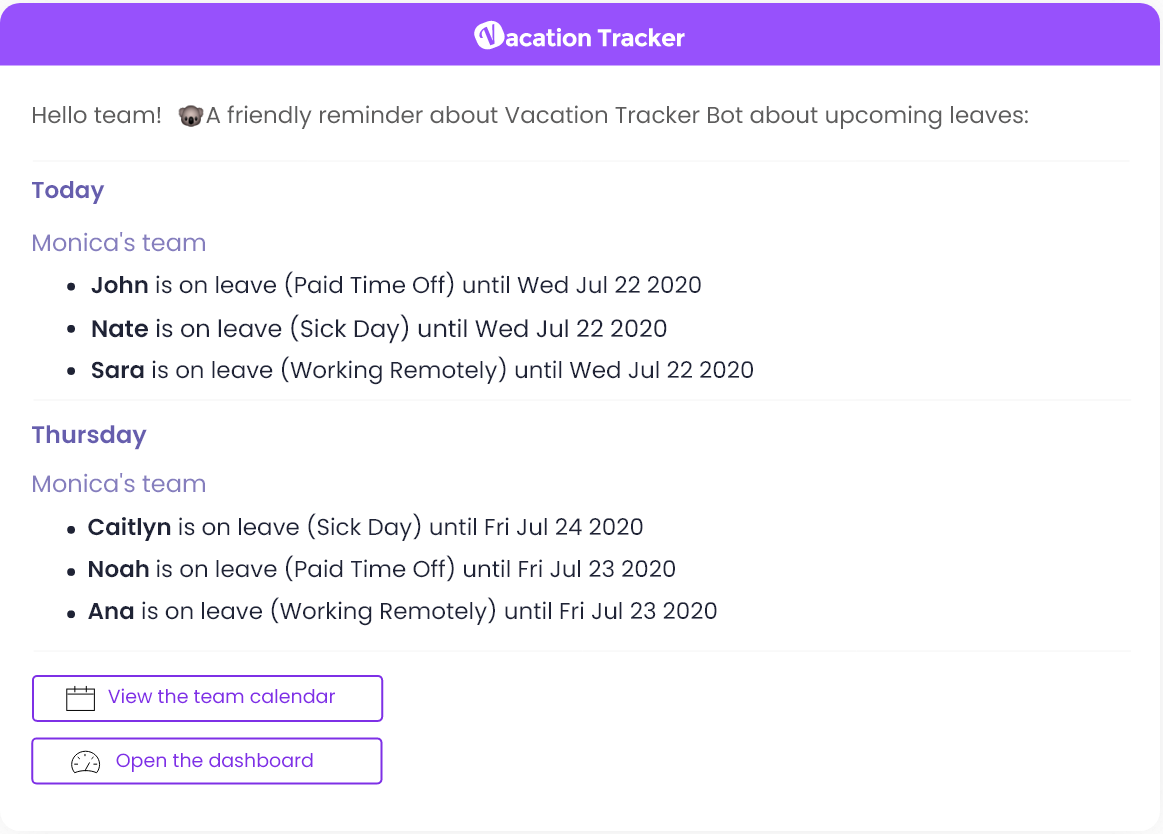 Access your leave data directly in Microsoft Teams
A quick look at the 'My Profile' tab shows you how much time you have left to take off, how many days you've taken off in the past, and what's coming up, and other useful information regarding your leave activity. You can also request leaves from here.
Get quick access to the VT Dashboard
In addition to the My Profile tab, you also have a General Tab where you can view additional leave information about your team members and access any pending leave requests.
Get a complete overview on the Dashboard
All of the options available within Microsoft Teams are also available on the dashboard, where you can have a full overview of everything that going on in your organization.
As an Administrator, the dashboard is your hub where you can configure everything in your organization – from individual team member pages to scheduling reports.
Add Vacation Tracker Calendar Tab
Monitor scheduled leave types without leaving Microsoft Teams by adding the Vacation Tracker Calendar tab to the channel where Vacation Tracker is installed. You have the option of switching between the Calendar and Overview tab for additional leave information.