5 Benefits of Using Vacation Tracker in Microsoft Teams
Reading Time:
3
minutes
It's no secret that Microsoft Teams is an awesome tool for team collaboration. Most workers love it because the app makes it easy to schedule meetings, create agendas, share files, chat, and more. All while keeping everyone on the same page. But did you know that you can also use it to request and approve leaves, get one-click leave approval, view your team's calendar and do much much more?
That's right, there are a multitude of benefits to using Vacation Tracker in Microsoft Teams. And in this article, we're going to show you what they are! So without further ado, let's get started.
Why should you use Vacation Tracker in Microsoft Teams?
There's one simple reason — using Vacation Tracker in Microsoft Teams will make your life much easier.
Gone are the days of waiting for hours to get a response from HR, sifting through countless emails, and never knowing when your colleagues are going on vacation. With Vacation Tracker, you can do all this, plus more, directly from the comfort of your workspace.
Our leave management solution is designed to fit into the way your company works. This means that you can set up multiple locations and departments, create multiple leave types, automate all those boring tasks and configure all our settings according to your company's needs.
The benefits of using Vacation Tracker in Microsoft Teams
One single sign-in
We get it. We're all tired of remembering passwords. The last thing you want to add to your list of things to remember is one more password, right?
That's why Vacation Tracker users can directly sign in to our leave management app with their official work credentials — whether that's from Slack, Microsoft Teams, or Google Workspace (according to the integration you choose.)
This means that your leave data will be effortlessly synced with your favorite work collaboration tool. Furthermore, there also won't be a need for you to sign in to another external platform just for the sole reason of tracking leaves. How convenient is that?
It's easily accessible
One of the biggest benefits of using Vacation Tracker in Teams is the time it saves you switching back and forth between apps.
After you're done setting up and installing the Vacation Tracker bot in Teams, you can access all your leave-related information from the comfort of your workspace. This means that all the information that's usually available on our online dashboard can be found right in your favorite collaboration tool.
Hence, you can say goodbye to the time wasted switching between apps. And hello to having your leave data at the tip of your fingertips!
Requesting leaves is a quick message away
With our Microsoft Teams integration, a quick message is all it takes to request your next vacation. No, seriously — it's that simple.
All you have to do is start a chat with the Vacation Tracker bot. Then, type in "request a leave." Next, choose the days and dates and specify a reason if necessary and you're good to go! After that, your leave request will get sent to an Administrator or Approver, and you will get notified of the outcome instantly. No more long waiting hours for a response from HR!
Stay informed of your team's upcoming leaves
Has your colleague ever gone on vacation just before you were supposed to start a big project?
What about a time when you were supposed to present a big project to your boss? And then, you found out that he was out of the office?
With our Vacation Tracker, you can finally wave goodbye to those last-minute surprises, and make it a thing of the past forever. One of the biggest benefits of using Vacation Tracker in Microsoft Teams is that you can notify your entire organization or department of upcoming leaves by setting up daily or weekly notifications.
Furthermore, these notifications will appear on a pre-selected channel at a time of your choosing. They will also include other events such as regional holidays, half-days, and so on.
Get your online dashboard within Teams
The tabs are your secret portal to the Vacation Tracker online dashboard.
The Vacation Tracker Microsoft Teams bot includes two tabs. One for the condensed online dashboard information and another for your profile. Any user can access both tabs. However, the condensed online dashboard tab will display different information based on the user's role.
The Tab will be available on the General channel and gives you a quick overview of your leave history, upcoming leaves, pending leave requests, etc. This information will certainly come in handy when you're sitting at your desk, planning your next vacation.
What's next?
Now that we've informed you about the benefits of using Vacation Tracker in Microsoft Teams, it's only fair that you get to experience how easy it is to do so yourself. That being said, we offer a 7-day free trial to all our users so that they can experience the magic of easy leave tracking for themselves.
So, what are you waiting for? Sign up below!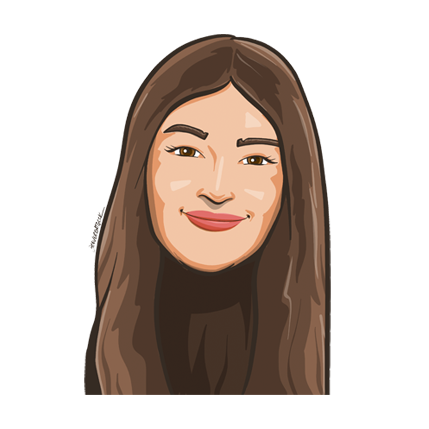 An avid writer and aspiring marketer, Snigdha is a student at Concordia University's John Molson School of Business.