Best Software for Managing Remote Employees
Reading Time:
14
minutes
Managing remote employees is no small feat, especially in an era where remote working has become more than a trend, but rather a necessity for many businesses. Know something that's even harder? Finding the best software for managing remote employees.
Fortunately, there's been an increase in the number (and quality) of remote work tools over the past few years. And with the right tools, you can dramatically improve your team's ability to collaborate and communicate, no matter where they are in the world. From communication to collaboration, task management to time tracking, these tools are vital in keeping everything streamlined and under control. In this article, we will discuss the 10 best software for managing remote employees. The keyword here is "best," and these tools have been proven to provide top-notch features and functionalities that cater to the needs of a diverse workforce.
How to choose the best software for managing remote employees?
In today's increasingly connected world, effective remote working software plays a pivotal role in ensuring that your remote employees stay on course. Not only does it help them in achieving their goals and peak performance, but it also helps in maintaining the vibrant and collaborative spirit of your company's culture, regardless of any physical distance between team members.
While there are many remote working tools available, each with unique features and slight differences, the most effective technology for remote work usually encompasses several key components. Take a look at what the best software for managing remote employees should offer:
Project and Task Management
A comprehensive platform for managing remote employees should provide them with intuitive project and task management capabilities. This allows for clear goal-setting, tracking progress, and coordinating among various team members, ensuring everyone is aligned and working towards common objectives.
Efficient Time Management
Everyone knows how much managing time effectively is crucial when working remotely. Thus, the right software should include features such as scheduling, reminders, and calendar integration, making it easier to plan and manage daily tasks, appointments, and deadlines.
File Sharing and Collaboration
Collaboration among remote team members is made seamless through efficient file-sharing tools. This ensures that documents, images, and other necessary files can be accessed and worked on collectively, fostering a more cohesive and productive working environment.
Allocation of Resource Management
Effective resource management is key to balancing workloads and utilizing assets efficiently. Look for solutions that offer tools to allocate resources properly, monitor utilization, and even forecast future needs. This helps in minimizing waste and ensures that team members have what they need when they need it.
So, are you ready to take your remote team management to the next level? Let's get started.
Best Software for Managing Remote Employees
As you can probably tell, choosing the best software for managing remote employees is an important, strategic decision that can significantly enhance the productivity and cohesion of your remote teams. Long story short, it can make (or break) your employee experience.
However, by focusing on some core areas, you'll be well-equipped in the search to support your employees in their day-to-day tasks, all while maintaining the unique culture and values that make your company special. Whether your team is spread across different cities or different continents, the following right tools can bridge the gap and foster a thriving remote working environment. When evaluating the best software for managing remote employees, we will consider notable features and pricing as the two most important factors in our list.
So without further ado, let's jump right into it!
Vacation Tracker: best for automated leave management
The importance of taking PTO for your employees is even more crucial in a remote setting where the lines between personal and work lives are blurred and the bureaucratic process of requesting PTO leads to burnout in your virtual workplace.
Meet Vacation Tracker, an intuitive leave management software that makes managing your team's leaves and vacations a breeze. All you need is an email address to sign up and streamline your leave management process right within your favorite collaboration tool. Whether you're a Slack, Microsoft Teams, or Google Workspace user, this tool helps ensure that you never have to deal with messy Excel spreadsheets or manual leave tracking.
The benefits of using a tool like Vacation Tracker are endless, but here are our favorite few:
Intuitive and Easy-to-use: Vacation Tracker's interface is straightforward and easy to use, allowing managers to approve or deny leave requests with a simple click right where they work. Employees, too, can send their leave requests without any hassle.
Customizable Interface: The tool allows for easy customization of everything from leave policies to quotas, ensuring the needs of your team are met regardless of where they are located globally. Long story short, it gives you all the flexibility you need to manage PTO easily.
Administrator Dashboard: Get a complete overview of your own as well as your team's leave status at a glance. With this feature, you can plan your project timelines better, ensuring no last-minute surprises arrive due to unexpected leaves.
Leave Notifications: Vacation Tracker sends automatic leave notifications about leave activity and to employees for their request status, making the leave management process transparent and efficient.
Integration with Calendar Apps: It seamlessly syncs with Google Calendar, Outlook, and other popular calendar apps, ensuring everyone is up-to-date with the team's leave schedule.
Pricing
Vacation Tracker offers flexible pricing plans to cater to teams of all sizes. Users can choose from the following 3 plans:
Core: Starting at $1 per user per month with a minimum of 25 users, best suited for smaller companies that are just starting to implement automated PTO tracking.

Complete: Starting at $2 per user per month, built for companies that demand advanced features for PTO tracking and complete automation.

Enterprise: Requires a price estimate from the Support team, but is best for companies that require the highest levels of support, flexibility, and control.
In a nutshell, Vacation Tracker is a robust, affordable, and user-friendly leave-tracking solution that takes the pain out of leave management, allowing you to focus on what matters most — doing actual work and taking PTO without any hassle.
Slack: best for overall team communication
Slack, a modern solution for team communication, is a digital workspace that elevates productivity by bringing your team's collaborations into one centralized location. It's your go-to hub for team chats, direct messaging, video calls, and file sharing. Essentially, it's like your virtual office where work happens!
Why we love Slack
What sets Slack apart is its extensive features that are designed to streamline workflows and promote efficient communication. Let's delve into some of the most notable ones:
Slack Channels: Channels are essentially different chat rooms dedicated to various topics, projects, departments, or even fun stuff! You can create as many as you need – making sure your discussions are always organized and easy to navigate.
Direct Messages: Need to have a quick one-on-one with a team member? Slack's Direct Messages have you covered. It's like passing a note, but digital (and a lot more fun).
File Sharing: Slack supports a myriad of file types that you can share directly into a channel or a Direct Message. You can also comment on them right then and there, making collaboration even easier.
Integrations: With thousands of integrations available, you can connect Slack to tools you already use, like Google Drive, Trello, or Zoom. This lets you handle almost all your work without leaving Slack's friendly interface.
Video Conferencing: Slack isn't just for typing out messages. You can have voice or video calls right from the platform, making it easy to brainstorm, discuss, or just catch up!
Pricing
When it comes to pricing, Slack offers a variety of plans to suit your team's needs.
Free: Ideal for small teams or projects. You get access to 10,000 of your team's most recent messages, 1:1 voice, and video calls, and up to 10 app integrations.

Standard ($6.67/user/month): This plan, perfect for small to medium-sized businesses, offers unlimited message archive, group calls, and unlimited app integrations. You also get guest access and priority support.

Plus ($12.50/user/month): Designed for larger businesses or those with additional administration needs. It includes everything in the Standard plan, along with advanced identity management, 24/7 support, and guaranteed uptime.

Enterprise Grid (Custom Pricing): This plan is tailored for extra-large businesses or those in regulated industries. It offers all features in the Plus plan and more, like unlimited workspaces, enterprise mobility management, and data loss prevention.
In summary, whether you're a startup, a small business, or a corporate giant, Slack offers a plan that can help transform how your team communicates. It's like having your whole office, right in your pocket!
Notion: best for organization
Notion is a powerful, all-in-one workspace designed to simplify your digital organization. It's like your personal productivity hub where you can take notes, manage tasks, set goals, create databases, and even collaborate with your team.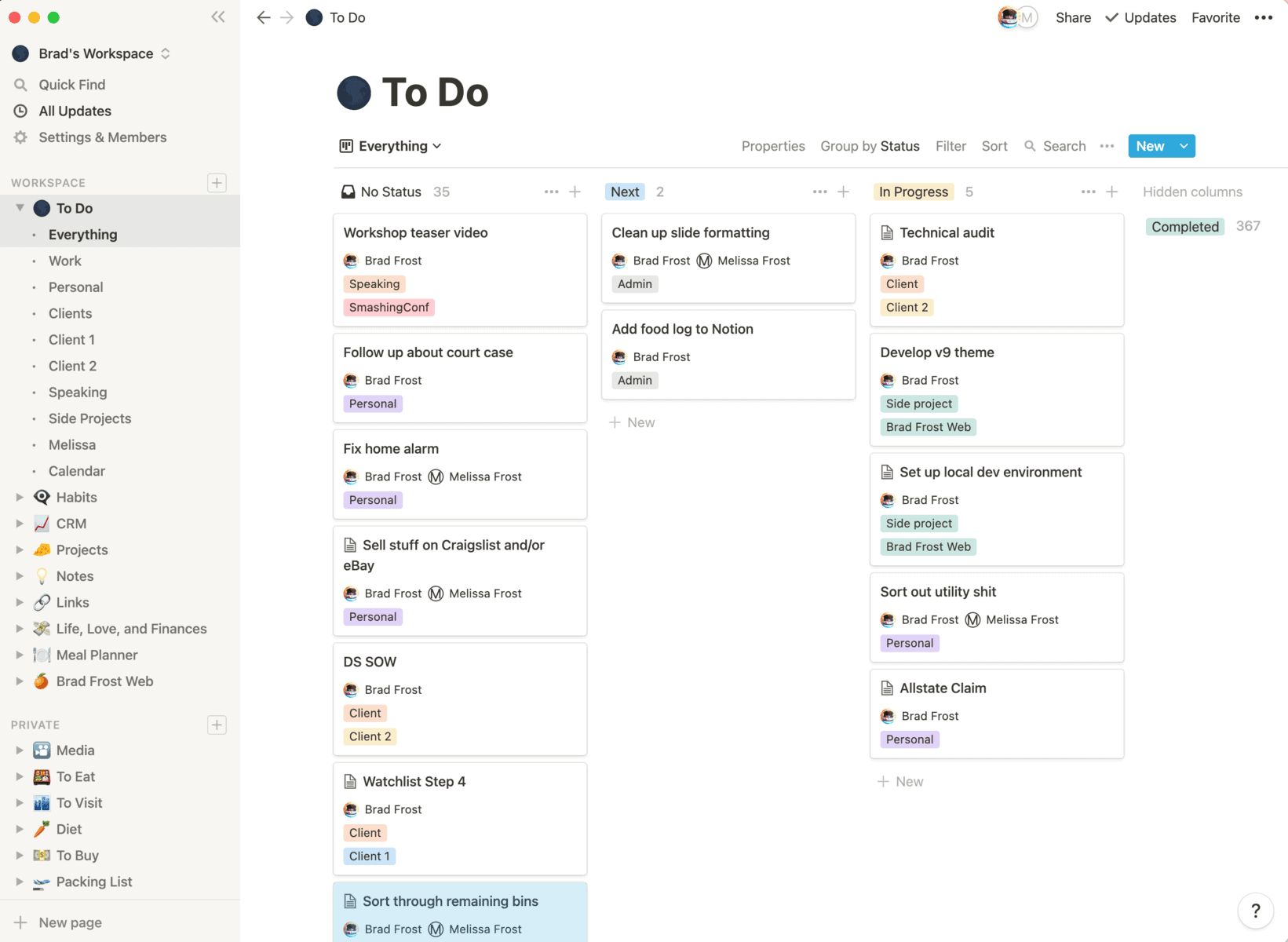 Why we love Notion
Here are the standout features that make Notion a favorite among productivity enthusiasts:
All-in-One Workspace: From personal to-do lists to complex project management, Notion houses all your workspaces in one place, reducing app-switching and increasing efficiency.
Easy Content Creation: Notion supports rich text, images, checkboxes, databases, and more. Whether you're writing a blog, planning a project, or making a checklist, Notion can handle it.
Nested Pages: Pages within pages? Yes, please! This unique feature lets you create infinite layers of content, making information architecture a breeze.
Embedded Collaboration: Notion supports real-time collaboration. Share pages, assign tasks, and even comment on individual blocks of content.
Existing Templates: Notion's vast template gallery makes it easy to start any project. From simple note-taking to complex project management, there's a template for that.
Integrations: Notion can integrate with a host of other productivity tools, including Google Calendar, Google Drive, and Evernote, further streamlining your workflow.
Pricing
As for pricing, Notion has several plans to fit different needs:
Free: The free plan is great for personal use, with unlimited pages and blocks, and allows sharing with up to 5 guests.

Personal ($4/month): This plan offers unlimited file uploads, version history, and priority support, making it a great fit for individuals wanting more from their workspace.

Team ($8/user/month): Designed for collaboration, the Team plan allows unlimited team members, and offers advanced permissions and admin tools.

Enterprise ($20/user/month): Tailored for large organizations, the Enterprise plan provides advanced security, dedicated support, and custom contract options.
In short, Notion stands as a versatile tool capable of adapting to your workflow, making it the ultimate workspace for your notes, tasks, wikis, and databases. It's like your personal productivity assistant, always ready to help.
Zoom: best for video conferencing
Zoom, the modern tool for video communication, is a highly popular platform for hosting virtual meetings, webinars, or just catching up with friends and family. It's like your digital bridge to the world, keeping you connected no matter the distance.
Why we love Zoom
Here are the key features that set Zoom apart:
HD Video and Audio: Enjoy crisp, clear, and reliable video and audio quality, making your online interactions feel just like in-person meetings.
Screen Sharing: Share your screen with the click of a button, making presentations, workshops, or team collaborations a breeze.

Record Meetings: Missed a meeting? No worries. Zoom allows you to record your sessions, so you can catch up anytime.

Virtual Backgrounds: Add a touch of fun or professionalism with customizable virtual backgrounds.
Breakout Rooms: Divide and conquer your Zoom meetings into separate sessions for small group discussions, then bring everyone back together with ease.
Handy Integrations: Seamlessly integrate Zoom with calendar applications, email clients, and popular tools like Slack or Microsoft Teams.
Pricing
Zoom offers pricing options suitable for different needs:
Basic (Free): Perfect for small teams or personal use, this plan allows up to 100 participants and offers a 40-minute limit on group meetings.
Pro ($14.99/host/month): This plan extends the meeting duration limit to 30 hours, and includes social media streaming, and 1GB of cloud recording.
Business ($19.99/host/month): Designed for small to medium businesses, it includes all Pro features plus a minimum of 10 hosts, 300 participants, and company branding.
Enterprise ($19.99/host/month): Tailored for large businesses, it has all Business features plus up to 500 participants, unlimited cloud storage, and a dedicated customer success manager.
In summary, whether you're a freelancer, a small team, or a corporate behemoth, Zoom offers a plan to ensure your virtual communications are always top-notch. Cheers to staying connected and in the loop, no matter where you are.
Trello: best for Kanban-style project management
Trello is your ultimate project management tool, offering a flexible and visual way to organize anything with anyone. To put it simply, it's like your digital whiteboard, filled with sticky notes but way cooler and more collaborative.
Why we love Trello
Let's break down the key features that make Trello a crowd favorite:
Boards, Lists, and Cards: Organize your projects into boards. Within boards, you have lists representing different phases of a project and cards as tasks. It's an intuitive way to visualize your workflow.
Instant Collaboration: Invite your team to your board, assign tasks, add comments, and more. Collaborating has never been easier!
Checklists and Due Dates: Keep your tasks on track with checklists and due dates. You can even set reminders to ensure no deadline slips through.
Labels and Tags: Categorize your cards the Marie Kondo way using color-coded labels and tags. They make searching and organizing your tasks a breeze.
Integrations: Trello offers integrations (called Power-Ups) with tools like Google Drive, Slack, and more, streamlining your workflow.
Pricing
As for pricing, Trello has a plan for everyone:
Free: This plan is great for personal or small team use, providing unlimited personal boards, cards, and up to 10 team boards.

Standard ($5/user/month): Offers unlimited team boards, advanced checklists, and custom fields, among other features.

Premium ($10/user/month): Includes all Standard features plus advanced automation, priority support, and more Power-Ups.

Enterprise (Custom Pricing): Tailored for large teams with additional security, control, and support needs.
In a nutshell, Trello is your go-to tool for seamless project management, whether you're managing a personal project or collaborating with a large team. Think of it as having a personal assistant to help keep your tasks organized and your team aligned!
Time Doctor: best for time-tracking
Time Doctor is a robust productivity and time-tracking tool, designed to help teams stay focused and efficient. With comprehensive features and reporting, it ensures you and your team are making the most out of your workday.
Why we love Time Doctor
Here are Time Doctor's standout features:
Easy Time Tracking: Keep track of time spent on tasks with precision. Just start a timer, and let Time Doctor handle the rest.
Distraction Alerts: Time Doctor can nudge you when it detects inactivity or distractions, helping you stay on track.
Screenshot Monitoring: For a higher level of oversight, this optional feature captures screenshots of workstations at random intervals, ideal for remote teams.
Reporting & Analytics: Understand your productivity with detailed reports about time usage, websites visited, applications used, and more.
Integrations: Seamlessly integrate Time Doctor with project management and communication tools like Trello, Slack, or Jira.
Pricing
Time Doctor's pricing is as follows:
Basic ($7/user/month): Offers core time tracking features, task and project management, and the option for three third-party integrations.

Standard ($10/user/month): Includes all Basic features plus screenshots, payments, and track apps and URLs.

Premium ($20/user/month): Contains all features of the Standard plan, with additions like VIP support, video screen captures, and client login access.
In conclusion, Time Doctor offers a comprehensive suite of features for individuals and teams looking to optimize their time management and productivity. With it, you have a detailed view of your workday, ensuring each minute is put to good use.
Monday.com: best for automated workflows
Monday.com is a versatile work operating system that empowers teams to manage projects, workflows, and everyday work more efficiently. It's a vibrant, intuitive platform that brings structure and transparency to your work.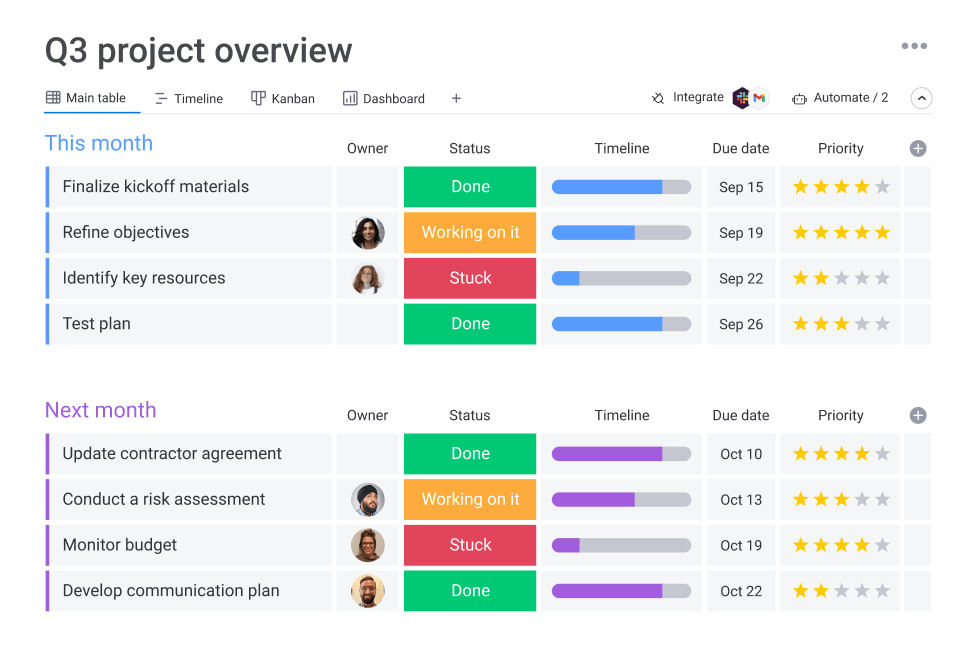 Why we love Monday.com
Here are the key features of Monday.com:
Workspaces and Boards: These are customizable spaces to organize your projects, tasks, and more. With a visually appealing and intuitive interface, managing tasks becomes effortless.
Collaboration: Assign tasks, add comments, upload files, and tag team members. Monday.com promotes easy collaboration and communication.
Automation and Integrations: Automate your routine work and connect your favorite tools to Monday.com. This enhances productivity and reduces the time spent on manual tasks.
Time Tracking: Keep tabs on the time spent on tasks. This is an invaluable tool for productivity analysis and efficient time management.
Easy Reporting and Analytics: Get insights into your team's performance with visual and customizable dashboards, improving decision-making.
Pricing
Monday.com offers several pricing options:
Individual (Free): This plan offers unlimited boards and two seats for free. It's ideal for freelancers or personal use.

Basic ($8/seat/month): It includes unlimited viewers, 5 GB of file storage, and over 20 column types for more diverse tasks.

Standard ($10/seat/month): This plan adds timeline & Gantt views, guest access, automation, and integrations.

Pro ($16/seat/month): Offers everything in the Standard plan, plus private boards, chart view, time tracking, and more.
Enterprise (Custom Pricing): Tailored for larger businesses with more complex needs, it provides advanced features like audit logs, session management, and more.
In summary, Monday.com stands as an excellent platform to coordinate all aspects of your work and team, fostering a collaborative, productive, and organized work environment. It can redefine the way your team works, for the better.
ClickUp: best for increased productivity
ClickUp is a feature-rich productivity platform that aims to consolidate and simplify your work processes. Designed to replace multiple work tools, it offers functionalities that can cater to any team, project, or even your individual tasks.
Why we love ClickUp
Dive into ClickUp's remarkable features:
Tasks and Subtasks: Break down your projects into manageable tasks and subtasks, each with custom statuses, assignees, and priorities.
Custom Views: View your work in a way that suits you – List view, Board view, Box view, or even Gantt chart for timeline management.
Docs & Wikis: Create and share documents, wikis, or knowledge bases right within your workspace.
Time Tracking: Monitor the time spent on tasks, perfect for project management and billing purposes.
Automation: Automate routine tasks and notifications, saving your time for more important work.
Integrations: ClickUp integrates with a multitude of other tools like Slack, Google Calendar, or GitHub.
Pricing
ClickUp's pricing plans are as follows:
Free Forever: This plan offers unlimited tasks and members, 100MB storage, and access to core features. Ideal for personal use or small teams.

Unlimited ($5/user/month): Includes unlimited integrations, advanced reporting, guests & permissions, and unlimited storage.

Business ($9/user/month): Adds goal tracking, custom exporting, and private, and protected views to the mix.

Enterprise (Custom Pricing): Designed for larger organizations, it offers additional customization, security, and support options.
To wrap it up, ClickUp stands out as an all-in-one workspace that goes beyond just task management. With its robust features, you'll have all you need to streamline your workflow and elevate your productivity, all in one place.
CultureAmp: best for powering employee experience
Last but definitely not least, don't underestimate the importance of building team culture to maintain a happier, more productive team remotely.
Culture Amp is an innovative people and culture platform that enables businesses to collect, understand, and act on employee feedback. With a keen focus on enhancing employee engagement, Culture Amp provides a more comprehensive understanding of your workplace culture.
Why we love CultureAmp
Check out Culture Amp's key features:
Surveys and Feedback: Culture Amp offers robust tools for employee engagement surveys, performance evaluations, and more, allowing real-time feedback collection.
Actionable Insights: Get detailed reports and analytics that help you understand your team's engagement and performance levels, along with areas for improvement.
Goal Tracking: Align team and individual goals with company objectives. Culture Amp provides tools to track these goals and measure progress.
Learning and Development: Create tailored learning and development programs to foster skills growth and career progression.
Integrations: Connect Culture Amp with popular HR and productivity tools for seamless data transfer and enhanced workflow.
Pricing
Culture Amp offers different pricing tiers, customized to the size and needs of your organization. As of my knowledge cut-off in September 2021, Culture Amp didn't publish specific pricing plans on their website. For accurate pricing details, you would need to contact Culture Amp directly.
In summary, Culture Amp is a comprehensive tool for businesses looking to elevate their understanding of employee engagement and satisfaction. It provides valuable insights that can help you build a happier, more motivated, and high-performing team.
Conclusion
There you have it — our list of the best software for managing remote employees.
Ultimately, choosing the best software for managing remote employees depends on the unique needs and challenges of your business and team. The above list showcases a wide range of options catering to various aspects of remote work management. From project planning to time tracking, from communication to support, these tools are designed to make remote working as productive and enjoyable as working from the office.
Invest time in understanding what exactly you need, consider the scalability and integration with existing tools, and don't hesitate to take advantage of free trials or basic versions before committing to a subscription. By picking the right tools, you'll be well on your way to creating an efficient, connected, and satisfied remote team. What's not to love about that?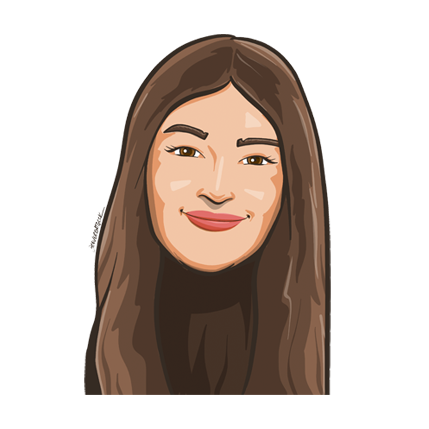 An avid writer and aspiring marketer, Snigdha is a student at Concordia University's John Molson School of Business.