Top 5 Leave Management Software for Your Small Business in 2023
Reading Time:
5
minutes
Using a dedicated leave management solution is a lot like eating good food. You don't have to do it, but you won't know how enjoyable it is until you try it. And once you do, life will never be the same again.
Are you trying to manage all employee leaves from a calendar? How about multiple Excel spreadsheets containing inconsistent leave information? Or, are you spending too much time trying to track and report on the information? Do you need an online time clock for your employees? We've compiled a list of the top 5 leave management software for your small business in 2022. Without further ado, let's jump right into it.
Top 5 Leave Management Software For Your Small Business in 2023
Vacation Tracker
The number 1 position on the list for Top 5 Leave Management Software definitely belongs to Vacation Tracker, and with good reason. Complete with 3 integrations (Slack, Microsoft Teams, and Google Workspace), a fully-customizable interface, and countless useful features, if there's one tool you need to conquer your leave tracking problems — it's this one.
With Vacation Tracker's fully customizable approach to leave tracking, users have the option to:
create and configure multiple leave types,

customize leave policies

set labels,

filter by locations, departments, and labels,

…and so much more!
You can also set up multiple locations and departments to reflect the work reality of your organization. Additionally, you can schedule daily or weekly notifications to notify your team of all upcoming leaves and holidays, no matter which team collaboration tool you use. You can enjoy all of these benefits and even more for only $1 per user per month on the Core plan.
On the flip side, if you're looking to master your organization's leave tracking efforts, Vacation Tracker also offers features such as PTO Accruals, Labels, Scheduled CSV reports, and more as a part of its Complete plan. Interested? Try it free for 7 days! No credit card is required.
Calamari
Calamari is another mention on our Top 5 Leave Management Software list that is designed to help users with time-off tracking and attendance management.
With Calamari, you can pick what you want and pay only for what you need. Depending on your organization's needs, you can choose either the time-off tracking module or the attendance management module. You can also choose both. Thanks to Calamari's attendance management system, users can clock in and out during their working hours. And the best part? Doing so doesn't require any manual work on your behalf — their iBeacon technology detects and logs users automatically based on their recent actions.
Additionally, Calamari's leave management system also includes the following features:
employee leave calendars

easy leave automation

multiple leave types, and many other features.
Additionally, the company offers a mobile app that allows employees to track time off or give attendance even when they're on the go. Calamari's pricing starts at $1.7 USD per user per month for its leave management module and $2 USD per user per month for its absence tracking module. (Image credit: Calamari on Microsoft App Source)
Timetastic
Timetastic is another online paperless staff planner that helps you keep track of employee vacation, PTO, sick days, and more.
This mention on our top 5 Leave Management Software list is used by more than 100,000 people around the world to track their time off from work. And it's easy to see why. Timetastic eliminates the need for paperwork or spreadsheets to track your annual leave, thanks to its desktop and mobile apps. Through its integration with Slack, it allows employees to request and approve leaves in just a few clicks, streamlining the normal leave tracking process.
Timetastic, like Calamari, lets employees view their leave calendar to keep track of their allowances and view their remaining holidays at a glance. Furthermore, the app displays notifications including who will be off and for how long, so you don't have to ask around the office to find out who's on vacation. As an added bonus, Timetastic also offers users a Pro plan that offers advanced security, a burnout board for employees, absence insights, and much more. It doesn't get any better than that, does it? (Image credit: Timetastic on Capterra)
Absence.io
We know what you're thinking — no, it's not a typo. The name of this app is indeed absence.io. You might laugh, but we like the play on words since absence.io manages your employees' absences for you.
This is a comprehensive leave tracking solution usually used by project teams and remote companies. This app can be downloaded on Android and iOS to request, approve, and calculate PTO days for your staff. This software streamlines your time off tracking by allowing users to request and get leave approvals online. The system updates data throughout the system automatically whenever changes are made, thus removing the need for repetitive manual entry.
The tool allows employees to request leave by selecting the dates they want in the integrated calendar. Teams can also access information about other booked leaves or leave requests. This will help them make informed decisions, which in turn helps prevent overbooking.
Last but not least, this software allows users to set and adjust custom configurations and public holidays for the whole team, company, or individual. In addition to a free trial, Absence.io offers several paid plans. They offer a base-level plan for $1.7 USD per month per user. (Image credit: Absence.io on Google Workspace Marketplace)
AttendanceBot
AttendanceBot is another name that comes to mind for companies that track their team's vacation days using external HR software.
This top 5 Leave Management Software app streamlines time tracking for remote teams by providing them with a way to efficiently track their team's time off and absence, all in one platform. As with Vacation Tracker, users have the option to create multiple types of leave, as well as locations, policies, and more in order to streamline their leave tracking process. It also offers users the ability to track lunches and breaks, generate CSV reports, and integrate calendars from other resources.
Additionally, this tool is free for workspaces with up to five users. If your number exceeds that, it costs $5 USD per user per month. Lastly, this leave management tool also comes with a 7-day free trial and is available on Slack and Microsoft Teams. (Image credit: AttendanceBot)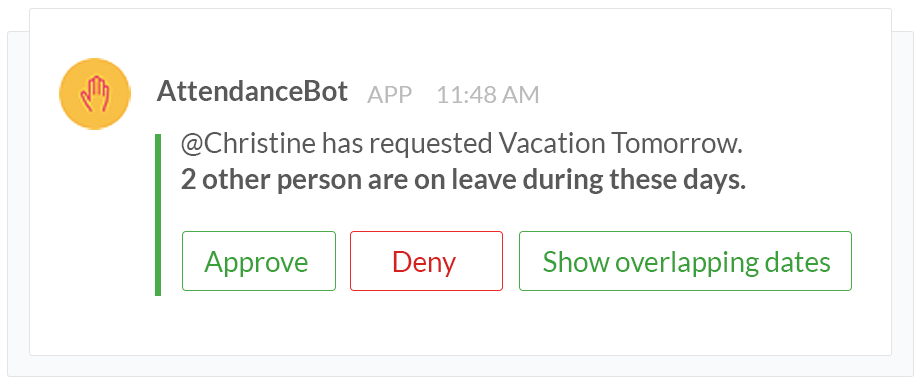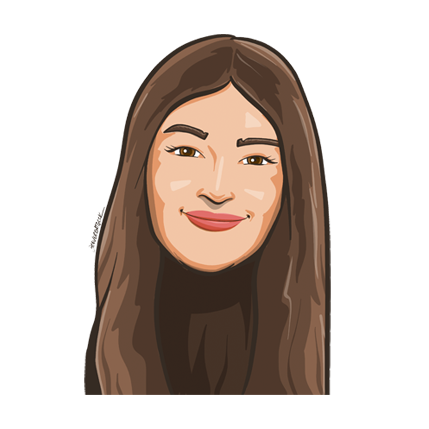 An avid writer and aspiring marketer, Snigdha is a student at Concordia University's John Molson School of Business.