7 Microsoft Teams Integrations for Remote Workers
Reading Time:
3
minutes
Microsoft Teams Integrations allow you to better plan the flow of work for you and your employees. A lot of working remote teams recognize the power of MS Teams. These remote workers are always looking to use Teams in new and novel ways. We are too. That's why we put together a short list of the Microsoft Teams integrations that we are using. As our team has transitioned to being fully remote, these integrations have really saved us. Therefore, they can surely work for you too!
Today, we're sharing our top 5 Teams integrations that we use daily to simplify our workday. It's not rocket science. These are all very simple apps that just help us do our jobs better.
Top 7 Microsoft Teams Integrations For Remote Workers
These five integrations bring the information you need right into Teams. Use these integrations to make your apps work for you.
It's one of the largest social media platforms around. Twitter needs no introduction. However, did you know it's a great way to gather customer feedback? By integrating Twitter into MS Teams, you can set up alerts that are relevant to your group. So, when a customer tweets at your handle or uses your hashtag, it flows directly into Teams, where you can share or respond without getting out of our team's bubble. Keep it simple and focused: get Twitter for MS Teams.
2. Customize Leave rules for your organization with: Vacation Tracker
Vacation Tracker has been a Slack integration for some time now. However, it's only now making the list of Microsoft Teams integrations to watch out for! With this handy integration, you can keep a log of days off. Furthermore, Administrators can set their team's Working Days, whether they are part-time employees working only a few days a week, or full-time workers with set schedules. All employees will appreciate the transparency and ease of use of this tool.
Vacation Tracker is practical for remote or international teams. It's also geared towards teams collaborating in different countries and across different time zones. For managers of remote teams, Vacation Tracker offers notifications and a dashboard that displays all of a team's days off. At a glance, any team Administrator can be in the loop about planned or unplanned days off.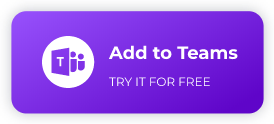 3. Organize your day and your life with: Trello
Trello is a project management software whose boards, lists, and cards enable you to organize and prioritize your projects in a flexible way. By integrating with Teams, you can see your Trello assignments, tasks, and notifications and have conversations about them—without leaving Teams. A fun way to bring together project management and project collaboration. Watch the Trello video to learn more.
4. Celebrate your organization's culture and values: Disco

Disco is a solution that rallies your entire company around your core values. It makes it easy to give public shout-outs and congratulate your colleagues in real-time. So, next time a team member delivers a project ahead of schedule or demonstrates one of your team or company values in their work, pay it forward by giving them Disco "points" in Teams. They'll feel supported and, who knows, maybe repay your appreciation. Watch the Disco video to learn more.
5. Bring more structure to online brainstorming: MindMeister
MindMeister is an online mind-mapping tool that lets you capture, develop, and share ideas visually. And by integrating with Teams, you can take notes, brainstorm, visualize project plans, and easily show connections between ideas all while discussing details with your team in the chat. Read Create and Manage All Your Mind Maps in Microsoft Teams! to learn more.
Adobe Creative Cloud gives you the world's best apps and services for video, design, photography, and the web including Adobe Photoshop, Illustrator CC, InDesign CC, Premiere Pro CC, and more. Integrate with Teams to bring your creative work and teamwork together. You can share work, get feedback, and stay up-to-date on tasks and actions. Read Adobe XD Adds Integration with Microsoft Teams—Creativity meets collaboration to learn more.
7. Build software in the way that works best for you: GitHub
GitHub is the platform where developers work together, solve challenging problems, and create the world's most important technologies. Whether you are a student, hobbyist, consultant, or enterprise professional, the GitHub integration in Teams allows you to create, share, and ship the best code possible.
Get started with Microsoft Teams Integrations
Finally, there surely are more apps to choose from.
Bringing these apps and tools together in Teams is a great way to bring the focus back to your workflow. They're easy to integrate and offer something for everyone, whether you're developing software, managing projects, or gathering customer feedback. And with new apps going live on Teams every day, your next productivity superpower is only a few clicks away. Check the Teams Store today so you don't miss out!