The Best Microsoft Teams Integrations to Try in 2021
Reading Time:
4
minutes
Remember the days when we were constantly switching between Outlook, Skype, WhatsApp, and other messaging apps to communicate with the team?
Now, when we have Microsoft Teams, it seems like those torturous times were ages ago. It's like switching from dial-up to cable internet, right?
Microsoft Teams is among the most popular communication and collaboration tools that allow coworkers to stay in touch without having to use several messaging apps. It's also handy in communication with clients since it allows its users to separate internal and external communication.
Lastly, Microsoft Teams keeps important things in one place and accessible at any given moment, which is quite handy for those who tend to forget things easily.
However, even a robust tool like Microsoft Teams cannot do everything. That's where integrations for Microsoft Teams come to the rescue. And since there are so many of them, we decided to provide you with a complete list of the best Microsoft Teams integrations to try in 2021.
Are you ready to say goodbye to heavy paperwork and complicated spreadsheets? Because Vacation Tracker is now available as a Microsoft Teams integration too, making leave tracking a breeze for teams around the globe!
Vacation Tracker allows teams to request and approve leaves through Microsoft Teams or the Vacation Tracker web dashboard in just a few easy clicks. Furthermore, for companies that have offices in multiple locations, this tool allows them to create and assign Approvers for each team, as well as to customize their leave policies that suit each team's needs.
What's more, managers have a clear overview of their workforce via Vacation Tracker's intuitive dashboard. This tool will easily satisfy the needs of both small, medium, and large companies, non-profits, and educational organizations. What's best, you don't have to spend a dime trying out whether this tool suits your needs. You can just sign up for a 7-days trial first.
Employee appreciation often equals workplace happiness, employee morale, and job satisfaction. What's more, almost 90 percent of employees who regularly receive recognition from their managers and peers report higher levels of trust in them.
If you want to boost your employee's morale and increase their overall satisfaction, you might want to try Karma integration for Microsoft Teams. This tool allows coworkers to give "kudos" to one another, and show appreciation for the successfully completed task, making employees feel more appreciated in the workplace. What's more, if you just recently switched to Microsoft Teams, receiving feedback via this tool can increase Microsoft Teams adoption overall.
Trello is a great project management software, and one of the most useful Microsoft Teams integrations to try in 2021. By using it, teams can prioritize and organize assignments quickly, ensuring no deadline is broken, and no task is left undone.
To its users, Trello offers a wide range of possibilities. Team members can easily assign and complete tasks, review deadlines, and get notified whenever something gets changed in the app. What's more, given that Trello allows managers to see how much each employee has on their plates, it's easier for them to manage the workforce and ensure equal task delegation, avoiding burnout in their employees.
If there's one platform software developers love, it's GitHub! This platform allows developers to solve problems and brainstorm together. Now, it's accessible through Microsoft Teams and supports Github's Tab, messaging extension, and personal app capabilities enabling users to create, share and ship the best code possible.
By using GitHub's Microsoft Teams extension, teams are able to generate ideas, attend to issues, and collaborate with others without having to leave their Teams channels.
If you want to automate repetitive tasks, then Zapier is the right app for you. This app moves information between the user's app and services automatically, without any prior coding knowledge.
When used as Microsoft Teams integration, Zapier is triggered whenever a new message is received in a chat or when a new chat or channel is created. It automatically initiates workflows in other apps whenever a Teams channel is created and alerts users whenever a Google Calendar event is about to start, ensuring nothing gets missed.
Similar to Karma, the Disco app allows managers and coworkers to give public shout-outs to their peers. In its essence, this app helps companies reinforce positive behaviors, recognize employee achievements, and work towards promoting company ethics and culture. What's more, this app allows employees to see their points and achievements from their profiles, and managers can get better insights into employee engagement and frequency of feedback.
MailClark is an amazing Microsoft Teams integration that helps team members send external emails and social media messages without having to leave Microsoft Teams. That way, they're able to create a smart, shared inbox, and optimize their productivity.
This tool is best suited for businesses that have customer support, marketing, and sales teams, as well as for recruitment teams since it ensures continuity in conversations by keeping everything in one place. Considering its features, we can rightfully say MailClark is one of the best Microsoft teams integrations to try in 2021.
Want to know what your team is thinking about? What's the best way to find out than installing an app that can help you create polls in Microsoft Teams? If you're intrigued by this, then you have to download Polly!
With this app, you can easily create polls in your Teams channels and track results in real time. Multiple-choice polls, free-form polls, or the mix of both – you want it, Polly has it.
The mural is an app that serves as a digital workspace for visual collaboration. It enables teams to collaborate digitally by creating visual diagrams. This app is more than a whiteboard, as it enables teams to become more innovative by providing a platform for everything from product strategy and planning to leading workshops.
MeisterTask is a task management tool made primarily for agile teams. It helps team members to increase their efficiency by allowing them to brainstorm with mind maps that can be turned into tasks. What's more, given it has a stats and reports feature, team leads and managers can easily track specific project processes.
Furthermore, MisterTask offers a personalized dashboard that allows each team member to have a clear overview of any open task and tracked time ensuring their undisturbed completion.
Wrapping it up
Over the past year, we've learned to love and appreciate all the convenience of team collaboration tools such as Microsoft Teams. Especially when there are so many integrations that make collaboration with a team much easier and more convenient. Here, we provided you with the best Microsoft teams integrations to try in 2021, we hope your team will enjoy it. Which one do you think would be the most useful for your team?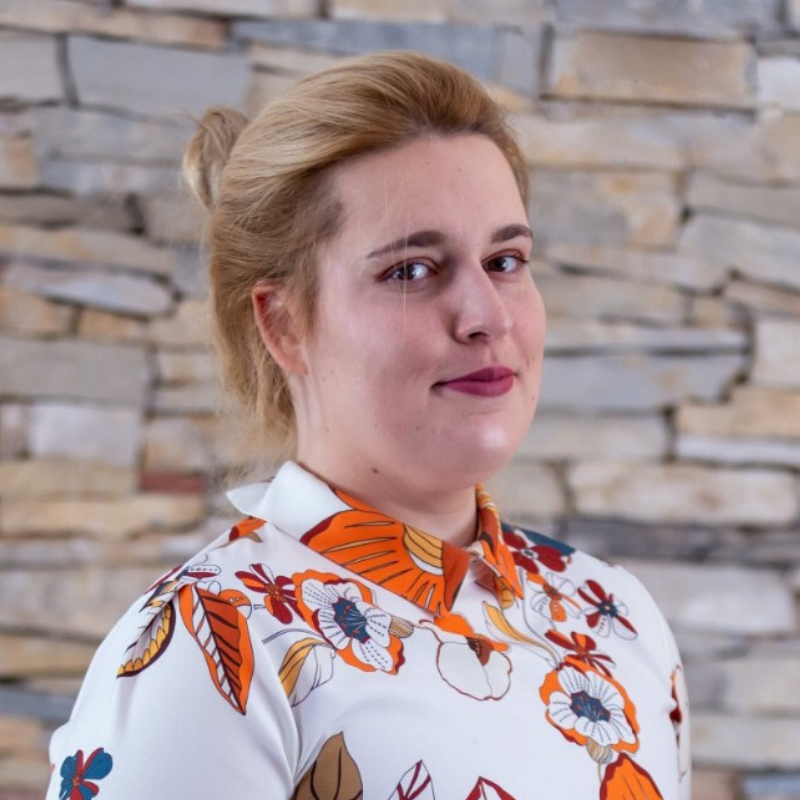 A cat enthusiast and a cupcake maniac, Ana is a freelance Content Writer passionate about HR, productivity, and team management topics. When she's not at her keyboard, you can find Ana in the kitchen, trying to make delicious cookies.