Choose The Best Leave Tracker for 2024
As anyone in HR knows, managing your team's time off requests can be a real headache, especially when your team works remotely and spans different places and time zones. Whether it's vacation days, holidays, or other forms of PTO, doing it all manually is a tough job.
But here's the good news: if you're a manager or HR person, you can make this process way easier with the right tools or software. As we step into 2024, the demands for leave tracking have evolved, and businesses are searching for the best tools to streamline this process. After all, the right tools (such as a leave tracker in this case) will make managing your team's leaves easier than manually dealing with email chains or spreadsheets. What's not to love about that?
However, with so many different leave tracking options available in the market, it can be difficult to choose the best leave tracker for your business. Fear not, because we're here to help you make the right decision. Ready to get started? Let's dive in!
Why is choosing the best leave tracker important?
Choosing the best leave tracker is not merely a matter of organizational efficiency; it is a strategic decision that holds paramount importance for modern businesses. Here are a few reasons why: 
Ensures Compliance 
The regulatory landscape surrounding employee leave is constantly evolving. Choosing a leave tracker that remains up-to-date with labor laws and regulations ensures that your organization stays compliant. This minimizes the risk of legal issues, fines, and reputation damage. Thus, a leave tracker helps your business stay compliant with these evolving laws, ensuring that your employees receive the PTO entitlements they deserve.
Enhances Employee Satisfaction
A transparent and user-friendly leave tracking system empowers employees to manage their time off effectively. This, in turn, fosters a sense of control and fairness, ultimately enhancing employee satisfaction as it provides a clear and equitable method for requesting, approving, and tracking PTO. 
And more vacations = reduced burnout, and happier employees. Happier employees = successful business. What's not to like about that?
Boosts Productivity
Efficient leave tracking minimizes disruptions in the workplace. Employees can plan their time off in advance, and management can adequately prepare for their absence. This, in turn, boosts overall productivity.
Helps in Cost (and Headache) Savings
A well-chosen leave tracker streamlines the process of requesting, approving, and managing leaves. This efficiency reduces disruptions in the workplace, allowing businesses to maintain productivity levels even during employee absences. It enables better resource planning, ensuring that the right people are available when needed.
Minimizes Manual Errors 
The automation and integration features of a leave tracker reduce the reliance on manual data entry, minimizing the chances of errors. This not only saves time but also prevents costly mistakes that can occur when managing leaves manually.
With the right leave tracker, businesses can make sure their employees are happy and their operations run smoothly. By carefully considering the various options available on the market, along with the key features that make up a good system, you too can find a solution that meets your needs — and budget — perfectly.
How To Choose The Best Leave Tracker for 2024
Know what to prioritize in your search
Choosing the best leave tracker for your needs is an important step in ensuring that your business runs smoothly and efficiently. To select the right leave tracker for your business, focus on the following elements:
User Experience
The best leave tracker for your team should be intuitive enough and simple to use, so employees can quickly learn to use the system without their manager's help. This includes features that are easy to navigate, clear step-by-step instructions on how to use the platform, and a stellar Support team or help desk to answer any questions as they come.
Robust Support and Training
Even the best leave tracker may require some assistance to navigate at times. Ensure that your chosen solution offers robust support and training resources. A responsive support team or helpful resources like Helpdesk articles can help your team overcome any hurdles or questions that may arise when trying a new tool.
Cost Efficiency
Cost is a significant factor in any business decision. Evaluate the total cost of ownership of a leave tracker. Tailor your solution to your budget, and make sure you have access to the benefits you need without adding to your overall expenditure. 
Compatibility with Existing Systems
In today's tech-savvy world, integration is key. 
If you already have an HR management system in place or a team collaboration tool at your organization, you will need to ensure that any new software you introduce is compatible with it. Otherwise, you may end up having difficulty integrating the two systems together which could result in costly errors or missed opportunities down the line. Make sure to research any potential issues that could arise before committing to a particular leave tracker.
Scalability for Growth
Consider your business's growth trajectory. Then, opt for a leave tracker that's scalable and can accommodate your expanding needs. This future-proofing ensures that your leave tracker will continue to meet your needs as your organization grows.
Remote, Cloud-Based Accessibility
As remote work and flexibility continue to shape today's modern workforce, mobile accessibility is a must. A leave tracker that can be accessed from anywhere, on any device, allows employees to manage their leave requests on the go. This convenience promotes transparency and streamlines the leave management process.
By taking these steps into consideration when selecting a leave tracking system for your business, you can ensure that you make an informed decision about which product will work best for you and provide maximum benefit with minimal problems.
Compare different leave tracker features
The heart of an effective leave tracker lies in its features. When embarking on the quest to find the perfect tool for your business, start by rolling up your sleeves to do some feature comparisons. 
Comparing different leave tracker features is an essential part of finding the best leave tracker for your team. When looking at various options, make sure your chosen tool has the following non-negotiable features.
Non-negotiables to look for in the best leave tracker
Leave Request and Approval Process
A seamless leave request and approval process is fundamental and is the core process of any leave tracker. The leave tracker should allow employees to submit leave requests with ease, and managers should be able to approve or deny them promptly. 
An ideal leave tracker should also offer leave notifications to keep everyone in the loop on all things PTO.
Integration with Existing Systems
The best leave tracker for 2024 should also integrate seamlessly with your other business systems. This includes team collaboration tools like Slack, Microsoft Teams, HR software, payroll systems, and more. 
This integration streamlines data sharing and reduces back-and-forth log-ins, saving time and reducing errors.
A Centralized, User-Friendly Interface
Having centralized, user-friendly access to a leave tracker is critical. Your employees should be able to navigate the leave tracker intuitively, without the need for extensive training or onboarding. 
Multiple Leave Types, Locations and Departments
Look for a leave tracker that can handle various types of leave, such as vacation, sick days, personal time, and more. It should also be flexible enough to accommodate and configure your specific location-based leave policies.
Calendar Sync
A calendar sync feature allows employees to keep track of their leave schedule from their personal calendars. This feature ensures that they don't inadvertently double-book their time and helps them set an OOO message for incoming emails.
Customization Options
When looking for the best leave tracker, prioritize a tool that offers a high degree of customization for your business's unique needs and fits into your workflow. Incorporating a leave tracker that is easily customizable means that you can configure it to reflect your company's distinct leave policies, types, and approval processes. 
Remember — your chosen leave tracker should mold itself to the contours of your organization, not the other way around!
Automated Reporting and Calculations
Having access to leave reports and analytics can help you make informed decisions. Look for a system that reduces manual calculations for complex calculations such as PTO accruals, brought-forward days, time-off-in-lieu, and more.
Obviously, the exact features you need will depend on the needs of your own team. However, looking for the aforementioned ones in your search for the best leave tracker is a good starting point.
By carefully considering these features when choosing a leave tracker for your business, you can be confident that it will meet all your needs and help maximize productivity while providing compliance with applicable regulations.
Analyze the cost versus benefits of each option
Let's talk money, shall we?
When evaluating the cost versus benefits of different leave tracking options, it's important to identify the features that are most important for your business. This includes assessing the cost of each feature in relation to its value and determining whether a particular feature is necessary or not. 
Not only does this apply to different free and paid plans for leave trackers, but it also applies to use cases where you are debating between paying for the full feature set of an HRIS system or just a dedicated leave tracking module.
Break it down by costs versus value
It's also important to analyze the costs versus the value provided by a leave tracker. When evaluating different leave tracking options, consider the cost of each feature in relation to the value it provides. Determine whether a particular feature is essential or unnecessary. For example, a small business operating in a single city would 8 employees would be better off tracking PTO on spreadsheets, even though it may require more time and effort. 
However, if you're the manager of a dispersed team with employees in multiple locations, different departments, and complex compliance challenges, the answer will look different. Thus, businesses should carefully weigh these costs against the potential gains from implementing a leave tracker system.
Overall, when selecting a leave tracker system, it is critical to assess both the short-term and long-term costs associated with each option and prioritize features based on their value relative to their cost. Making a decision based on all of these factors will enable you to find a solution that meets your specific needs and is within your budget.
How Vacation Tracker can help
Picture this: you're still using old-fashioned methods like pen and paper, spreadsheets, and endless email chains to manage your team's PTO. It's a real hassle, right? That's where Vacation Tracker comes in to save the day. If you've been searching for the best leave tracker to use in 2024, your search officially ends here.
Think of our tool as your trusty sidekick for managing time off at work. Vacation Tracker is your new go-to solution (and assistant) for keeping track of your team's leaves, so you can say goodbye to the days of messy spreadsheets and endless email chains.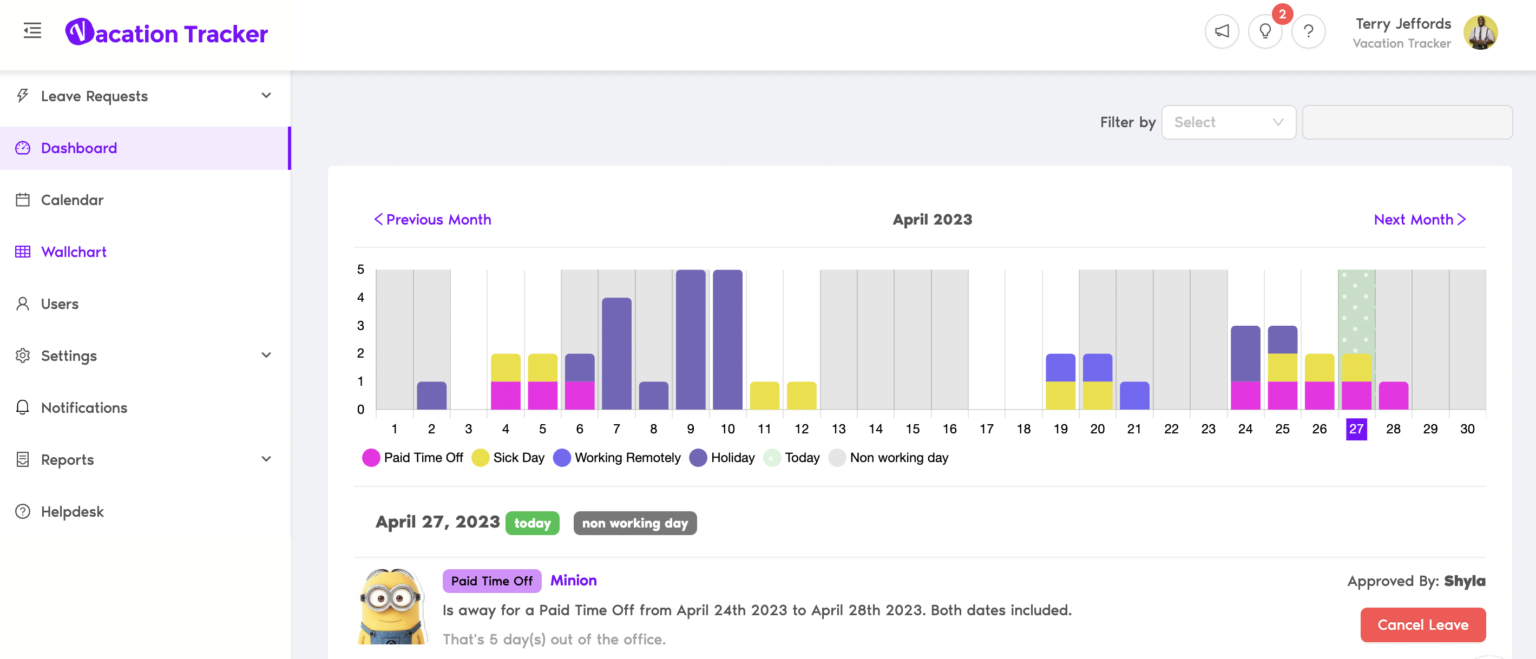 Features that'll make your life easier
With Vacation Tracker, you get a whole bunch of features that simplify the entire leave management process. Here are some of the key features:
Manage Accruals: Keep track of how much leave your team has accrued and manage it effortlessly.
Schedule Reports: Set up automated reports to keep everyone in the loop about leave activity.
Request Hourly Leave: Vacation Tracker even allows you to request leave down to the hour, giving you maximum flexibility.
Group Users by Labels: Categorize your team members with labels for easy organization.
Enjoy Priority Support: Get access to top-notch support for any questions or issues you might have.
Automate PTO Requests and Approval: Streamline the process of requesting and approving leave, saving everyone time.
Create Custom Leave Type and Policies: Tailor your leave types and configure policies to fit your organization's unique needs.
Unlimited Departments and Locations: Vacation Tracker grows with your business. You can set up as many departments and locations as you need.
Generate Reports: Get a clear view of your team's leave patterns with customizable reports.
Set PTO Notifications: Stay on top of leave requests and approvals with automated notifications.
And that's just the tip of the iceberg – there's a lot more packed into Vacation Tracker to make your life easier. With countless features to offer, Vacation Tracker easily connects with popular communication platforms like Microsoft Teams, Slack, Google Workspace, and even your email. 
This streamlined approach to PTO simplifies your complicated, manual workflows, fosters direct communication, and contributes to creating a more transparent and efficient leave management process. In other words, it's like a magic wand that makes things easier for your team and keeps everyone on the same page. 
The bottom line
In a nutshell, Vacation Tracker makes life at work simpler. It's like a breath of fresh air, and it keeps your team on the same page, making your job a whole lot easier. Give it a try today, and you'll witness firsthand the difference it can make!
An avid writer and aspiring marketer, Snigdha is a student at Concordia University's John Molson School of Business.